The Robinson–Macken House
Introduction
This historic Victorian Austin home was built in 1876 and served as the home of two prominent Austin families, the Robinsons and the Mackens. John Robinson emigrated to Austin from England while John Macken was born in Ireland. Both families opened family businesses and invested, providing them wealth, high social standing, and opportunities to gain positions in the government including working as fire chief.
Images
The Robinson-Macken House in Austin, Texas (2007 photo).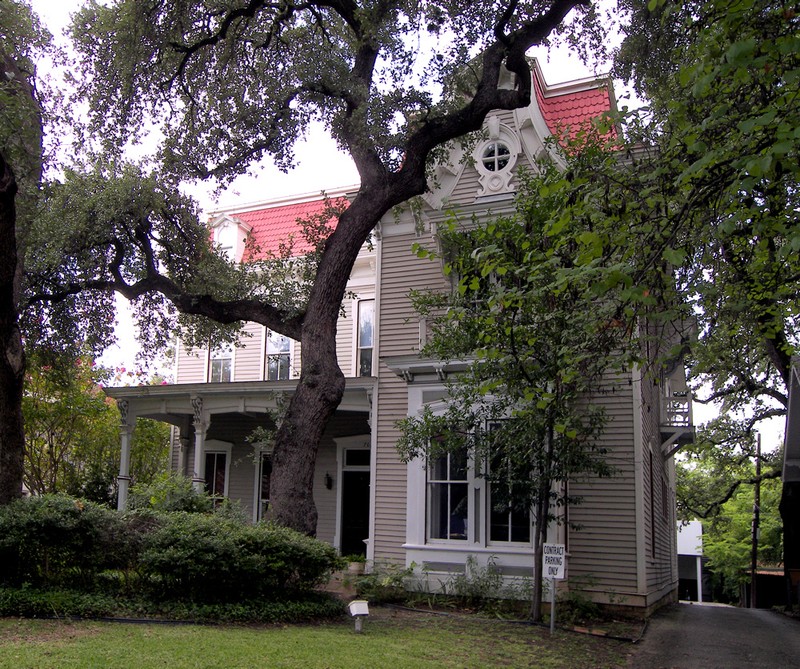 Southeast view of the Robinson-Macken House in Austin Texas (1984 photo)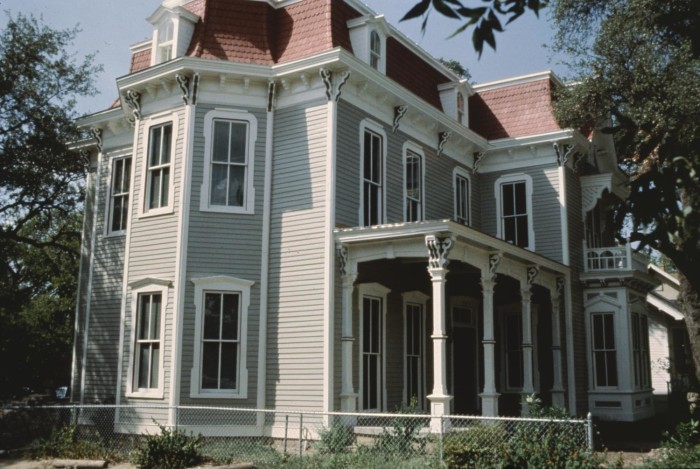 Backstory and Context
The Robinson-Macken House was built in 1876 for prominent Austin entrepreneur, John Henry Robinson and his wife, Elizabeth. The Macken family, entrepreneurs and bankers, purchased the home in 1928. Both families also contributed heavily to Austin's public life. The house is exemplary of the Second Empire, wood-frame architectural style.
John H. Robinson (1815-1897) emigrated from England to Austin in 1855 and subsequently opened a successful drygoods and grocery store (now located in Austin's Congress Avenue historic district), which he later operated in partnership with his two sons. Robinson also enjoyed financial success by investing in cattle and ranching, as well as urban real estate. His economic success gained him a high social standing allowing him to become a member of the City Council, where he served from 1860-1862 and again from 1871-1875. Robinson also worked as a volunteer fireman in 1858 and again in 1868, and then took the position of Fire Chief in 1870. Finally, in 1876, he served as the director of the Austin Graded School.
Robin and his wife Elizabeth (1817 - 1902) built the historic house in 1876, described at the time by the Austin Daily Statesman as a frame house with octagon and bay windows. According to the nomination form provided to the National Register of Historic Places, "The Robinsons' choice of the fashionable Second Empire style is of considerable interest. At the time, Austin was a remote city emerging from the Reconstruction Era, and the choice of the then-fashionable Second Empire style was an indication of prosperity for both the Robinson family and Austin." Indeed, several high-style residences in Austin and San Antonio enjoyed Second Empire designs. Nonetheless, one commonly finds the Second Empire design with buildings used for institutional structures so that few residential examples remain.
John Robinson passed in 1897, leaving the house to his son Eugene, who maintained possession until 1928 when he sold it to the Irish-Born John Macken. In contrast to the Robinsons, the Macken Family lived more privately but were still highly influential among Austin's business community. John Macken worked as a successful marble polisher who taught his trade to his son Joseph (d. 1941). Together, they opened a stone-cutting business with a partner, William Russell. In 1910, Joe Macken inherited the company (Austin Marble Works), but he sold it six years later (1916). Today, that same building is home to the Austin Monumental Arts, which sells headstones and related items. Joe Macken went on to become a highly successful excavation contractor. Joe Macken dug the foundations for highly regarded Austin structures such as the Steck Building, Paramount Theater, Stephen F. Austin Hotel, and several buildings located on the campus of the University of Texas.
Like John Robinson, Joe Macken worked as volunteer fire chief, holding the position from 1900-1902. He also served two terms as an Austin city alderman from 1903 - 1905 and 1905 - 1907. Meanwhile, Pope Pius XII awarded Joe's wife, Bridget Sheenan Macken (d. 1951), the Papal Cross for her role as an active Catholic Church and community leader in Austin. Each of the Mackens' five children enjoyed distinction (and financial success) as bankers in Austin.
The house has been well-preserved and stands as a monument to two prominent Austin families, one who arrived in America from England and the other arriving from Ireland. Their occupations and financial investments, from dry goods and ranches to banking, as well as the tradition of businesses passed down from father to son, speak to the era as well as the culture attached to England, Ireland and the U.S. during the middle and late nineteenth century. The families' financial successes not only allowed them to reside in the large house but combined with their lofty social status gained for them the opportunity to hold positions in the government, including fire chief.
Sources
Barr, Alwyn. "Late Nineteenth-Century Texas."
Texas State Historical Association.
Accessed June 24, 2019. https://tshaonline.org/handbook/online/articles/npl01
Humphrey, David C.
Austin: A History of the Capital City
. College Station: Texas A&M University Press, 2013.
Stone, Sandy and Peter Flagg Maxson. "Nomination Form: Robinson-Macken House." National Register of Historic Places.
nps.gov.
September 12, 1985. Digital copy located at https://atlas.thc.state.tx.us/NR/pdfs/85002300/85002300.pdf.
Photo Sources

The Robinson-Macken House in Austin, Texas (pic taken 2007): By Larry D. Moore, CC BY-SA 3.0, https://commons.wikimedia.org/w/index.php?curid=2710173
Southeast View of the House: Texas Historical Commission. [I. Robinson Macken House, (SE Corner)], photograph, August 1, 1984;(https://texashistory.unt.edu/ark:/67531/metapth966221/m1/1/: accessed June 24, 2019),
University of North Texas Libraries, The Portal to Texas History, https://texashistory.unt.edu
; crediting Texas Historical Commission.
Additional Information