"Unsinkable" Molly Brown Birthplace & Museum
Introduction
This simple two-story home was where famous wealthy socialite, social activist, traveler, and philanthropist Margaret Tobin Brown (1867-1932), was born. Brown acquired the nickname "The Unsinkable Molly Brown" for her actions that helped others survive the sinking of the Titanic on April 15, 1912. Visitors to the museum will see a room furnished in the mid-1900s context of the city of Hannibal after the Civil War and her experiences as a survivor of the Titanic. Brown lived until 1932 and used her fame as a survivor and heroine of the Titanic to support social and political causes she supported such as women's suffrage.
Images
The Molly Brown Birthplace and Museum is open from Memorial Day to Labor Day. Photo: The State Historical Society of Missouri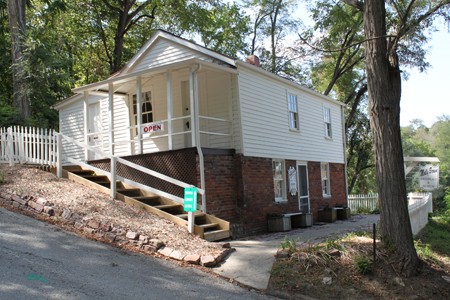 Margaret Tobin Brown (1867-1932) would earn the nickname "The Unsinkable Molly Brown" for her actions during the sinking of the Titanic. Photo: Wikimedia Commons
Backstory and Context
Margaret Tobin Brown was born on July 18, 1867 in Hannibal. Her parents were Irish Catholic immigrants and she had four siblings and two-half sisters. Throughout her life, she was mostly referred to as Maggie, not Molly. She attended a school run by her aunt until the age of 13 and started to work in a local tobacco factory. In 1886, she moved to the mining town of Leadville, Colorado to live with her brother, Daniel, who worked as a miner. Their half-sister, Mary Ann and her husband, had already moved there in 1883. Maggie found work at a dry goods store sewing and carpets and draperies.

Soon after she arrived in Leadville, Maggie met her future husband James Joseph Brown, who worked as a miner. They got married on September 1st 1886 and would have two children together, Lawrence and Catherine. After several years of hard work, James struck it rich. In 1893, working for the Ibex mining company, James found a large vein gold in a mine called the Little Johnny Mine. The company rewarded him with thousands of company shares and was given a seat on the board of directors. As a result of these developments, he and Maggie became rich. They moved to Denver where she began her life as a socialite and political and social activist, joining the Denver Woman's Press Club and other organizations. She believed in many causes including suffrage for women and other women's rights issues, supporting women and children in need, and worker's rights.

She and Joseph separated in 1909 but did not divorce each other, and maintained a good relationship for the rest of their lives. In 1912, Maggie left to tour Egypt and Europe, her first of many travels abroad. However, upon hearing that her grandson was ill, she quickly made arrangements to return home. These included booking a first-class ticket on the Titanic—a decision that would substantially change her life.

After the disaster, Molly became a celebrity as she told the story of how she helped passengers evacuate onto lifeboats. According to her version of events, Molly persuaded the man in charge of her lifeboat to go back and look for survivors and even helped row the boat as well. While some claimed that Molly's story exaggerated her role, the scope of the disaster led people around the world to seek out stories of selflessness and survival. They embraced Molly as a heroine and Brown decided to use her notoriety to support the causes she believed in. She also formed a committee of first-class passengers who survived the Titanic to provide basic necessities and counseling for second and third-class passengers who also survived the disaster.

Molly also ran for political office including two unsuccessful runs for the US Senate in 1909 and 1914. While women's right to vote was recognized in Colorado and other western states at this time, women's right to vote was not yet recognized nationwide until the ratification of the 19th Amendment in 1920. After World War I started, Brown donated her summer home in Newport, Rhode Island to the American Red Cross. She also traveled to France to serve as a director for the American Committee for Devastated France, whose purpose was to help the war-torn country recover after the war. She received the French Legion of Honor for her efforts.

Maggie passed away on October 26, 1932, of a brain tumor while staying at a hotel in New York City. She was buried next Joseph in Westbury, New York.
Sources
"Explore the Molly Brown Birthplace and Museum." Hannibal History Museum. Accessed July 4, 2019. http://www.hannibalhistorymuseum.com/p/molly-brown-birthplace-and-museum.html.

"Margaret "Molly" Brown - Titanic First Class Passenger." Titanic Pages. Accessed July 4, 2019. https://www.titanicpages.com/margaretbrown.

"Margaret Tobin Brown (1867-1932)." The State Historical Society of Missouri. Accessed July 4, 2019. https://shsmo.org/historicmissourians/name/b/brownmt.


Additional Information