Clinchfield Railroad Station
Introduction
The Carolina, Clinchfield, and Ohio Passenger Train Station, or the Clinchfield Railroad Station, in Kingsport, was built in 1916 and added to the National Register of Historic Places in 1973. Constructed from the design of New York architect Clinton McKenzie, the station was no longer in service starting in 1954.
Images
Clinchfield Railroad Station building in Kingsport, now occupied by Citizens Bank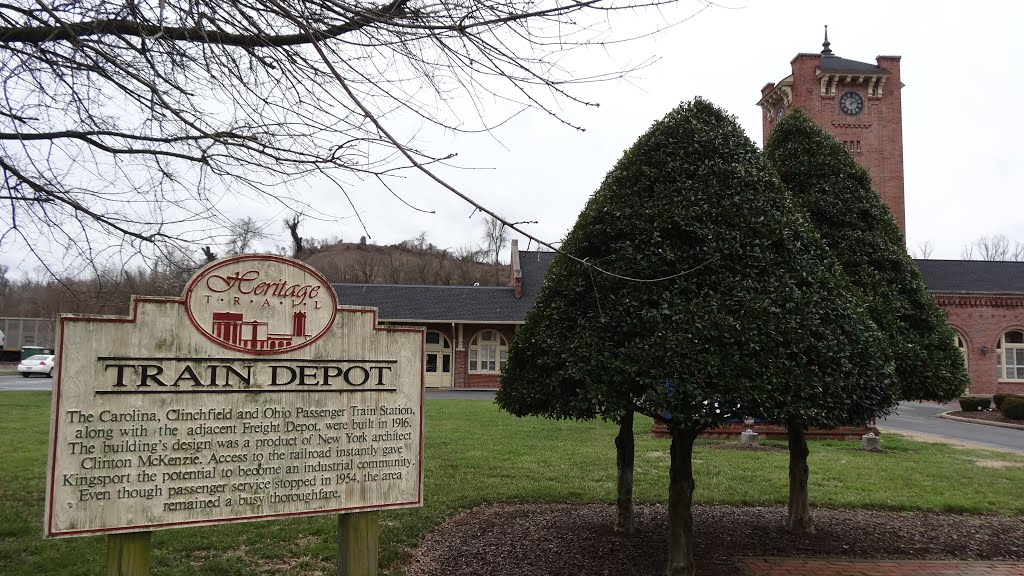 National Register of Historic Places plaque on building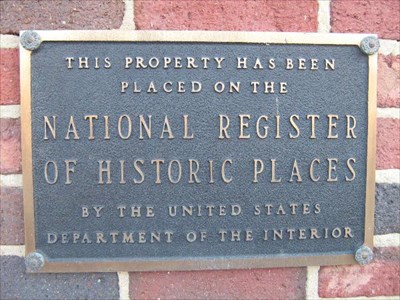 Backstory and Context
The Clinchfield Station is notable for its age and its significance in helping to shape Kingsport into the industrial community it was throughout the mid 20th Century, even following the station's service stoppage in the 1950s.
Before 1908, the town of Kingsport was essentially utilized as a telegraph town. Afterward, and after the completion of the Clinchfield Railroad, coal would be brought in on the railroad, transported to a chemical plant and shipped off to its destination along the Clinchfield.
The Clinchfield Railroad route featured many major and prominent stations throughout Appalachia, including several in Tennessee. The three most popular Tennessee stations along the route, completed in 1908, include the Kingsport Station, the Erwin Station, and the Johnson City Station.
During their periods of operation, the Johnson City Clinchfield Depot was perhaps the most influential for the company and the region, as it was operated as both a major freight and major passenger station. By contrast, the stations in Kingsport and Erwin were utilized as passenger, mail, and express stations, with separate facilities for freight.
The Clinchfield Freight Depot building in Kingsport, located just roughly half-a-mile away from the railroad station, is still extant today, and is now utilized as part of the location for the Kingsport Chamber of Commerce.
Today, the building which used to be occupied by the Clinchfield Railroad Station in Kingsport is utilized as a Citizens Bank along with various other businesses and organizations, with seemingly little to no changes to its outer structure and appearance.
Sources
"Clinchfield Railroad Station." Kingsport Public Library. 2 July, 2012. 13 July, 2019. https://www.kingsportlibrary.org/kpt_archives/clinchfield-railroad-station/. Archives.

"Clinchfield Railroad Station." Mapio. 13 July, 2019. https://mapio.net/pic/p-94663413/.

"Clinchfield Railroad Station, Kingsport, TN." Waymarking. 24 September, 2008. 13 July, 2019. http://www.waymarking.com/waymarks/WM4RN6_Clinchfield_Railroad_Station_Kingsport_TN.

"Clinchfield Railroad Station---Kingsport, Tn.---NRHP." Flickr. 5 March, 2017. 13 July, 2019. https://www.flickr.com/photos/bamaboy1941/33623837844/in/photostream/.

"National Register of Historic Places Registration Form: Carolina, Clinchfield & Ohio Railroad Station and Depot." National Park Service. 1973. Accessed 13 July, 2019.

"Train Depot, Kingsport." Historical Marker Project. 13 July, 2019. https://www.historicalmarkerproject.com/markers/HMFPR_train-depot_Kingsport-TN.html.

Additional Information