Evans Homestead
Introduction
The Evans Homestead was built in 1870 by William Sites. It was originally called the Miller Road House, but was changed to the Evans Homestead after it was purchased by Griffith Evans. Like many structures constructed in the Lyons area during this time period, it was built using sandstone from the local quarries. It operated as a stagecoach stop and inn between Denver and Estes Park. This building is a private residence. Please view from the road.
Images
Photo Courtesy of Charles Keim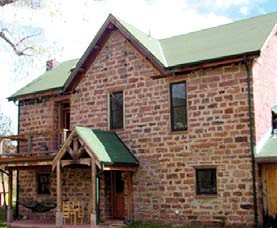 Backstory and Context
Lyons, Colorado was known as the "Double Gateway to the Rockies," due to the fact that the area was a junction point leading to both Estes Park and Allenspark. Both areas drew travelers for settlement and for a challenge. The Longs Peak Mining District offered opportunities for miners starting in the 1870s. Though mining wound down by the turn of the century, the opportunity drew homesteaders and miners who were searching for a better life.
Other travelers had their sights on Longs Peak. Both Griffith Evans and Jim Nugent, known as Rocky Mountain Jim, took on the challenge of climbing Longs Peak. Another adventurer, Isabella Bird, "was determined to get to Estes Park, if at all possible" to climb Longs Peak.1 She first attempted to reach Estes Park in 1873 from the mouth of the Big Thompson. After she initially failed, she traveled to Longmont, stopping at the St. Vrain Hotel on September 24, 1873, and then continued along the St. Vrain River.2 She eventually made it to Estes Park, where she met both Jim Nugent and Griffith Evans. Bird stayed at the Ranch House, which was owned by Griffith Evans.3 She was one of the many who made the trek to Estes Park for the thrill of climbing Longs Peak.
Jim Nugent and Griffith Evans were involved in an altercation which resulted in Rocky Mountain Jim's death.4 After being charged and acquitted for Nugent's death, Griffith Evans moved to Lyons and purchased the Miller Road House. He renamed the building the Evans Homestead and converted it into a stagecoach stop and inn. Evans took advantage of the location and turned his new property into a profitable business venture. The property's access road was the original road used by early pioneers on their way up to St. Vrain Canyon.5 It was situated perfectly to serve travelers to Estes Park and Allenspark.
During the nineteenth century, there were three types of stagecoach stops. Swing Stations, also knowns as Living Stations, were every ten to fifteen miles along a stagecoach line. Drivers could refresh their horses or cattle and continue on their run. Home Stations were situated every forty to fifty miles along a line and offered more services.6 Passengers could purchase tickets at the station due to the fact that they were often a destination point. There were new drivers at these stations ready to take overruns with fresh horses. Passengers were able to purchase meals for $1.00 to $2.50.7 Travelers were also able to rest for thirty to forty-five minutes before continuing their bumpy journey.
The last type of stagecoach stop was referred to as a Cattle Station. These stops were like Home Stations but livestock was kept to refresh teams. These stations were generally one-hundred to one-hundred-and-fifty miles apart.
The Evans Homestead was most likely a Wayside Home for travelers. These inns functioned as a stagecoach station as well as a place for travelers to rest after a day on a stagecoach. Stage companies commissioned wayside homeowners to serve as Home Stations on stage routes. Passengers who wanted to rest overnight and catch another stage paid the homeowner between fifty cents and one dollar for lodging.8
In 1884, Evans added on to the property, building a butcher shop and Blacksmith shop using local sandstone. His inn was an important addition to the burgeoning town. "Stagecoach stations became an oasis for settlers and travelers providing livestock feed, travel necessities, entertainment, nourishment, shelter, and camaraderie."9 The 20-acre property remained a stagecoach stop until 1934 when the highway department purchased the rights to the road.
The property and structure were purchased in 1957 by the Beller family. They worked with Graceland College to turn the historic buildings into a campus for the arts. On February 26, 1988, an electrical fire destroyed the building and was restored by the owners. In 1992, the property was purchased and converted to an event space. The name was changed to Planet Bluegrass, and to this day is the location of the RockyGrass Festival and the Rocky Mountain Folks Festival.
Sources
1Dunning, Harold Marion, Over Hill and Vale: In the Evening Shadow of Colorado's Longs Peak, 1956. 211
2Ibid. 211

3Ibid. 213

4Benedict, Diane Good, Birth of a Quarry Town: 1800s Lyons, Colorado 2002. 39

5Ibid. 39
6Peterson, Heather King, Colorado Stagecoach Stations, University of Colorado at Denver, 2002. 10

7Louise Harrison, "Introduction" TMs, Louise Harrison Collection, Western History Department, Denver Public Library. 1

8Colorado State Directory of Business and Industry, 1956. Loveland: Rocky Mountain Directory Company, 1956

9Peterson, Heather King, Colorado Stagecoach Stations, University of Colorado at Denver, 2002. iv-v