General Store
Introduction
This two-story sandstone building was constructed as a commercial and residential space on Main Street. It has several common features of nineteenth-century commercial architecture and has been the location of several businesses throughout Lyons history.
Images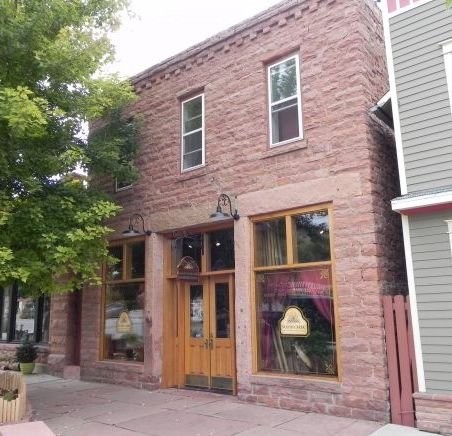 Backstory and Context
This two-story building was constructed in the late 1890s. It is a simple two-story structure with a flat roof. It has a slightly recessed entryway and a decorative cornice at the roofline. The building was originally meant to be a general store as well as residential space. The first floor would have been the store, while the top floor would have been apartments.

During the late nineteenth century, the sandstone and limestone quarries were one of the two main industries in the town, the other being sanitariums. The General Store would have served the growing number of people who moved to the area for work or for health reasons. "The clean, cool air of the high plains and foothills, sunlight, good rich food, rest, and high altitude was thought to provide a cure for most respiratory diseases, especially pulmonary tuberculosis."1 Edward Lyon's daughter, Lillie Lyon Thorne, opened the Thorncroft Sanitarium with her husband Thomas J. Thorne.

As the town's population grew, the town required more businesses and services beyond saloons. The General Store was the result of that need. However, it did not remain a general store and has housed many different businesses. At one time, George Stickney opened a bank in the space.2 After Stickney's bank closed, the building was turned into a department store. When that business closed, E.P Lass opened Kandy Kitchens in the building. James McCain and his family then turned the space into a barbershop. Next, Otto and Clara Brown turned the building into a leather store. In 1967, after the Lyons Drug Store burned down Glen and Mabel Jernigan decided to temporarily move the drug store to this location. Dragonwood Antiques and Rocky Mountain Stoveworks have also occupied the space.3 Currently, South Creek Ltd. Bamboo Rods is occupying the first floor of the building.
Sources
1Benedict, Diane Good Birth of a Quarry Town: 1800s Lyons, Colorado 2002. 109
2Ibid. 81
3Ibid.