The Peristyle (Grecian Shelter) at Prospect Park
Introduction
Prospect Park is filled with numerous architectural features to add interest to the park. Some of these serve very simple purposes, such as providing shelter from the heat or a sudden storm. Arguably the most charming of these is the Peristyle, or Grecian Shelter, which was built in 1905. It was designed by famed architect Stanford White, who was responsible for other structures in the park. The Peristyle was added to the National Register of Historic Places in 1972.
Images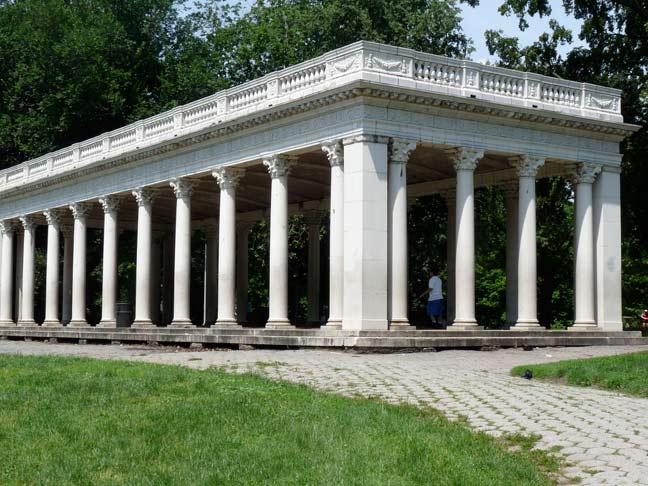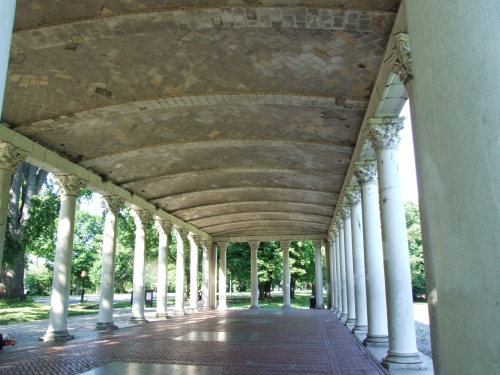 Backstory and Context
Though far less well-known than its much-larger counterpart in Manhattan, Brooklyn's Prospect Park offers its own charms. Like Central Park, Prospect Park was designed by Frederick Law Olmsted and Calvert Vaux. And like its larger neighbor, Prospect Park is filled with tucked-away places and winsome architectural features.

One such feature is the Peristyle, which is a Greek terms that refers to an architectural space surrounded by columns. Prospect Park's Peristyle is also known as the Grecian Shelter or the Croquet Shelter. The structure--which could have easily been transported from ancient Athens--was designed by one of the city's most acclaimed architects, Stanford White, in 1905. White would be murdered in the tabloid-esque fallout of a love triangle just a year later.

Though the Peristyle occupies a relatively humble position at a roadside in the park, its features are anything but humble. It features a vaulted Guastavino ceiling and limestone columns topped with marble Corinthian capitals. Located at the top of a rise, the building is perfectly situated to offer observers a clear view both of the park and the Parade Grounds, which are just across the street. In fact, the building's original purpose was to serve as a judging station for the regimental displays that took place there.

Like much of the city, Prospect Park fell into a period of decline and decay in the 1960s and early 1970s. The park eventually recovered and the Peristyle was added to the National Register of Historic Places in 1972.
Sources
Croghan, Lore. Ten Things You Should Know About Prospect Park. Brooklyn Eagle. July 31, 2018. Accessed July 21, 2019. https://brooklyneagle.com/articles/2018/07/31/ten-things-you-should-know-about-prospect-park/.

Scherer, Jenna. Prospect Park: Secrets of Brooklyn's Beloved Park. Curbed. August 10, 2017. Accessed July 21, 2019. https://ny.curbed.com/maps/prospect-park-brooklyn-things-to-do.

Spellen, Suzanne. The Grecian Folly of Prospect Park. Brownstoner. February 07, 2017. Accessed July 21, 2019. https://www.brownstoner.com/architecture/prospect-park-peristyle-mckim-mead-white/.