Pioneer Square Monument
Introduction
This 1986 tribute to John C. McCoy, Alexander Majors, and Jim Bridger is the culmination of 75 years of pioneer commemoration efforts by Westport business leaders and residents.
Images
Pioneer Square Monument. Photo by Cynthia Prescott.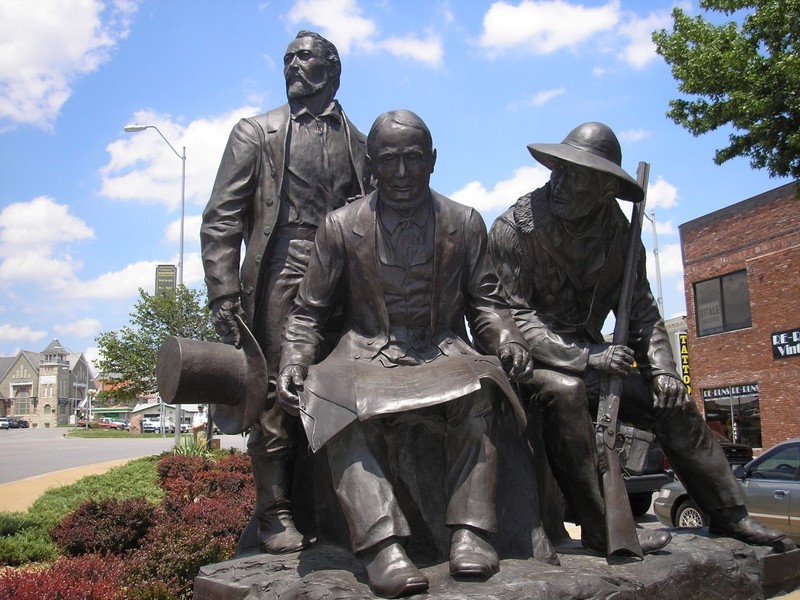 Backstory and Context
Westport business leaders wanted commemorate the town's connections to the Santa Fe Trail, the Oregon Trail, and its claim to being the birthplace of Kansas City. After several failed attempts and smaller markers, they finally put up this statue in 1986. The tribute to John C. McCoy, Alexander Majors, and Jim Bridger is the culmination of 75 years of pioneer commemoration efforts by Westport business leaders and residents.
Westport is extremely proud of its role in white westward expansion. It was established by fur trader John Calvin McCoy in 1833. Westport served as an eastern terminus of the Santa Fe Trail, which carried American freight to Mexico, during the 1830s. Westport then served as an outfitting location for the Oregon and California trails in the 1840s and 1850s. Its population peaked in 1858 at about 2,000. McCoy, along with thirteen investors, also founded the Town of Kansas at a nearby riverboat landing site. After the Civil War, that town grew dramatically, changing its name to Kansas City. By 1897 Kansas City had annexed the village of Westport that it had eclipsed. But throughout the 20th century, Westport residents insisted that Westport should receive credit as Kansas City's birthplace.
To mark the 1912 centennial of the Santa Fe Trail, a group of Westport businessmen formed the Westport Improvement Association. The Improvement Association sought to install a monument to that trail in Westport, Missouri. The men worked with the Kansas City Historical Society, the Daughters of the American Revolution, the Daughters of the Confederacy, other genealogical organizations, and the National Old Trails Road Association to raise money for a Pioneer Monument Fund. Together these voluntary organizations hosted a Santa Fe Trail and Battle of Westport Reunion and Carnival. They envisioned a life-sized stone sculpture including five yoke of oxen and a "prairie schooner with wagon-master and bull-whackers and the faithful dog in the rear."1 They planned to install it at the site of the City Hall of Westport, which stood on the Santa Fe Trail route.
That life-sized stone monument to commercial traffic on the Santa Fe Trail never came to be. Instead, the Daughters of Old Westport took up the project, transforming it into a memorial to pioneer mothers. The 1920 bronze plaque was placed on a large boulder in the historic downtown area.
When businessman Howard Vanderslice commissioned a Pioneer Mother monument for Kansas City a few years later, Westport leaders argued that it should instead be placed in Westport. The artist and donor insisted that the larger-than-life bronze sculpture of a pioneer mother on horseback, her husband, a mountain man guide, and pack horse be placed in Penn Valley Park overlooking downtown Kansas City, instead.
In 1950, as Kansas City prepared to celebrate its centennial, Westport formed its own historical organization. That new Westport Historical Society placed an ox-yoke marker on a traffic island to mark the location of the Santa Fe, Oregon and California trail.
To mark Westport's 150th anniversary, village merchants led by advertising agent Tom Tupper once again sought to claim Kansas City's bronze Pioneer Mother statue in 1984. The Westport Tomorrow organization argued that the famous statue had been ignored by Kansas City residents for decades in the vast Penn Valley Park. Tupper declared that the "gigantic statue" was only viewed "by about 16 people a year--if they can find it."2 Westport businessmen argued that it would be more visible in their Heritage Park. They sought to move it in memory of a Westport resident and civic volunteer who had been among the 114 killed when the skywalk of Kansas City's Hyatt Regency hotel collapsed near the Pioneer Mother monument in 1981. Tupper suggested that private donations to that victim's memorial fund should cover the estimated $50,000 cost to move the statue. Westport's business and political leaders endorsed the plan, but the Kansas City Parks and Recreation Board of Commissioners voted unanimously to leave the statue in Penn Valley Park.
Many Westport residents believed a new monument would attract visitors to the district's shops and restaurants. Historian and Westport Historical Society archivist Fred L. Lee insisted that "The eventual goal of that statuary is to promote tourism."3 But what form should Westport's new statue take?
Residents expressed competing visions for a new sculpture on the former trolley island. A small group seeking to commemorate prominent artist and former Westport resident Thomas Hart Benton raised $100,000 in private donations to place a Benton statue in that location. But Westport Historical Society members and other local western heritage societies remained committed to commemorating Westport's mid-19th-century heyday. Kansas City Park Board President L. P. Cookingham, who was also a historical society member, finally brokered a compromise. He recommended a different location for the Benton statue, which cleared a path for erecting a monument to Westport founder John C. McCoy and Westport's frontier past on the triangular traffic island.
The pioneer statue by Kansas City artist Thomas L. Beard declared Westport's centrality to United States westward expansion by commemorating famous businessmen with ties to the area. The pioneer statue featured three prominent white businessmen with connections to mid-19th-century Westport: fur trader and Westport founder John C. McCoy, Westport businessman and co-founder of the Pony Express Alexander Majors, and western merchant and mountain man Jim Bridger, who retired to Westport in the 1850s.
Bridger's fringed buckskin coat and rifle mark him as a rugged frontiersman. An accompanying plaque identifies him as "an Indian fighter, fur trapper and trader, guide to the Far West, U.S. Army scout and explorer." He sits slightly behind McCoy, listening intently to the fur trader-turned-businessman. In contrast, Majors' upright posture, long coat and the top hat identify him as a successful businessman, but his informal work shirt reminds viewers of his earlier years hauling freight on the Santa Fe Trail. He gazes off into the distance, indicating his focus on future opportunities further west. Central character John C. McCoy is dressed formally in a three-piece suit. His identifying plaque calls the surveyor "the father of Kansas City" and declares "But always, he was a realtor and a builder." Although the three men were contemporaries, Thomas Beard's sculpture teaches that Bridger and Majors prepared the way for McCoy, just as white frontiersmen and traders—and the village of Westport—paved the road to urban development in Kansas City and throughout the West.
Sources
1 "Westport 1812-1912." Franklin Hudson Publishing Company, 1912.
2 "Will Pioneers Find a Home in Westport?" Kansas City Star, January 12, 1983.
3 Johnson, Michelle T. "Groups Pick KC Artist for Westport Sculpture." Kansas City Star, January 8, 1985.
"Statues--Pioneer Mother," Vertical File, Missouri Valley Room, Kansas City Public Library.

"Pioneer Park Committee Records." SC 12, Missouri Valley Room, Kansas City Public Library, Kansas City, Missouri.
"Board of Parks and Recreation Commissioners: Subject Files of Parks Board President LAP Cookingham." Kansas City Parks and Recreation Department Archives, Kansas City, Missouri.
Massoth, Lisa. "Group Again Pushes for Statue of Benton." Kansas City Times, May 9, 1984.
Massoth, Lisa. "Island Is Focus of New Battle of Westport." Kansas City Times, April 20, 1984.
Massoth, Lisa. "Park Board Defers Action on Statues." Kansas City Times, May 16, 1984,.
Kuhnhenn, James. "Commissioner Suggests New Site for Benton Statue to Solve Dispute.
" Kansas City Times
, July 11, 1984.
Additional Information