Prospect Hall (now Grand Prospect Hall)
Introduction
Prospect Hall, now known as Grand Prospect Hall, has a long history in Brooklyn, and for much of that history, the building's gilded interior went unseen by most Park Slope residents. The original building, which was destroyed in a fire, was built in 1892. Its replacement—built on a bigger and more elaborate scale—was built in 1903.By the early 1980s, the building was no longer in use and was in danger of falling victim to time and the elements when it found new owners and was rechristened Grand Prospect Hall. The building, now largely restored, is listed on the National Register of Historic Places and is used for both public and private events.
Images
Grand Prospect Hall today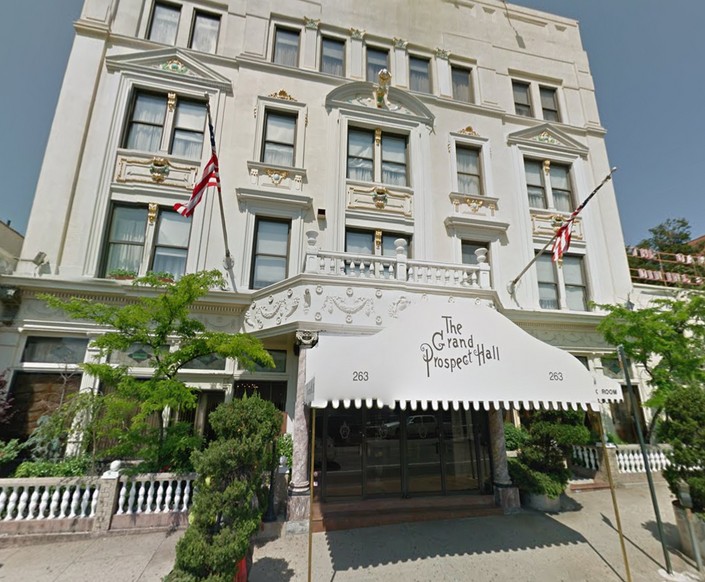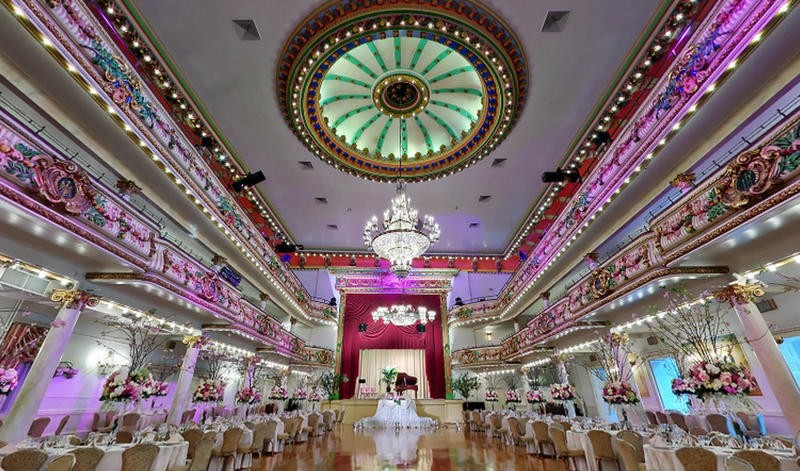 A staircase inside the Hall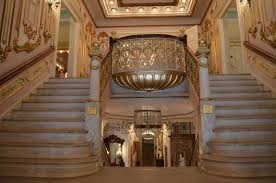 Backstory and Context
At the turn of the twentieth century, Brooklyn was a rapidly growing city, and an increasing number of wealthy businessmen were building their fine Victorian mansions on Brooklyn's Park Slope. This may not have been quite the gilded world of Fifth Avenue, but it was a privileged society just the same, and the neighborhood soon bore the hallmarks of its wealthy inhabitants.
In 1892, developer John Kolle built what he envisioned as a "temple of music and amusement," which he named Prospect Hall. The building was essentially a large entertainment complex that contained an assembly hall, a theater, and a ballroom that could accommodate 3,000 people. But it was constructed with a taste for the majestic; Kolle wanted his hall—all four stories and 140,000 square feet—to be built in the spirit of Versailles. 
The original building, which was only partially insured, burned down in 1900, but Kolle rebuilt it on an even bigger scale in 1903. The rebuilt Prospect Hall included a rooftop garden, dining rooms, bowling alleys, and a German-style beer hall, as well as a grand ballroom. Over the years, the building hosted numerous functions, both public and private, including a speech by William Jennings Bryan in 1908 and Works Progress Administration theater productions during the Great Depression.
In the mid-twentieth century, the fortunes of Prospect Hall fluctuated with those of the city. Its best days appeared to be behind it, and the owners sold artwork and architectural details to keep it afloat. But in 1981, the hall got a stroke of luck when Michael and Alice Halkias bought the property. The couple would spend more than two decades and millions of dollars on renovating the building, doing much of the preservation work themselves. Trained preservationists have been critical of the Halkias's work, as the couple felt no compulsion to retain original paint colors, choosing instead to paint over them with their own choices. The Halkiases became locally famous for their do-it-yourself television commercials advertising the hall, which they renamed Grand Prospect Hall, but the commercials were apparently effective. The building remains a popular choice for weddings, Black tie events, and even music videos.
The building was added to the National Register of Historic Places in 1999. The Halkiases continue their restoration of the property.
Sources
Explore the Opulent Grand Prospect Hall, Brooklyn's Last Authentic Vaudeville Theater. Untapped Cities. . Accessed July 23, 2019.
Gray, Christopher. Grand Prospect Hall in Brooklyn; Colorful Restoration of a 1903 Ballroom/Concert Hall. New York Times. January 10, 1999. Accessed July 23, 2019. https://www.nytimes.com/1999/01/10/realestate/streetscapes-grand-prospect-hall-brooklyn-colorful-restoration-1903-ballroom.html.