Blatz Brewery Complex
Introduction
Once the home of Milwaukee icon Blatz Brewery, this sprawling complex is now home to luxury condominiums that demonstrate this neighborhood's transition from industry to residences. The buildings of the brewery complex were erected in stages from 1872 to 1906 in the German Renaissance Revival style of architecture. While some of the original buildings were demolished, those that remain today were added to the National Register of Historic Places in 1986.
Images
Postcard showcasing Blatz brewery and its products. Unknown date. Photo credit: Encyclopedia of Milwaukee.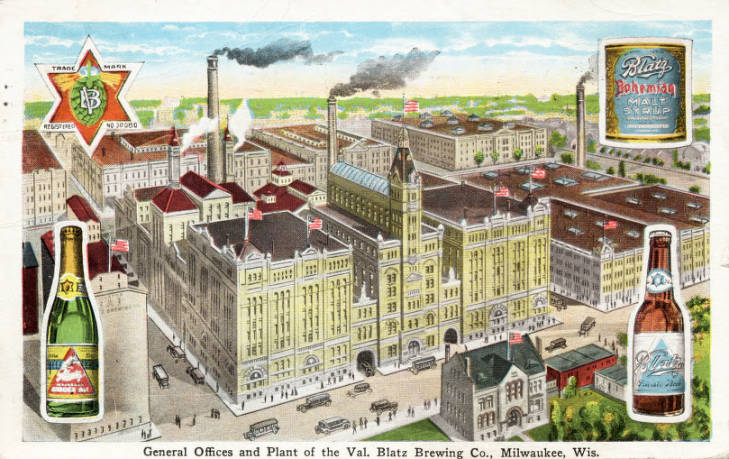 The Blatz brewery in 1986, Photo credit: Wisconsin Historical Society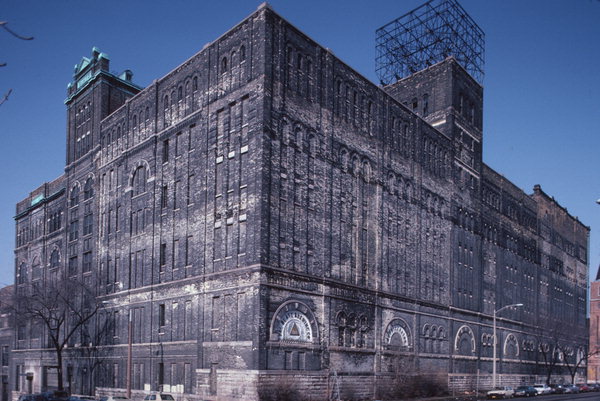 Detail of Blatz brewery, 1986. Photo credit: Wisconsin Historical Society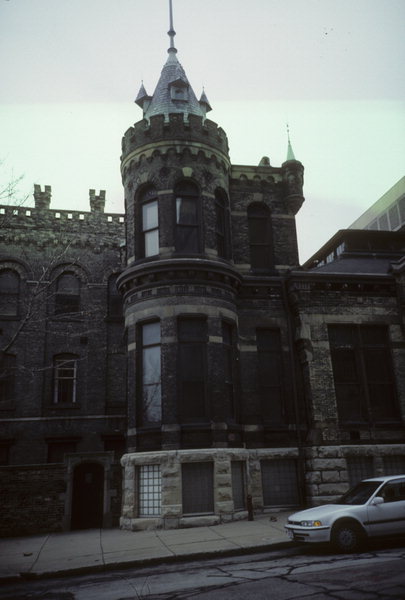 Blatz condos today. Photo credit: Ogden & Company, Inc.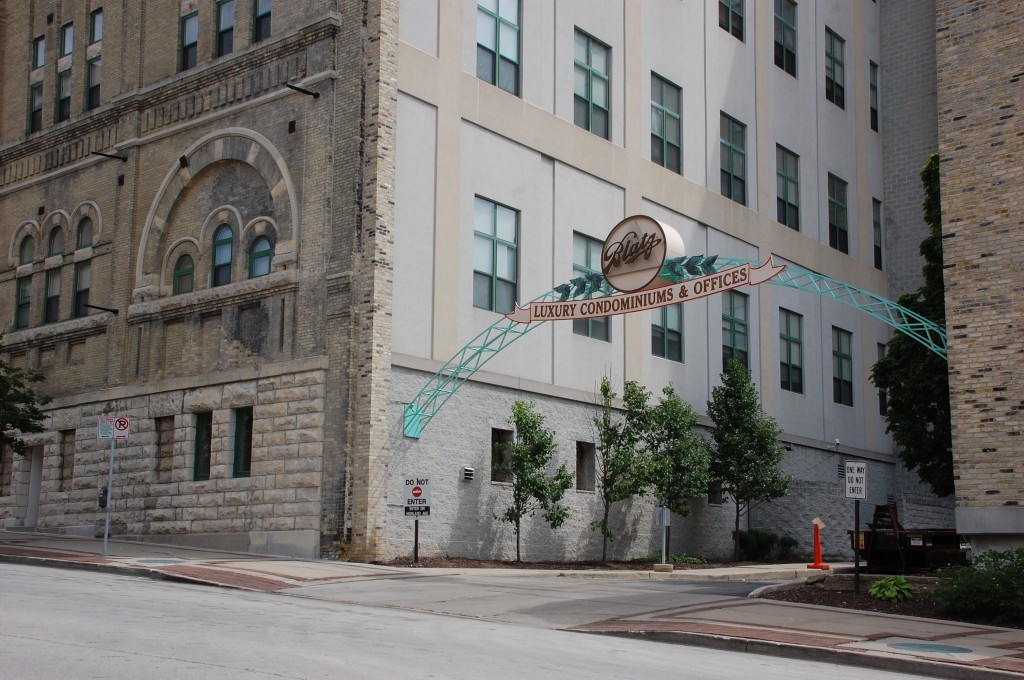 Backstory and Context
Valentin Blatz joined the small Cedar brewery in 1849, then owned by Milwaukee brewing pioneer John Braun. When Braun died two years later, Blatz bought the brewery and married his widow to secure the company. When a fire damaged most of the original buildings in 1872, a new larger brewery was rebuilt in its place. Blatz tapped architect August Gunzmann to design the new complex in the Teutonic German Renaissance Revival style, which was popular with Milwaukee industrialists, who were mainly German or German-American.

Under Blatz the Valentin Blatz brewery swelled to a massive operation, becoming the first in Milwaukee to have its own bottling and packaging system in order to ship nationally in 1875. Shortly before Blatz's death in 1894, he sold the company to the United States Brewing Company, which included Pabst brewery and was owned by British investors. He remained president from 1891 to 1894 and passed the presidency on to his son Albert. In 1920 the brewery was sold again to Edward Landsberg, who saw the company through the hard years of prohibition by making syrups and sodas.

In 1943 Schenley Industries bought Blatz and four years later it was named the ninth-largest brewery in the United States. As sales declined in the following decade, the brewery was again sold in 1959 to Pabst. The new owners made the decision to consolidate Blatz into their own plant, and closed the Blatz brewery complex the following year.

The buildings added to the National Register in 1986 are Stock Houses # 1 (1906), # 2 (1904) and # 3 (1891). Some elements have been either altered or damaged, including loss of the west facade of #3 in the 1970s when an adjacent building was razed, and the addition of a third story to #1 in the 1930s. In 1988 the buildings became the first industrial to residential converted property in the city when they became the Blatz apartments. In 2006 they were renovated as condos in the popular Yankee Hill neighborhood.

Sources
Walzer, Joseph B.. Blatz Brewing Company. Encyclopedia of Milwaukee. . Accessed July 27, 2019. https://emke.uwm.edu/entry/blatz-brewing-company/.

1101-1147 N Broadway. Wisconsin Historical Society. . Accessed July 27, 2019. https://www.wisconsinhistory.org/Records/Property/HI17134.

Valentin Blatz Brewing Company, Brewery, 1101-47 North Broadway, Milwaukee, Milwaukee County, WI. Library of Congress. . Accessed July 27, 2019. https://www.loc.gov/pictures/item/wi0788/.

Lawrence, Julie. The Blatz Condominiums combine new city style with old Milwaukee history. OnMilwaukee.com. June 08, 2006. Accessed July 27, 2019. https://onmilwaukee.com/buzz/articles/blatzcondos.html.


Additional Information