The Pioneers Who Founded Topeka
Introduction
1931 relief of a frontier farm, with a log cabin, covered wagon, and a pioneer plowing by unknown artist. Copper or bronze plaque set on iron footings cast by Deggingers Foundry attached to boulder. Dedicated in 1931 by Shawnee County Old Settlers Society. Originally mounted on the archway entrance of the "Old Settlers Memorial Grounds" in Gage Park.
Images
The Pioneers Who Founded Topeka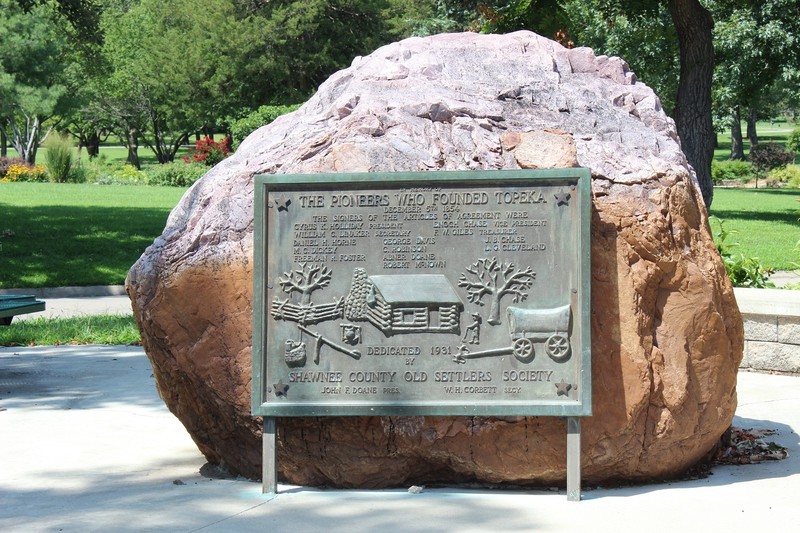 Backstory and Context
A plaque set on footings displays a relief of a pioneer's homestead, with inscriptions above and below it. A log cabin, well, and covered wagon are in the foreground. A male pioneer works a plow nearby. Two trees and a fence are in the background. The plaque is set in front of a boulder.
Plaque text:
IN MEMORY OF
THE PIONEERS WHO FOUNDED TOPEKA/
DECEMBER 5TH 1854
THE SIGNERS OF THE ARTICLES OF AGREEMENT WERE/
(list of signers in 3 columns)
DEDICATED 1931
BY/SHAWNEE COUNTY OLD SETTLERS SOCIETY
JOHN E DOANE PRES. W.H. CORBETT SECY.
Similar bronze relief plaques--typically applied directly to granite boulders--were placed to mark overland trails throughout the American West in the 1920s and 1930s. 
Sources
Smithsonian American Art Museum Art Inventories Catalog Control Number KS000268. https://siris-artinventories.si.edu/ipac20/ipac.jsp?&profile=ariall&source=~!siartinventories&uri=full=3100001~!326522~!0#focus. Accessed July 30, 2019.
Prescott, Cynthia Culver. Pioneer Mother Monuments: Constructing Cultural Memory. University of Oklahoma Press, 2019.
Image Sources
Pioneer Monuments in the American West

Additional Information