This entry includes a walking tour! Take the tour.
Introduction
After the 1883 fire that destroyed the old campus (Seminary Square), Dunn's Woods became the center of the Indiana University campus. Dunn's Woods, a twenty-acre beech and maple forest is the heart of Indiana University and an excellent place to observe nature, reflect, study, or relax. This wooded oasis hosts a diverse ecosystem, harboring rabbits, squirrels, wildflowers, mushrooms, Cooper's hawks, and the northern short-tailed shrew. Native trees such as walnut, sycamore, basswood, buckeye, beech, maple, ash, oak, and hickory grow in Dunn's Woods.
Images
Dunn's Woods has been the center of the Indiana University campus for a century and a half.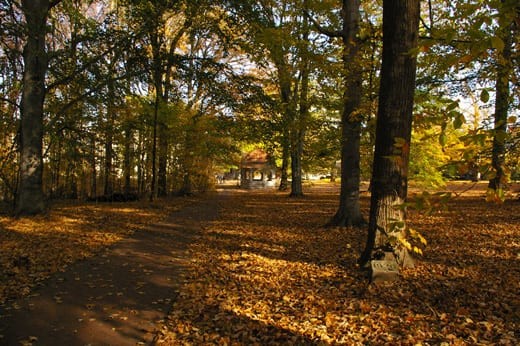 Backstory and Context
This has long been a popular wooded area for local children to explore and a gathering place for 4th of July festivities. David Jordan Starr, the university's president from 1884-1891, believed that preserving the wooded area would be suitable for the institution's new liberal arts program. The value placed on this wooded area guided the design for the new campus. The Chicago Parks superintendent, Olaf Benson, submitted a proposal for campus design in 1884, and his proposal featured the woods remaining at the forefront of the campus. Benson wrote, "Care should be taken not to sacrifice trees of any value."
David Mottier, head of Indiana University's Botany Department, was an early and prominent figure involved with preserving the natural beauty of Indiana University's campus. He was tasked with developing a plan for campus walks. Mottier was successful and eventually, the world-renowned designers who created New York City's Central Park, the Olmstead Brothers, were brought in to design a more fundamental campus plan. The brothers strongly advised that the wooded area be preserved and become a centrally located campus park. The trees were sparse when the university originally bought the land. Over the years it's become a lush forest. The area has never been logged and is managed naturally with little intervention.
Herman B Wells, Indiana University's 11th president from 1938-1962, played a pivotal role in preserving the wooded areas around campus.
"I hope our alumni will always insist upon the retention of our precious islands of green and serenity – our most important physical asset, transcending even classrooms, libraries, and laboratories in their ability to inspire students to dream long dreams of future usefulness and achievement – dreams that are an important and essential part of the undergraduate college experience." – Herman B Wells, 1962
Sources
History. Dunn Woods Memories. March 22, 2016. Accessed August 07, 2019. http://blogs.iu.edu/dunnwoods/sample-page/.
Bracalente, Anita. Indiana University's Woodland Campus (2012). Library of American Landscape History. . Accessed August 07, 2019. http://blogs.iu.edu/dunnwoods/sample-page/.
Additional Information