Saitta House
Introduction
Made up of a curious blending of Tudor and Medieval styles, Brooklyn's Saitta House is one of the area's more unusual homes. It was built in 1899 for Beatrice and Simone Saitta. The home was designed by architect John J. Petit, who built a number of prominent homes in Brooklyn. The home, which is privately owned, is listed on the National Register of Historic Places.
Images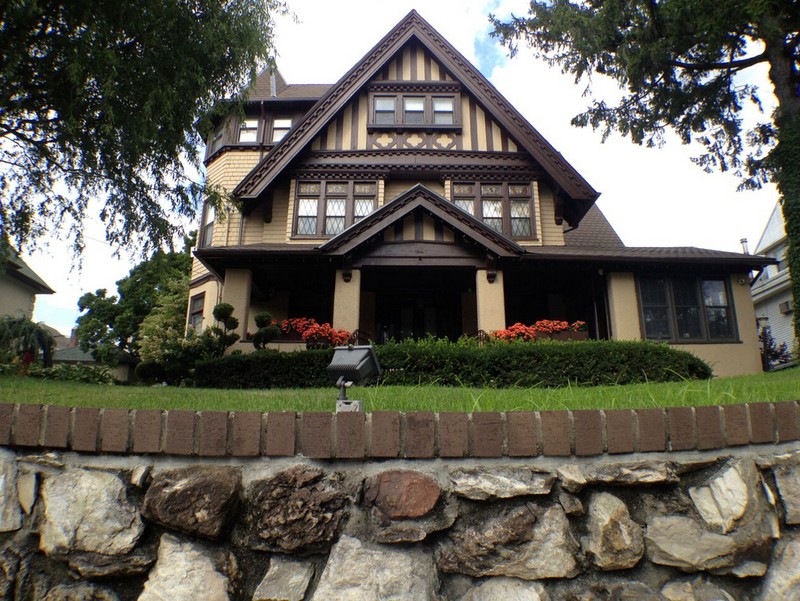 The Saitta House as it appeared in the early 1900s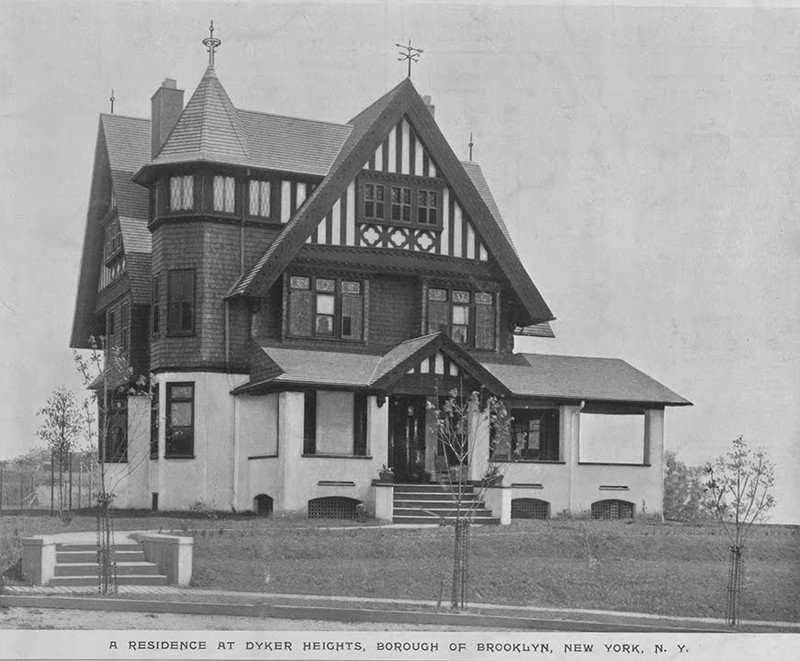 Backstory and Context
By the late 1800s, Beatrice and Simone Saitta, Italian immigrants, were highly successful in the grocery and wholesale produce business. They wanted a home in the southern Brooklyn neighborhood of Dyker Heights, which was then a comfortable, up-and-coming suburb. The Saittas commissioned John J. Petit to design a home. Petit was then one of the most well-known architects working in Brooklyn and would eventually design some of the most acclaimed homes in the area.
Petit's design consisted of a heavy Tudor influence combined with Medieval elements. The elegant home features diamond pane glass windows and dentil trim. Though its unusual merging of influences make the home a bit of a curiosity, it immediately became one of the most prominent homes in the neighborhood and set the tone for future homes in well-to-do parts of Brooklyn.
The Saitta house occupies a prominent location on a hill that affords excellent views of the harbor and the park. Many of Petit's designs were demolished over the years. The Saitta house has not only survived but is perhaps the most intact of the homes designed by the architect.
The Saitta house was added to the National Register of Historic Places in 2007. It is one of the few remaining original homes in Dyker Heights and is the pride of local preservationists.
Sources
Spellen, Suzanne. Walkabout: The Art of Building Dreams , Brownstoner.com. September 29th 2011. Accessed August 18th 2019. https://www.brownstoner.com/brooklyn-life/walkabout-the-art-of-building-dreams/.
CCroghan , Lore . Lovable Lesser-Known Landmarks: A Morris Montrose Design Plus Other Fine 19th Century Housing , Brooklyn Daily Eagle . September 2nd 2015. Accessed August 18th 2019. https://brooklyneagle.com/articles/2015/09/02/lovable-lesser-known-landmarks-a-morris-montrose-design-plus-other-fine-19th-century-housing/.