Appalachian Forest Discovery Center
Introduction
Located on the first floor of the historic Darden Mill building on Railroad Avenue in Elkins, the Appalachian Forest Discovery Center is a product of ongoing efforts to commemorate and preserve sites of historic, cultural, and ecological interest in the Appalachian Forest National Heritage Area. Although it just recently received status as a National Heritage Area in 2019, the organization has been active since 2001 and the Discovery Center has been in operation since the mill building's renovation in 2014. Under the direction of the non-profit Appalachian Forest Heritage Area, Inc., the center has since its inception served as a centerpiece of that organization's efforts to educate the public on the history of Appalachian forests and the study of forestry. In addition to a rotating exhibit that changes every year, the center features information about sites across the 18-county heritage area in West Virginia and Maryland as well as a permanent exhibit entitled "Discovering the Appalachian Forest."
Images
Current Photo of Darden Mill, location of the Appalachian Forest Discovery Center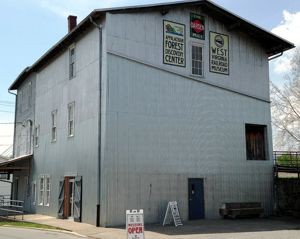 Historic photo of Darden Mill, undated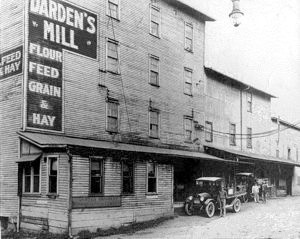 Interior of Appalachian Forest Discovery Center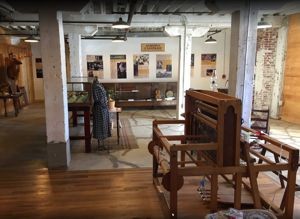 Backstory and Context
Prior to approximately 1880 nearly two-thirds of the trees in the state of West Virginia were part of ancient growth forests, meaning that they had remained largely undisturbed by human intervention since their inception. That is not to say that logging did not take place in the region prior to that time. Before the Civil War the harvesting of trees in what was then western Virginia was largely piecemeal, undertaken primarily by private landowners to clear the soil for agriculture. During this period trees were felled with the use of axes and then either floated down nearby rivers to the closest sawmill or dragged there by mules, horses, or oxen. Such mills were typically powered by current from streams or rivers, meaning that they were of necessity located along those bodies of water. This made logging enterprises in the Appalachian Mountains somewhat difficult to maintain and make profitable. Two overlapping events in the nineteenth century dramatically changed that, however, and in the process rewrote not only the history of the region but its landscape as well.
The first, the development of steam power and resultant industrialization of the United States, changed nearly every aspect of the logging industry. Sawmills powered by steam could be larger, could cut timber more rapidly, and did not necessarily have to remain near a river or stream if other sources of water could be found. Logging enterprises further utilized steam power with the use of locomotives, which traveled on railroads built from company sawmills into the forests themselves. There, steam-powered log loaders filled railroad cars with cut timber, which then traveled by train down to sawmills for quick and efficient processing. With steam to drive the logging industry forward, the deforestation of the American landscape began to progress at an exponential pace.
This was no less true of the West Virginia landscape, where the second event in question (the creation of the state itself in 1863) paved the way for rapid industrialization in the wake of the American Civil War. Timbering in West Virginia, encouraged and profited from by industrialists like Elkins founders Stephen B. Elkins and Henry Gassaway Davis, had a profound impact on the state's economy and ecology. While logging often translated into vast profits for company owners and shareholders, such financial gains largely failed to translate into long-term fiscal security for the state's residents. Moreover, with millions of acres of West Virginia's woodland habitats permanently disrupted, the ability of its citizens to benefit from other natural resources quickly dwindled. Timbered land was generally uncultivable, precluding its use for agriculture, and without the presence of tree roots the rate of erosion rose, contributing to a consequent rise in flooding and water pollution. This was exacerbated further by an increase in the rate of forest fires, a common risk in logged areas. In 1908 alone, 1.7 million acres of West Virginia land were destroyed by 710 forest fires.
This began to change over the course of the twentieth century, however, as a movement rose across the United States to conserve and protect the country's natural landscapes from further industrial exploitation. The U.S. National Parks System was a primary result of the conservation movement, as was the emergence of the field of forestry. In West Virginia, the confluence of those developments resulted in the creation of the Monongahela National Forest in 1920 (itself part of the Appalachian Forest National Heritage Area) to preserve over 900,000 acres of the state's woodlands from further deforestation. Another result was the establishment of the Fernow Experimental Forest within the Monongahela National Forest fourteen years later, a site dedicated to developing more advanced methods of forest preservation and watershed management.
While both sites are firmly within the boundaries of the state of West Virginia, the much larger Appalachian Forest Heritage Area that emerged in the twenty-first century to further promote the preservation and study of the region's wooded landscapes encompasses a much larger area that includes portions of neighboring Maryland. After almost two decades in operation, the heritage area earned status as a National Heritage Area in 2019 after a bipartisan effort by senators and congresspeople from both states, a change that translates into a more formalized partnership with the National Parks System. Visitors interested in the history of the heritage area or the processes of industrialization and conservation that led to its creation may stop by the Appalachian Forest Discovery Center during its regular operating hours or upon appointment for a more complete history of the region's forests and study of forestry.
Sources
"Appalachian Forest Discovery Center." Appalachian Forest Heritage Area. Accessed August 20, 2019. https://www.appalachianforest.us/DiscoveryCenter/index.htm.
Clarkson, Roy B. "Timbering and Logging." The West Virginia Encyclopedia.November 05, 2010. Accessed August 20, 2019. https://www.wvencyclopedia.org/articles/728.
"Fernow Experimental Forest." Northern Research Station. Accessed August 20, 2019. https://www.nrs.fs.fed.us/ef/locations/wv/fernow/.
Hauger, Joseph. "Eighteen-county Region Designated as National Heritage Area." The Preston County News & Journal, March 21, 2019. Accessed August 20, 2019. https://www.wvnews.com/prestoncountynews/news/eighteen-county-region-designated-as-national-heritage-area/article_a3c2b458-8c28-5866-831a-10bc835e48cb.html.
Lewis, Ronald L. "Deforestation." September 19, 2013. Accessed August 20, 2019. https://www.wvencyclopedia.org/articles/1867.
"Logging and Railroads." Appalachian Forest Heritage Area Thematic Maps Series. Accessed August 20, 2019. http://afha.maps.arcgis.com/apps/MapSeries/index.html?appid=eb95a55f1dd7479cb1048c98f21898c8.
Appalachian Forest Heritage Area, Inc. "The Long Road to AFNHA Designation." News release. Appalachian Forest Heritage Area. Accessed August 20, 2019. https://www.appalachianforest.us/docs/Long_Road_to_NHA.pdf.
" First Floor of Mill Complete." C-HOPE. Accessed August 20, 2019. https://www.c-hopewv.org/dardfirst.htm.
Image Sources
Appalachian Forest Heritage Area, Inc.

Appalachian Forest Heritage Area, Inc.

Appalachian Forest Heritage Area, Inc.

Additional Information