Mount Pisgah - Thomas Walker Fry Church
Introduction
Located on OH 775 about one mile north of Proctorville, OH in an area called "Red Hill," Mt. Pisgah Church was organized after the Civil War by Reverend Thomas Walker Fry. Fry was the leader of the manumitted Twyman slaves from Madison County, Virginia who settled in Burlington, Ohio. For years, the church served the area's Black population. The cemetery across the road serves as the final resting place for many of the African American families who lived in this part of Ohio in the 19th and early 20th century.
Images
Mt. Pisgah Church north of Proctorville, OH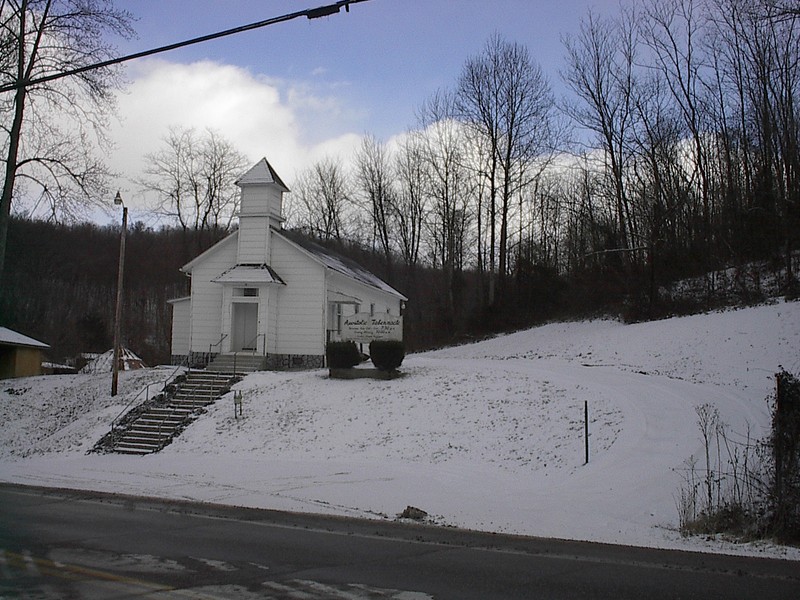 Backstory and Context
Mt. Pisgah stands above the road on east side of OH 775, just over the ridge north of Proctorville in Lawrence County, Ohio The church was begun after the Civil War by Thomas Walker Fry, one of the famous 37 manumitted slaves who were freed by James Twyman in 1849. Fry's reputation as a well known minister (before and after manumission) would have allowed him to travel the region and to make contacts in numerous communities. Although there is no written evidence documenting his involvement with escaped slaves, Fry was probably active in the Underground Railroad as Virginia's line was the Ohio River.
Thomas Walker Fry was part of the Macedonia Church and the Providence Antislavery Missionary Baptist Association by 1850. If not an actual conductor or leader in the Underground Railroad, Fry would have at least have known who was moving across the region and could alert others to the movements of slave catchers.
Like many African Americans in the region, Fry likely helped escaped slaves as the Underground Railroad consisted primarily of local freed Black citizens who took tremendous risks by continuing to live close to the Ohio River where they could aid other African Americans as they sought to escape slavery.
Sources
Federal Census of the United States, Lawrence County, Ohio 1850, 1860, 1870
Pratt, J. Earl: The Promised Land
The Advertiser, Huntington, WV: 2 Sep 1934. 2 articles by R.C. Hall:
"Mount Pisgah Church is Proctorville Landmark", "Emancipated Negroes Built Mount Pisgah Church"
Additional Information