Promise of the Prairie statue
Introduction
The first piece of public art installed by the City of Westminster, it has stood near City Hall since 1993. It depicts a frontier family representing family values and hope for the future. It was sculpted by Loveland, Colorado, artist George W. Lundeen. It was donated by real estate developer Jim Sullivan.
Images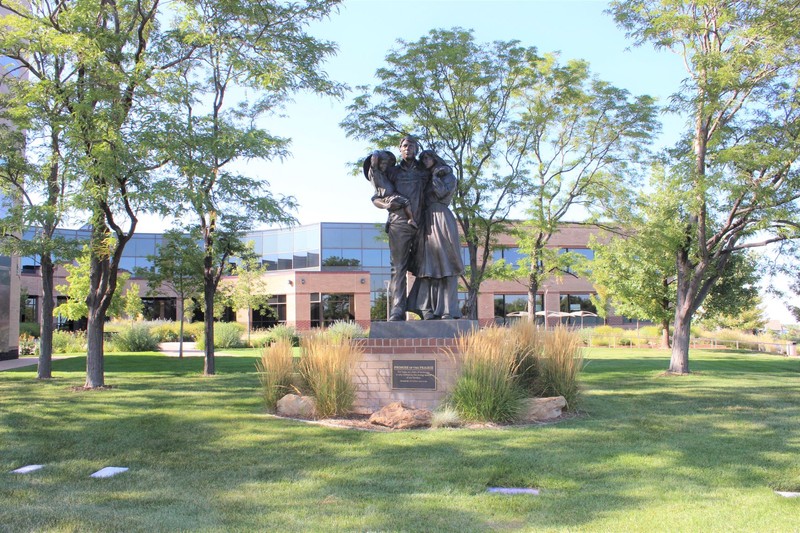 Detail of Promise of the Prairie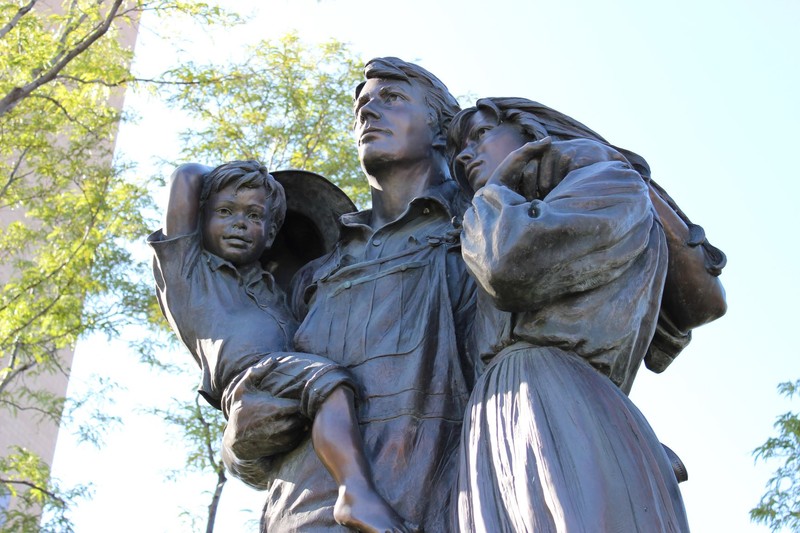 Promise of the Prairie plaque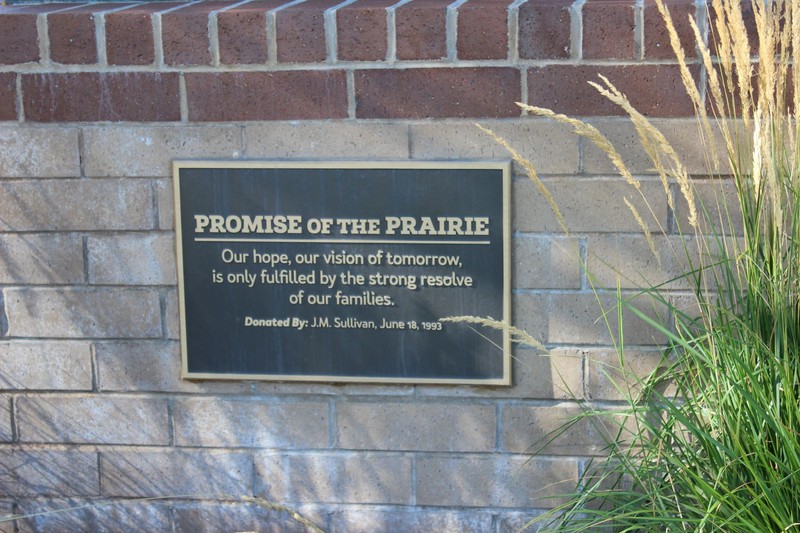 Backstory and Context
This statue was the first piece of public art erected by the City of Westminster. It was a gift from real estate developer Jim Sullivan, whose company built more than 1 million square feet of retail space in Westminster. It is part of a city mission to integrate art into the community. It was placed outside the doors to City Hall in 1993. Since then, the city has installed more than 100 bronze sculptures and murals throughout the community.
This sculpture depicts a pioneer family. It features a father dressed in overalls, a mother wearing a prairie-style gown and apron, and their young son. Most pioneer family monuments place a school-aged son in front of his parents, preparing to lead them into the future. Mothers often gaze lovingly at a baby in their arms. In this work, in contrast, the father holds a preschool-aged boy. Both father and mother gaze into the distance, imagining their future. Rather than gripping books to prepare for the future, the young boy plays with his father's wide-brimmed hat. The boy is barefoot, which was typical for frontier children but is rarely seen in pioneer monuments. On this young boy, it further emphasizes his innocence.
The monument inscription emphasizes family commitment and hope for the future:
"Our hope, our vision of tomorrow, is only fulfilled by the strong resolve of our families."
This statue was sculpted by Loveland, Colorado, resident George Wayne Lundeen. It is a copy of a piece commissioned by the artist's hometown of Holdredge, Nebraska. Another Lundeen sculpture, First Mitt, stands outside the Christopher Fields complex in Westminster.
Sources
"Public art adds character to Westminster landscape." Westminster Window December 22, 2016.
Patty, Mike. "Sculpture dresses up City Hall." Rocky Mountain News July 1, 1993.
George Lundeen--Biography, Lundeen Sculpture. Accessed September 4th 2019. http://www.lundeensculpture.com/bio-george/.
Prescott, Cynthia Culver. Pioneer Mother Monuments: Constructing Cultural Memory. University of Oklahoma Press, 2019.
Image Sources
Photo by Cynthia Prescott

Photo by Cynthia Prescott

Photo by Cynthia Prescott

Additional Information