Austin North House
Introduction
Named for its builder and first owner, the Austin North House is a historic home built in 1902. Austin North was a successful businessman during the early 20th century, serving as president of the North Real Estate Company. In this position (and others), he played a large role in promoting Billing's growth. Prominent local architecture firm Link and Haire designed the house to resemble a castle. As such, it features a three-story turret, battlements, and semi-circular arches over windows. At the time it was erected, the home was in an undeveloped part of town. The house was added to the National Register of Historic Places in 1977.
Images
Known as The Castle, the Austin North House is a historic home erected in 1902.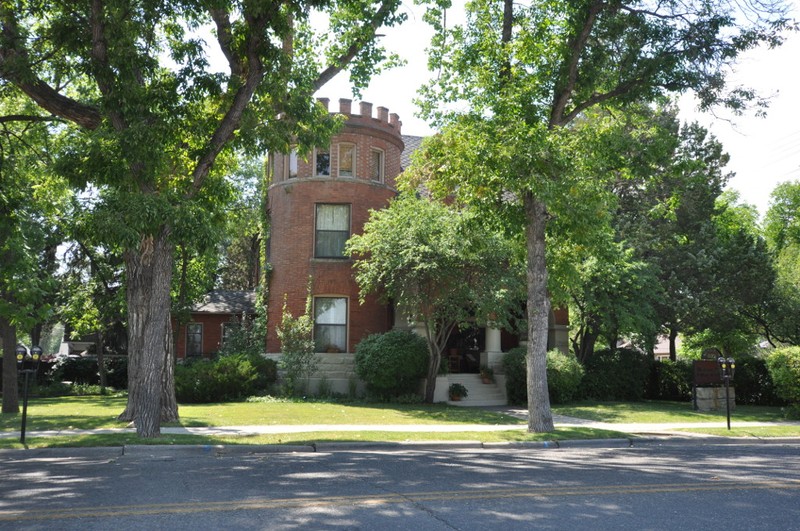 Backstory and Context
Austin North was born in Iowa in 1869 where he grew up on a farm. After taking some college courses, he moved to Billings in 1883. He found work in the post office and then with the Northern Pacific Railroad. He founded his company on January 1, 1892 and got married two years later. He helped developed many subdivisions, a country club, and city athletic field, and was also a part owner of the Billings Daily Gazette. Unfortunately, his life was cut short when he fell from a tree in San Antonio in 1928. Subsequent owners of the house have kept it in good condition. The current owner converted the carriage house into a guest house and the stable is now a restaurant.
Sources
"Austin North & Land Developments." Yellowstone Genealogy Forum. Accessed September 5, 2019. http://sites.rootsweb.com/~mtygf/county/austin.htm.
Curtis, Susan W. et al. "The Castle (of Billings)." National Park Service - National Register of Historic Places Nomination Form. November 23, 1977. https://npgallery.nps.gov/NRHP/GetAsset/NRHP/77000822_text.
Olp, Susan. "For early Billings man, home was indeed his castle." Billings Gazette. April 11, 2015. https://billingsgazette.com/special-section/news/yellowstone-county-52/for-early-billings-man-home-was-indeed-his-castle/article_3d091137-f4db-5c08-b233-f29d97e5ea2f.html.