Doc Holliday Statue
Introduction
Located next to the Boothill Museum is a statue depicting one of the most famous figures of the American West, John Henry "Doc" Holliday (1851-1887). The statue portrays Holiday sitting at table playing cards with three empty chairs that visitors can sit on. Trained as a dentist, which is how he got his nickname, Holliday was also a skilled gambler, gunfighter, and was a close friend of another famous westerner, U.S. Deputy Marshal Wyatt Earp. Holliday, who was ill-tempered, got into a number of fire fights and is known to have killed at least one or two men. The most famous of these confrontations was the gunfight at O.K. Corral (see below), which occurred on October 26, 1881 in the historic city of Tombstone, Arizona.
Images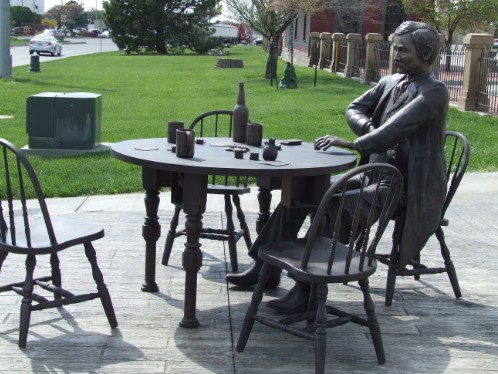 Backstory and Context
Doc Holliday was born in Griffin, Georgia on August 14, 1851. His father, Henry, who fought in the Mexican-American and Civil Wars, taught Doc how to shoot. Sadly, Doc's mother died of tuberculosis in 1866, the same disease that would ultimately claim his life as well. He attended college in Philadelphia where he studied the classics and earned a degree in dental surgery in 1872. He started to work in a practice in Atlanta, but soon he began to show symptoms of tuberculosis. Eventually, his coughing attacks forced him to stop working as a dentist and his doctors recommended he move out West.
Doc started to gamble to make a living and quickly became very good at it. Perhaps because he knew that he likely did not have very long life ahead of him, Doc had a no-nonsense temperament—a trait that sometimes got him into trouble. It is believed he got into a few confrontations here in Dodge City but there are no records of him killing anyone.
Doc met Wyatt Earp in 1877. Earp was searching for outlaws who had robbed a railroad construction camp in Kansas. They happened to meet at a saloon in Dodge City and Doc told Earp that he heard the outlaws were going to back to Kansas. With this information, they were indeed captured, and the two men became friends. In 1881, Doc joined Earp and a few other lawmen as they were chasing another group of outlaws called the Cochise County Cowboys. The two groups fought each other in Tombstone, Arizona in a short but deadly 30-second gunfight. Three of the Cowboys were killed and Doc and Earp were wounded. The gunfight eventually came to symbolize the lawless period of the Wild West.
As Doc got older, the tuberculosis became worse. He traveled to Colorado to try to get some relief from his illness, hoping that hot springs and sulfur vapors would help. He died in Glenwood Springs in his hotel room on November 8, 1887.
Sources
"Doc Holliday—Deadly Doctor of the American West." Legends of America. Accessed September 7, 2019. https://www.legendsofamerica.com/we-docholliday/2.
Harvey, Ian. "The Real Life of Doc Holliday—Wild West Legend that Continues to Fascinate." The Vintage News. Accessed September 7, 2019. https://www.thevintagenews.com/2019/02/28/doc-holliday-old-west.
Image Sources
Dodge City Trail of Fame: http://www.dodgecitytrailoffame.org/cms