Henry C. Trost House
Introduction
Listed on the National Register of Historic Places, the Henry C. Trost House is one of El Paso's most unique landmarks. Built in 1908, it is historically significant for its architecture and association with the person for whom it is named, Henry C. Trost, who was arguably the city's best architect of the early 20th century. The home, which Trost designed, is an excellent example of Prairie School architecture (the style commonly associated with famous Frank Lloyd Wright), which is often characterized by large eaves (the part of the roof that extends several feet beyond the walls). The eaves are designed to help cool the house in Texas' hot climate. The home is considered one of Trost's finest works. He lived here with his sister and two brothers.
Images
The Henry C. Trost House was built in 1908 by it namesake, who was the city's foremost architect during the early 20th century.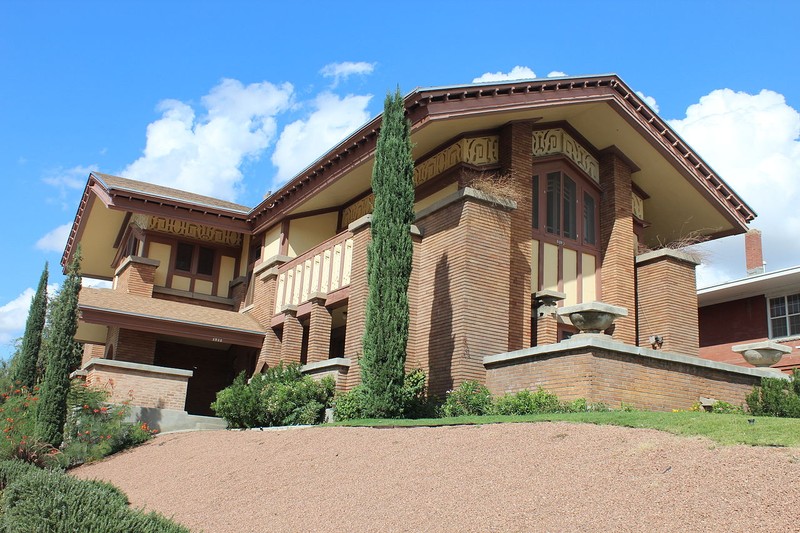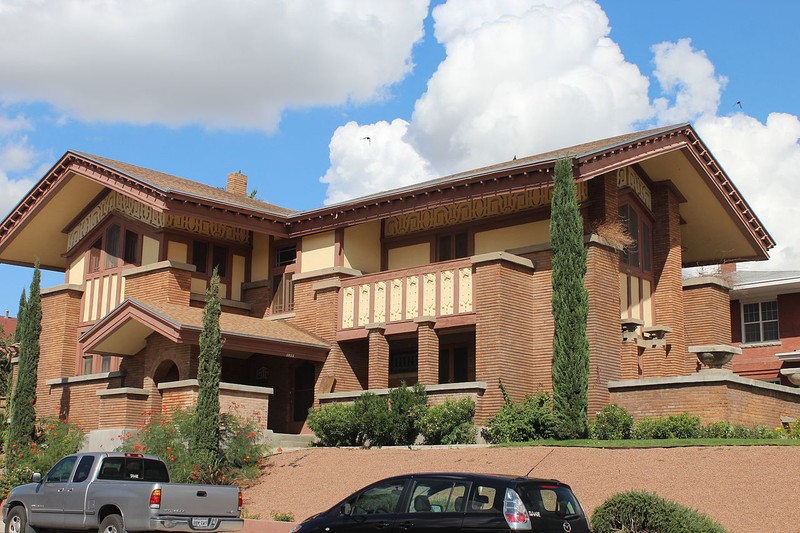 Backstory and Context
Henry Trost was born in 1860 in Toledo, Ohio to German immigrants. He attended art school as a young man and got a job as an artist in Toledo after graduation. He then moved to Denver in 1880 where he got a job as a draftsman for an architecture firm. There, he assisted in drafting the plans for the National Bank of Denver. During the next 18 years or so, Trost moved to a variety of locations including Galveston,Texas; Topeka, Kansas; and Chicago, Illinois. He became acquainted with contemporary architecture trends while living in Chicago. In 1898 or 1899, he moved to Tuscon, Arizona where he introduced these new architecture ideas. Trost moved to El Paso in 1903. His brother, Gustavus, who was already there and also an architect. Together, along with their nephew, George, they established the firm Trost & Trost (Gustavus' twin brother, Aldophus, who was an engineer, joined the firm a while later).
Trost died in 1933 in El Paso but the firm continued to operate until 1946. Over the years, the firm existed designed many of the city's skyscrapers and other landmarks including the Hotel Paso Del Norte, the Plaza Hotel, the Anson Mills Building, and the State National Bank. The Trost House continues to be a private residence but has been open for tours on occasion.
Sources
Cortes Gonzales, Maria. "Visit Henry Trost's home and 7 others during Sunset Heights Tour of Homes." El Paso Times. October 14, 2017. https://www.elpasotimes.com/story/life/2017/10/12/visit-henry-trosts-home-and-7-others-during-sunset-heights-tour-homes/746416001.
"Henry C. Trost." Henry C. Trost Historical Organization. Accessed September 13, 2019. https://www.henrytrost.org/family-history/henry-c-trost.
Mr. and Mrs. Malcolm McGregor. "Henry C. Trost House." National Park Service - National Register of Historic Places Nomination Form. July 12, 1976. https://catalog.archives.gov/OpaAPI/media/40971861/content/electronic-records/rg-079/NPS_TX/76002024.pdf.
Image Sources
Wikimedia Commons

Wikimedia Commons