Cold Harbor Battlefield and Visitors Center
Introduction
Cold Harbor Battlefield and Visitors Center is a National Park in Richmond-Mechanicsville, VA at the site of the Battle of Cold Harbor, one of the most important and most vicious trench battles of the Civil War. The National Park Service estimates that 15,500 soldiers, Union and Confederate, were either killed or wounded during the battle. The 12-day battle was fought along the flats of the Chickahominy River and the trenches dug there are still plainly visible 150 years later. The visitor's center features exhibits and artifact displays and each June there is a special program for the anniversary of the battle. Grant's actions to charge repeatedly against Confederate defenses were called by his critics as "butchery" and "murder." It has been recorded that when hearing about the loses, Grant cried. Cold Harbor taught him valuable lessons he needed to learn and applied for the rest of the war.
Images
Painting of the Battle of Cold Harbor.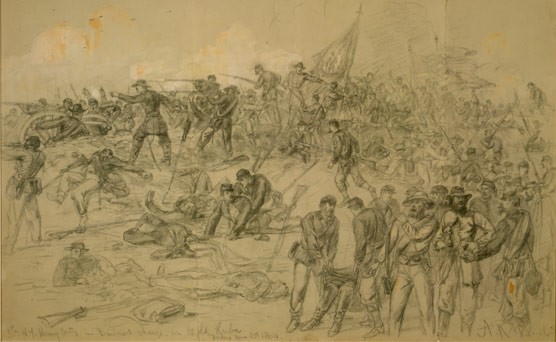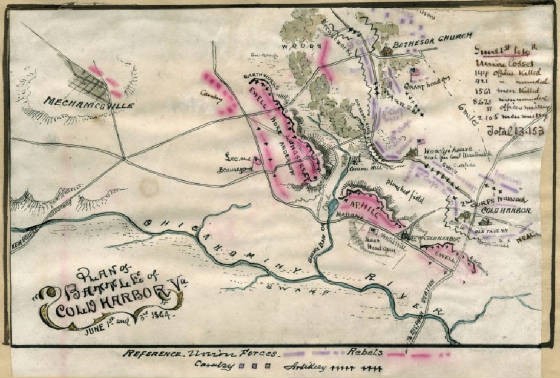 A burial party in April 1865. It would not be until war's end that the dead of Cold Harbor could be buried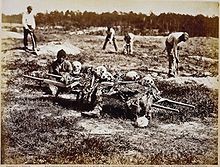 A on-the-scene sketch of the Union charge in June 3.

A section of some of the more well preserved Confederate trenches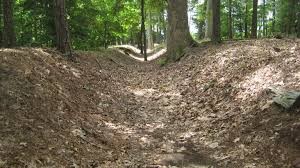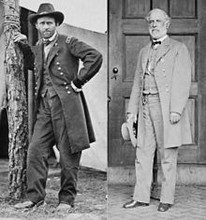 Backstory and Context
The Battle of Cold Harbor began on May 31, 1864 as part of the Overland Campaign. Union Major General Sheridan's Calvary took the crucial crossroads of Old Cold Harbor and held it against one counter-attack until additional Confederate reinforcements arrived. On June 1, Grant ordered a general assault on the Confederate left. The results were terrible, over 2,000 killed with no objective gained. By June 2, both armies had established a 7-mile front from Bethesda Church to the Chickahominy River.
Union General Ulysses S. Grant (later President) needed to attack General Robert E. Lee's Confederate right flank in an attempt to cut Lee and his men off from supplies from Richmond, VA. There was a delay in the attack though due to Major General Hancock's Second Corps arriving later than expected through a midnight march. When Hancock's troops arrived they were exhausted from the trip. This crucial time-loss allowed Lee's men to dig remarkable trenches.
Shortly before dawn on June 3, covered by darkness and fog, Grant's men launched an attack on the Bethesda Church-Cold Harbor line and were butchered by the entrenched Confederate soldiers. The 2nd, 6th, and 18th Corps (Union) were lost in the darkness, fog, and overgrowth of the swamps even before they reached the musket fire of the Confederates. It is estimated that 7,000 men were wounded or killed in the first hour and 30 minutes of the assault.
It was not until June 7th that Generals Grant and Lee agreed to a two-hour truce to collect the wounded and the dead. Upon inspection, the Grant realized that many of his men had not lived simply from the exposure of the summer sun during five days of trench warfare. There are several different estimates of the casualties of the 12-day battle, though a conservative estimate by the National Park Service accounts for 13,000 Union and 2,500 Confederate soldiers that were killed or wounded during the Battle of Cold Harbor. A truce was made by both armies for the Union to collect their wounded and dead, the former having been stuck in no-mans land for days in the June heat.
Critics then and now have referred to Grant's actions in Cold Harbor as "murder" and "butchery." The people of the north were appalled by the number of losses and called for Grant's sacking by Lincoln. Lincoln refused to do so, still believing Grant was the man to win the war, though he wanted some good news himself. The somewhat good news was that Grant was still pushing towards Richmond and dwindling the numbers of the Confederates. It has been recorded that upon hearing the number of losses June 3, Grant went to his tent and cried. He made the decision there to never launch such a charge against strong fortifications. Something he still lamented in his famous memoirs.
Sources
http://www.nps.gov/rich/planyourvisit/visitorcenters.htm http://www.civilwar.org/civil-war-discovery-trail/sites/cold-harbor-battlefield-and-visitors-center.html http://vimeo.com/93411890 http://thomaslegion.net/battleofcoldharbor.html http://www.civilwar.org/battlefields/coldharbor/cold-harbor-history-articles/ Bonekemper, Edward H., III. A Victor, Not a Butcher: Ulysses S. Grant's Overlooked Military Genius. Washington, DC: Regnery, 2004. Grant, Ulysses S. Personal Memoirs of U. S. Grant. 2 vols. Charles L. Webster & Company, 1885–86. Catton, Bruce. Grant Takes Command. Boston: Little, Brown & Co., 1968. Furgurson, Ernest B. Not War but Murder: Cold Harbor 1864. New York: Alfred A. Knopf, 2000. Rhea, Gordon C. Cold Harbor: Grant and Lee, May 26 – June 3, 1864. Baton Rouge: Louisiana State University Press, 2002. Trudeau, Noah Andre. Bloody Roads South: The Wilderness to Cold Harbor, May–June 1864. Boston: Little, Brown & Co., 1989.
Additional Information