Ward-Craycraft Stadium
Introduction
The Ceredo-Kenova football field was created in 1963 next to Ceredo-Kenova High School. Over the decades it has served as a pillar for the community. The high school and the twin towns of Ceredo and Kenova were deeply invested in football; C-K won twelve state championships during its existence. The field remained in use by local schools following the closure of the high school in 1998. In 2011 temporary modular units were placed on the field to house classes for Kenova Elementary School after its building abruptly closed due to safety concerns. The football field was restored and rededicated in September 2019. It is named after Carl Ward and Dale Craycraft, the two most successful football coaches Ceredo-Kenova High School's history. Today Ward-Craycraft Stadium serves as the football field for Ceredo-Kenova Elementary School, which opened in 2017 on the site of the former high school.
Images
Ward-Craycraft Stadium Field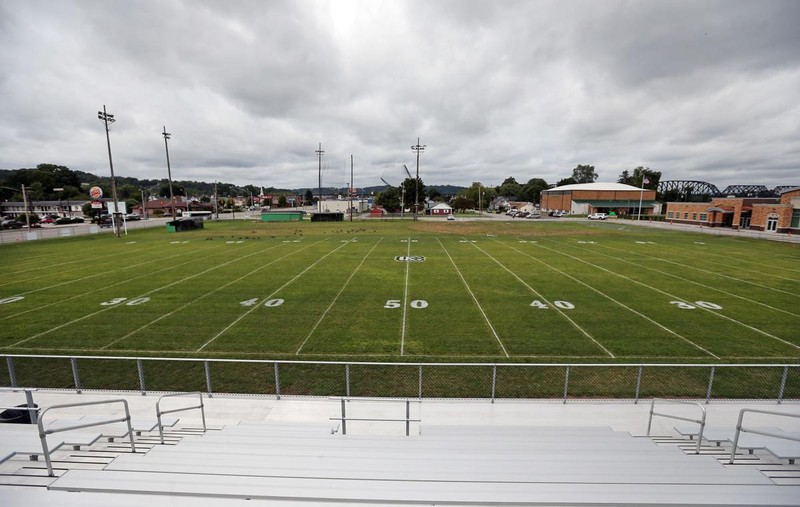 The Opening of the New Ward-Craycraft Stadium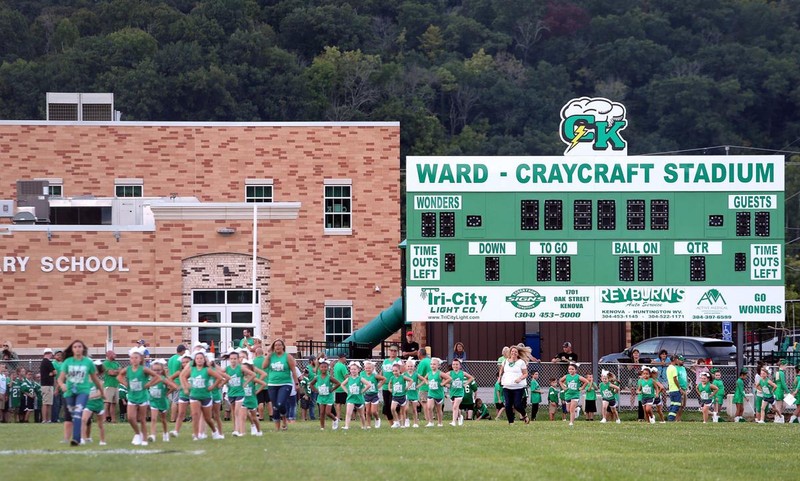 Community Members Honor Coach Ward at the Field's Reopening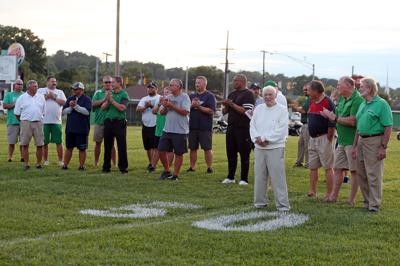 The New Bleachers at The Ward-Craycraft Stadium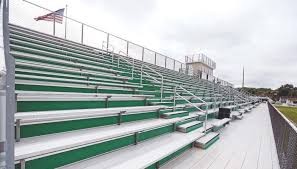 The original bleachers seen here were demolished in 2018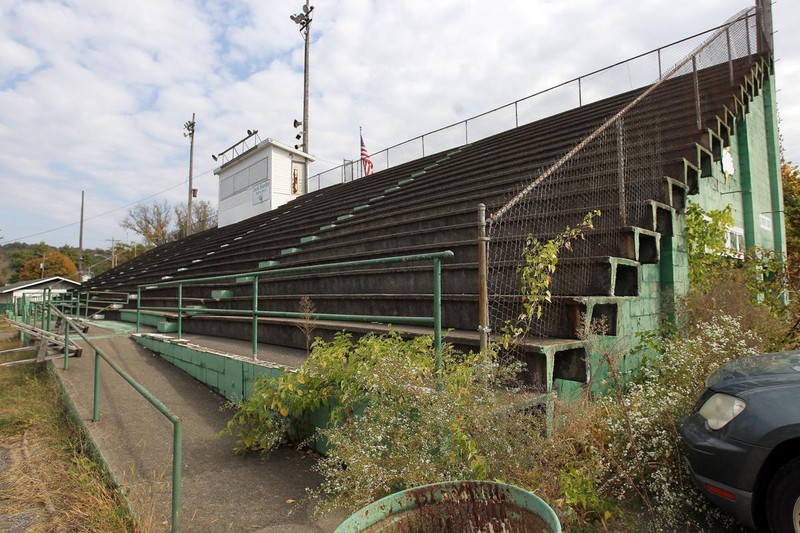 Kenova Elementary's modular unit trailers sat on the field from 2011 until 2017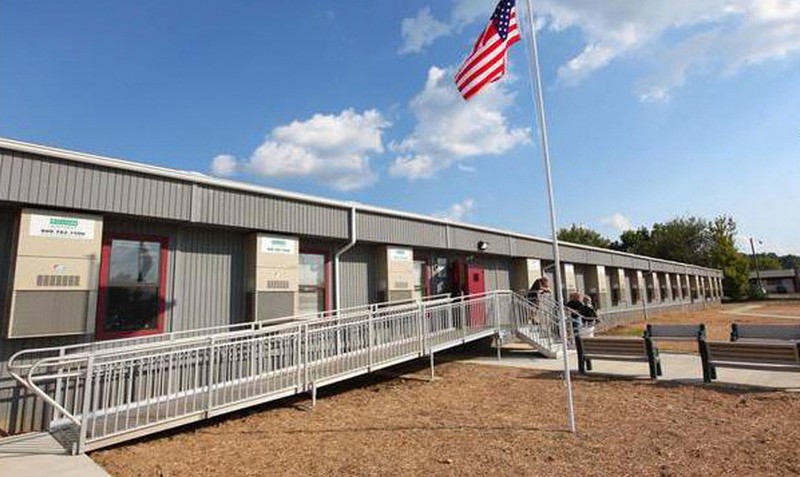 Original Football Pants and Helmet Worn by the First CK Team in 1921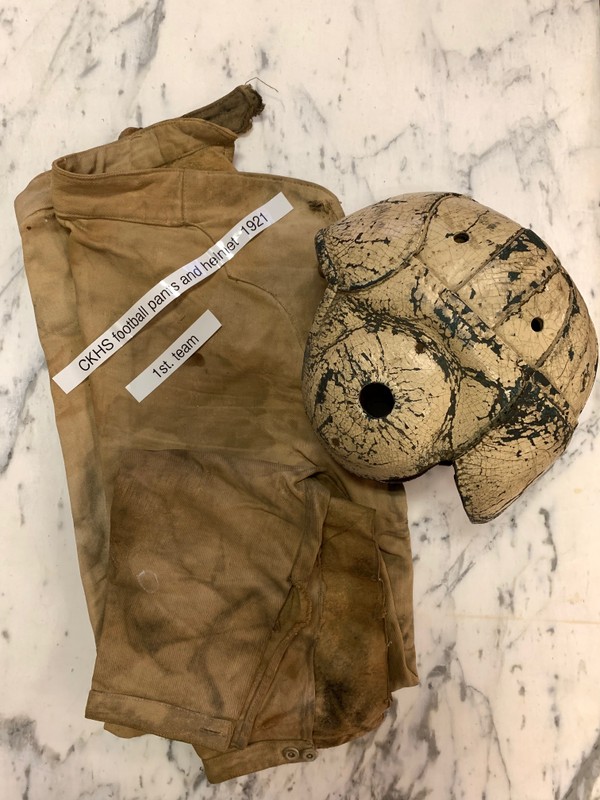 Ceredo-Kenova's First Football Team in 1905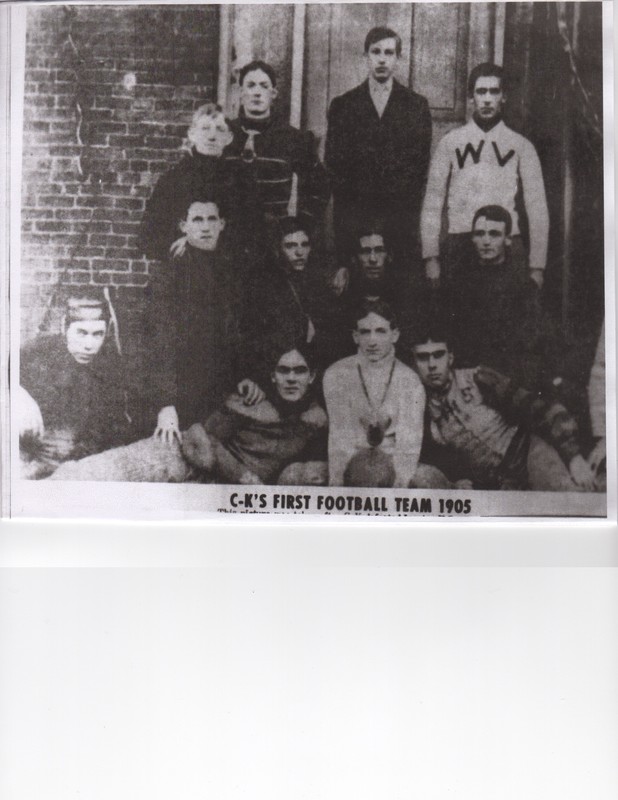 Coach Carl Ward and Coach Dale Craycraft Pictured In Front of Their Team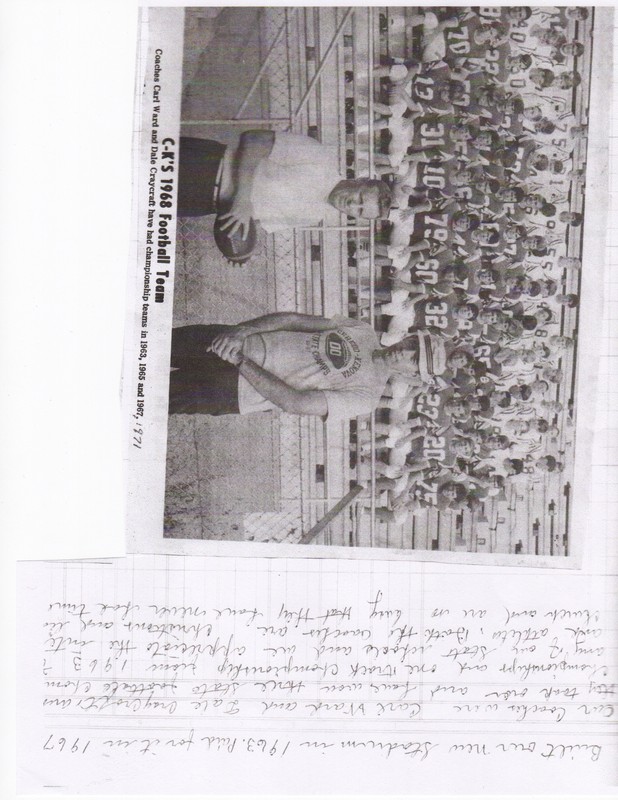 Backstory and Context
Ward-Craycraft Stadium holds significant sentimental value for the Ceredo and Kenova community. According to elementary school Principal Deidra Farley, "You wouldn't think a piece of property like that would be so valuable to a community, but it truly is because of all that it brings to the alumni and the new families. It affects everybody." The stadium first opened as the Ceredo-Kenova Football Field in 1963 for Ceredo-Kenova High School. Football was an integral part of the school's identity; it won numerous state championships, most under the leadership of Coaches Carl Ward and Dale Craycraft. The coaches were each beloved figures in the local community. According to former player Mike Watts "They taught us to be good people, good men. They did that 15-20 years. That's 1,500 to 2,000 good citizens. That's what it's all about."
After the closure of Ceredo-Kenova High School in 1998, the football field was used by other area schools including Kenova Elementary School. In 2011 the field closed indefinitely in order to house modular units for Kenova Elementary. It's building was abruptly vacated in May after a sinkhole was found beneath the structure, rendering it unsafe. The modular units were meant to be temporary structures but they remained in place until a replacement building, Ceredo-Kenova Elementary School, opened beside the field in 2017. The units were removed soon afterwards but the field remained in disuse.
In March 2018 the original concrete bleachers were demolished due to deterioration and safety issues. Members of the community campaigned to save and restore the bleachers for the elementary school. Former high school coach Barry Scragg, remarked "It breaks my heart... It's one piece that we have left in our community that we can rally around that bonds us all together." The school board decided to demolish the bleachers due to the presence of asbestos, which made any restoration project too expensive. Soon afterwards new metal bleachers were constructed on the same spot; the are capable of holding up to 1,200 people. Ceredo Mayor Paul Billups commented "The Board of Education did a nice job in replacing them. Given the historic significance of the old bleachers, it was hard to see them taken away, but the new bleachers look well with the new school."
During the summer of 2019 the football field was remodeled, and in September it was formally reopened in a special dedication ceremony honoring Coaches Ward and Craycraft.
.
Sources
Creasy, Luke. Installation Complete on C-K Elementary Bleachers, AP News. November 19th 2018. Accessed December 6th 2019. https://apnews.com/28df351a71a24f50b0de379465d0f66e.
Giardina, Frank. Memories of past state football champions,
Gazette-Mail. December 3rd 2011. Accessed December 7th 2019.
https://www.wvgazettemail.com/sports/memories-of-past-state-football-champions/article_c4a4fead-6bbd-5722-b368-575fdd9d28b4.html.
McClanahan, Gilbert. Volunteers want to give Ward-Craycraft
Stadium in Kenova a makeover, January 3rd 2017. Accessed December 6th 2019.
https://wchstv.com/news/local/volunteers-want-to-give-ward-craycraft-stadium-in-kenova-a-makeover.
Top 12 teams with the most West Virginia high school football
state titles all-time, MaxPreps. June 14th 2015. Accessed December 7th 2019.
https://www.maxpreps.com/news/NuIma537VkiP75-grSJvbQ/top-12-teams-with-the-most-west-virginia-high-school-football-state-titles-all-time.htm.
Walsh, David. Champion C-K team reunites, honors former coach, Herald Dispatch. August 20th 2015. Accessed December 6th 2019. https://www.herald-dispatch.com/sports/champion-c-k-team-reunites-honors-former-coach/article_bcb9e6fe-22dc-57ff-a09b-6faba06aed63.html.
Image Sources
https://www.herald-dispatch.com/multimedia/photo_galleries/photos-ceredo-kenova-s-football-field-named-carl-ward-stadium/collection_3822966c-c934-11e9-a55c-8b28c4ecde68.html

https://www.herald-dispatch.com/multimedia/photo_galleries/photos-ceredo-kenova-s-football-field-named-carl-ward-stadium/collection_3822966c-c934-11e9-a55c-8b28c4ecde68.html

https://www.herald-dispatch.com/sports/youth_sports/wonders-regain-homefield-advantage-dedicate-new-bleachers/article_89626146-7247-5137-bbe8-4adda356dedc.html

https://www.herald-dispatch.com/c-k-stadium-is-once-again-wonder-full/article_3092de6f-fc35-5680-b5fe-e959ee31bc08.html

https://www.herald-dispatch.com/wcn/wc_news/asbestos-found-in-the-paint-on-ward-craycraft-bleachers-in/article_e26c0dde-fd3e-11e6-9f92-afbee63a7295.html

https://www.willscot.com/view-all-case-studies/view-case-studies/case-study_kenova-elementary-school

Photo taken by Caitlin Null at the Ceredo Historical Society Museum

Photo was scanned out of a book found in the Ceredo Historical Society Museum

Photo and writing was scanned out of a journal found in the Ceredo Historical Society Museum

Additional Information