Rochester Elevator
Introduction
The Griggs Brothers/Rochester Elevator Company Grain Elevator is a two- and three-story wood frame grain elevator situated at the intersection of East University Drive and Water Street, one block east of Main Street in downtown Rochester, Michigan. At the time of the elevator's original construction on this site in 1880, it was situated alongside an eighteen-acre millpond on the right-of-way of the Michigan Central Railroad, and directly across the street from the railroad's passenger and freight station. In this pivotal location, it served as the center of agricultural commerce for the community and surrounding townships. The structure was enlarged in 1909 and now comprises three sections combined as one standing on mortared fieldstone and concrete foundations, with vertical rough sawn siding exterior and an asphalt shingle roof. The structure has been in continuous use since its 1880 construction, having converted to a retail feed/home and garden store after the abandonment of the railroad line in 1976. It is in good condition and retains excellent integrity. Except for the partial enclosure of an aluminum awning overhanging the scales which was added in the 1980s, the exterior retains its 1909 appearance. The first-floor interior has undergone minimal modification to accommodate the storage and display requirements of the current business, and most of the grain elevating apparatus, though non-functioning and not maintained, remains in place. Listed on National Register of Historic Places, 13 December 2010 Historic Use: Agriculture/subsistence: Storage Current Use: Commerce/Trade: Specialty store Owner Type: Private Foundation: Stone and concrete Wall: Wood Roof: Asphalt and steel Period of Significance: 1880-1962 Area of Significance: Agriculture and Commerce Arch/Builder: Ross, John Date Built: 1880
Images
Rochester Elevator Building, North elevation, c. 2010.

Elevator and train depot, c. 1960.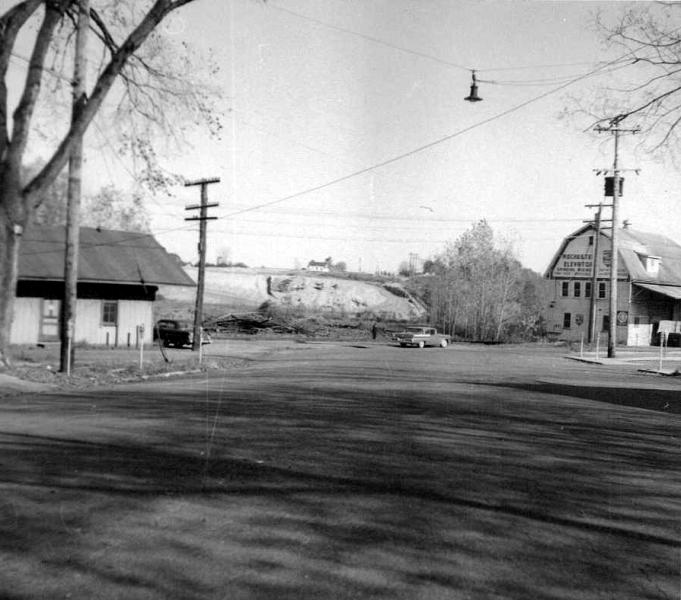 Rochester Elevator Building, c. April 1978.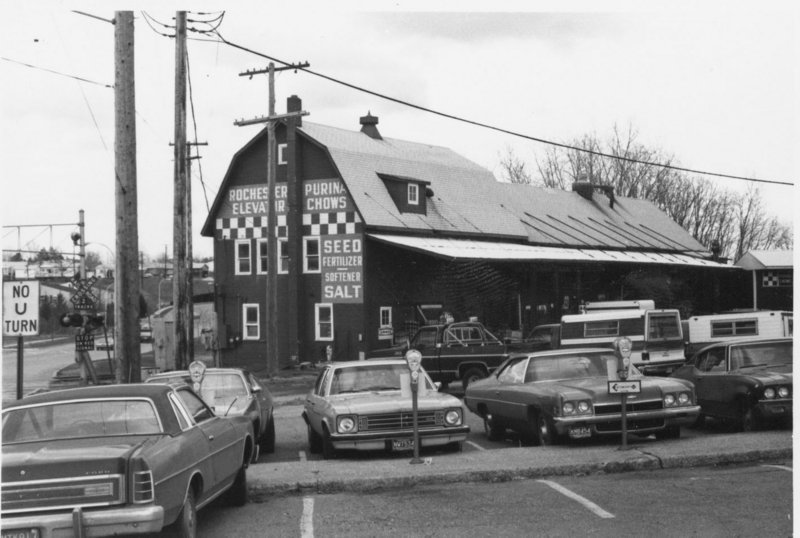 Interior of the Rochester Elevator Building.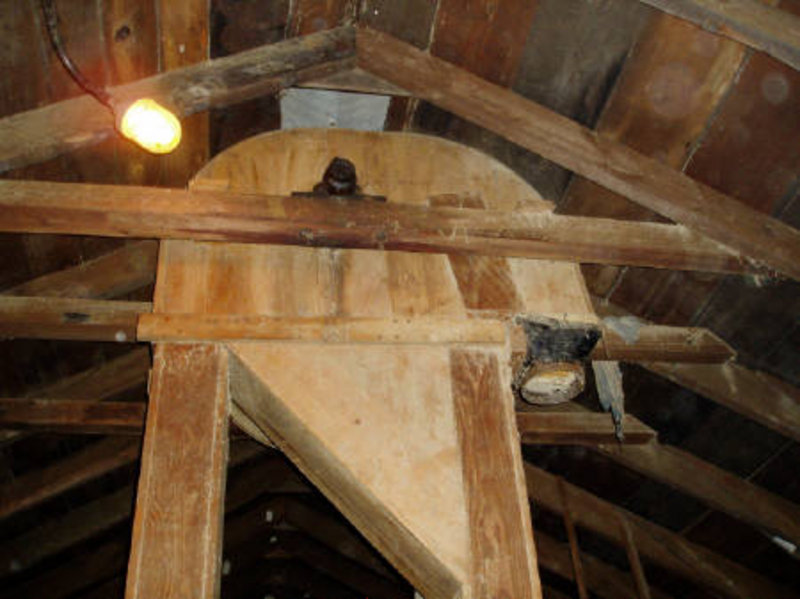 Backstory and Context
Significant Persons: Griggs, Charles K.; Griggs, Albert G. 
Statement of Significance:
The Griggs Brothers/Rochester Elevator Company Grain Elevator is significant for its role in the emergence of the village of Rochester, Michigan as a center of agricultural commerce in the late 19th and early 20th centuries. The elevator was built in 1880, following the arrival of two railroad lines in Rochester in 1872 and 1879, respectively. It provided a crucial transportation mechanism for shipment of crops and allowed farmers to store their grain until it could be shipped to market at a time when it would command the most advantageous price. The grain elevator was responsible for positioning Rochester as an agricultural marketplace within Oakland County, which led the state of Michigan in wheat production at that time.
The building at 303 East University Drive, Rochester, Oakland County, Michigan,known as the Rochester Elevator Company was built for service as a grain elevator by Charles K. Griggs in 1880. It was the second of three elevators built in the village of Rochester to ship crops to market after the railroad lines entered the town, and is the only survivor, within the city limits, of Rochester's agricultural heritage.
In the fall of 1880, the Rochester Era announced with a bold headline and undisguised enthusiasm that Charles Griggs had broken ground for a new wheat elevator on the D. & B.C. Railroad tracks on the north side of the village. The article described the building's size as 24x40 feet and 20 feet high, and reported that the contract for its construction had been awarded to John Ross & Co. John Ross (1811-1893) was a local contractor who had also built, in 1854, the building on the northwest corner of Third and Walnut streets which became the home of the First Congregational Church of Rochester. Seven weeks later, the Era reported that the Griggs elevator was nearly complete, and attributed the building's design to Charles K. Griggs himself. The elevator was described as having seven wheat bins, four of which faced the railroad tracks, and an undocumented number of other bins for various agricultural commodities.
On March 1, 1909, a group of Rochester investors filed articles of incorporation as the Rochester Elevator Company and issued $10,000 in shares to capitalize the new firm. At this time, the elevator was expanded at both ends and took on its current configuration, with a three-story gambrel roofed section facing University Drive and a two-story section added to the south end of the building. The stock company lasted a only a short time, and by 1913, ownership of the business had passed to Frank Dewey Shoup. In 1922, the business became known as the Rochester Farmer's Elevator, and in 1933, it was purchased by Lewis Cass Crissman of Rochester. Crissman and his son, L. Keith Crissman, ran the elevator until 1952, when it was sold to George Carey and Doyle Wilson. Carey and Wilson, in turn, sold the elevator to J. Wesley Smith and Edward Moulis in 1956. Moulis eventually sold out his share to J. Wesley Smith and his son, Lawrence Smith. As of 2011, the Smith family has operated the Rochester Elevator Company for over half a century, the longest tenure of any owner of the business since its founding in 1880.
Sources
1."A New Wheat Elevator," Rochester Era, November 4, 1880.
2."The New Elevator," Rochester Era, December 23, 1880.
3."Make a Market," Rochester Era, June 23, 1899.
4.Rochester Era, November 30, 1900.
5. Sanborn Map Company, Rochester, Michigan [map] (New York: Sanborn Map Company, 1908).
6. Rochester Era, May 28, 1909.
7. National Grain Journal, 6:3 (February 1922) p. 52.
8. "City Company Changes Name: Three New Partners Enter Business," Rochester Clarion, May 16, 1930.
9. L. Keith Crissman, (741 Apple Hill Lane, Avon Township, Michigan), interview with Wendy Lodwick, 09 December 1979; Rochester Hills Public Library, Rochester, Michigan, accessed at www.oaklandcountyhistory.org, 16 August 2009.
Additional Information