Legoland, Brick by Brick
Introduction
Legoland Florida is a theme park geared towards families with young children who love all things Lego. It was built in place of Cypress Gardens, which was Florida's first theme park.
Images
Triceratops lego architecture right outside Coastersaurus. Image is public domain.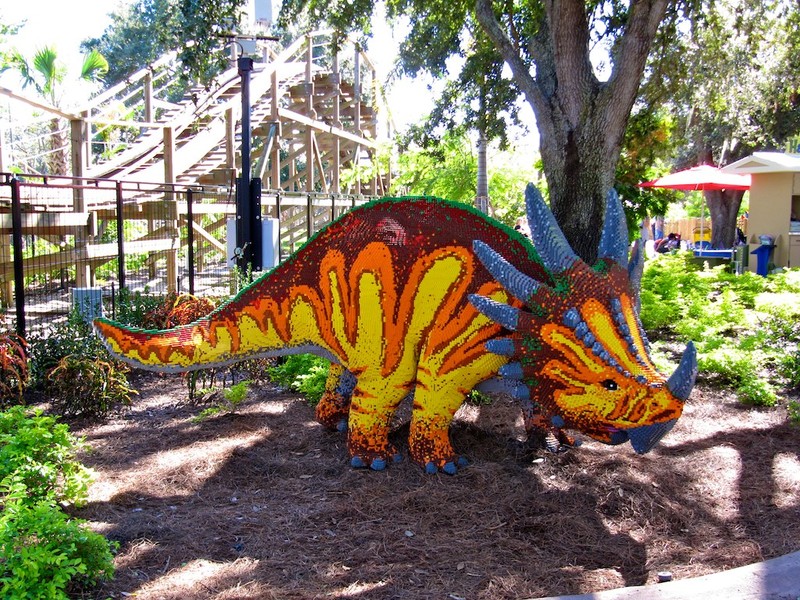 Backstory and Context
In 2004, Florida was bombarded by a series of hurricanes, starting with Hurricane Charley, then followed by Frances, Ivan, and Jeanne. The resulting destruction cost Florida over 3200 deaths and resulted in more than 61 billion dollars worth of damage. One of the casualties of this destruction was Cypress Gardens, otherwise known as Florida's first theme park. Cypress Gardens tried reopening as a water park, but ultimately had to close its doors for good on September 23, 2009. The following morning, many news sources including Channel 10 News reported on the cause of the closing. Cypress Gardens just couldn't pull in the guests and never recovered from the financial hardships caused by the hurricane and the cost of reconstruction. But, with the destruction of the old park, a new one rose from the ashes. The land was purchased by Merlon Entertainment Group (the same company responsible for other Legolands such as the ones in California and Germany) in January 2010, and opened as Legoland Florida on October 15, 2011. Since then it has been a widely popular attraction for families (but mostly children) who love all things Lego.
Cypress Gardens was a tourist attraction juggernaut before the hurricanes. However, after the devastation, recovery was a struggle. Cypress Gardens alternated between being open and closed before closing permanently. In its place, Legoland breathed new life into the land and provided yet another tourist attraction for the entertainment-craving masses. And this park appeals specifically to children (2-12 years of age). That isn't to say this park didn't have its problems during its early life. On December 28, 2011, Legoland reached its maximum capacity for the first time since it opened in October (Little). Guests were turned away, Cypress Gardens Boulevard became blocked off, and lines for rides averaged out at around 45 minutes, according to Jackie Wallace, Legoland's spokeswoman. Needless to say, Legoland had a bumpy start. It continued to have complaints by guests for being overcrowded, understaffed, and poorly maintained. But it quickly picked up as it expanded, eventually opening a water park (appropriately named Legoland Water Park), new rides and attractions, and a hotel (aptly named Legoland Hotel).
 This park is significant not just because of the resulting tourism, but because it can awaken the passions of a future engineer or architect. Legoland includes an attraction called Miniland USA, which is a series of miniature Lego replicas of popular cities and locations, such as New York City. But that's not all. An article in the Orlando Sentinel written by Kathleen Christiansen last February details all the extra experiences the park has to offer to brick-lovers. Guests get to meet up with master model builders such as Luke Phillips, where they get to see behind-the-scenes content, like secret or in-progress models and retired structures and other "unique stuff [they've] had at the park". (Phillips) Gold brick VIP guests get to hang out in the workshop for about an hour. There, they get a run-down of the building process, and can ask as many questions as their knowledge craving brains desire. They also assemble a model that can only be made at Legoland Florida, meaning it doesn't exist in any store (Christiansen).
When hurricanes Charley through Jeanne bombarded Florida, it was a shame that Cypress Gardens was one of the locations to suffer a slow death from the damages. With that being said, every cloud has a silver lining. In this case, that silver lining is Legoland Florida. While it doesn't have much of the historical significance that Cypress Gardens had during its time, it does have Coastersaurus, which is the only surviving original ride from Cypress Gardens. Aside from the Lego dinosaur at the entrance, the large wooden roller coaster remains unchanged from its initial construction, even keeping the old trains. Our Legoland has an interesting, eventful, albeit recent history that perfectly outlines the startup, hardships, and rise to incredible success of most good theme parks in condensed form. It's a paradise for brick-heads of all ages and a memorable tourist attraction with incredible Lego architecture the public can't help but marvel at.
Sources
Nefer, Barbara. "Cypress Gardens theme park purchased by Legoland owner, becomes a cousin to SeaWorld and Universal." Orlando Examiner (FL), sec. Orlando Theme Parks Examiner, 15 Jan. 2010. NewsBank: Access World News, infoweb.newsbank.com/apps/news/document-view?p=AWNB&docref=news/134245DC36C7F4D0. Accessed 23 Oct. 2019.
LITTLE, RYAN. "Legoland Park Reaches Capacity for 1st Time." Ledger, The (Lakeland, FL), sec. News, 28 Dec. 2011. NewsBank: Access World News, infoweb.newsbank.com/apps/news/document-view?p=AWNB&docref=news/13BF678B01159298. Accessed 23 Oct. 2019.
Christiansen, Kathleen. "BUILT FOR FAMILIES Legoland Florida Resort VIP tours bring guests into builders' workshop." Orlando Sentinel, The (FL), ROP FLA ed., sec. Calendar, 22 Feb. 2019, p. 1D. NewsBank: Access World News, infoweb.newsbank.com/apps/news/document-view?p=AWNB&docref=news/171BF790223DF9D8. Accessed 23 Oct. 2019.
"CHANNEL 10 NEWS - 06:00:03." CBS - 10 WTSP (Tampa, FL), 24 Sept. 2009. NewsBank: Access World News, infoweb.newsbank.com/apps/news/document-view?p=AWNB&docref=news/12AF12CDD93BC338. Accessed 23 Oct. 2019.
Additional Information