Historic City of Sanford Fire Station 31
Introduction
One of the oldest fire stations in Florida is the City of Sanford Fire Station 31. It is located at 109 S. Palmetto Ave. Sanford, FL and was built in 1956. They then relocated to the station 1303 French Ave. it has not been an actual fire station since 1974.
Images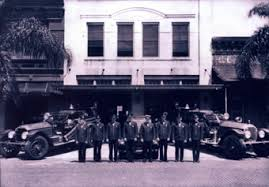 HISTORIC SANFORD FIRE STATION TURNED AIRBNB!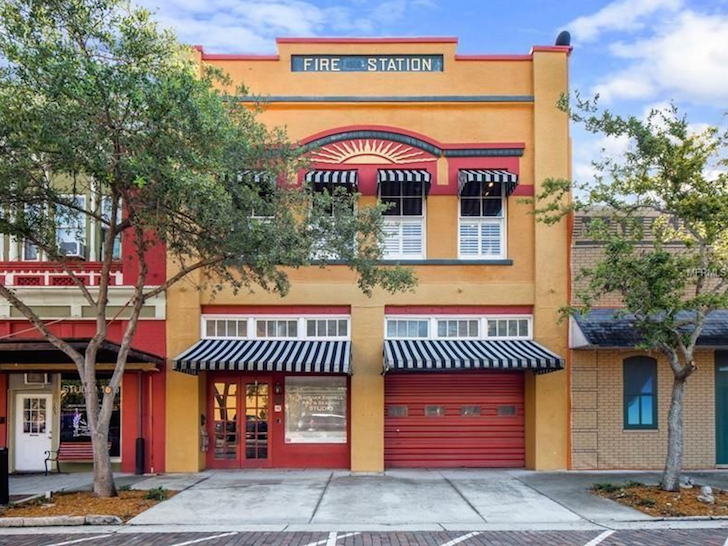 The True Start of the (Original) Sanford Zoo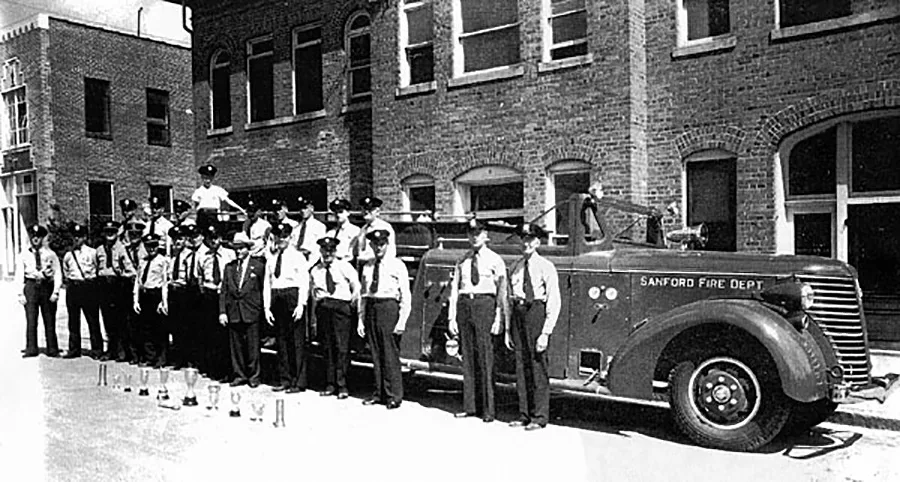 Backstory and Context
     The City of Sanford Fire Department is one of the oldest fire departments in the State of Florida. It consisted of three fire stations providing services to the City of Sanford and surrounding communities since 1873. In 1956, the Central Fire Station, Station 31, was relocated from Palmetto Ave. to 1303 French Ave. The firehouse was built in 1887, 130 years later the Sanford Fire Station still stands today. After a huge fire destroyed the east side of Sanford, the Downtown Sanford Firehouse was constructed of stucco and brick when built in 1887. For many years it served as an armory, city hall, firehouse, jail, and the top floor. The third floor that was removed in 1928, served as a courtroom.
Instead of a fire station of equipment it's now filled with "retro furniture, eclectic art and 4 beds". (Sanford 365) Located on 109 S Palmetto in Downtown Sanford and walking distance to everything in downtown. On Sanford 365, "The station had not been used since it was closed 1974 and needed a bunch of restoration work. Barbara Farrell lives in the city's old Firehouse on Palmetto Avenue. Barbara, a realtor and artist." She visited Sanford in 1992 following Hurricane Andrew and found out that the city's old Fire Station was for sale she was interested in buying it. She decided to turn it into a residence.
 Ever since Barbara took over the firehouse, it has appeared she is not the only one living in the station. At night she would experience weird things such as pebbles dropping out of thin air and creaking footsteps sounding like someone walking on the roof. Barbara went on to research the history behind the fire station and found it was a three-story building until it was remodeled in 1928. She does sense that she is not the only one living here and there is presence from the past. And who used to live here that she thinks it could be?
As said by Weird Florida, "Several former firemen have recalled a few uncanny experiences in the old station. Two former firemen recounted how chairs placed in front of the fireplace at night would later be moved around. One fireman recalled hearing the rattling sound of a chain, "Like a dog running with a chain." One night while the crew was out on a call, another fireman who had remained behind in the station remembers how the doors started opening and closing on their own. Not knowing what caused it, he went out front and sat in a chair by the street to wait for the crew to return." (Weird US)
How would a monkey and the Historic Fire Station tie together? Well, it would lead to the creation of the Sanford Zoo. It all started when a traveling carnival went bankrupt during their stop in Sanford. According to Central Florida Zoo, "A little monkey was handed over to Fire Chief Mack Cleveland Sr. in the firehouse on Palmetto Avenue and they would soon start accumulating animals over time. The fire station provided quite the life for this little monkey who explored it as a playground and entertained the firemen. Deputy J.M. Vickery donated a bulldog to the fire station as well, who the monkey learned to ride the dog like a horse and the two became the best of friends. People just kept bringing animals to the station or they would just be dropped off! The towns ice man, John Woods began contributing animals such as raccoon, opossum, grey squirrels, foxes, a porcupine, skunk and an alligator!" (Not a surprise) The fire station as we knew it turned into a petting zoo. After a few years they realized the fire house was like "Noah's Ark" (CFL Zoo). After that fiasco, it was shut down and the Chief offered to relocate the animals to the vacated and the motion was requested for the City Commission to designate the area a "Municipal Zoo for the Preservation of Florida Wildlife. (CFL Zoo)
It is truly amazing to see historic sites preserved, let alone get to stay in them for a reasonable price per night! Just a little fun fact. My grandfather worked for the Sanford fire department and retired after 30 years with them. In his time at the station the firemen used to stand on top of the roof when the jail used to be next door and throw firecrackers on the ground at the police officers! They thought they were gun shots and sent them in a panic! Today that would be very frowned upon and people would most likely be fired, but when it was so long ago, you can't help but get a good laugh!
Sources
 "Historic Sanford Fire Station Turned Airbnb!" Sanford 365, 14 Nov. 2018, https://www.sanford365.com/historic-sanford-fire-station-turned-airbnb/.
"Old Firehouse." Weird Florida, Weird U.S, http://www.weirdus.com/states/florida/ghosts/old_firehouse/index.php.
 "Overview and History of Sanford Fire Department." History | Sanford, FL, https://www.sanfordfl.gov/departments/fire-department/history.
"The True Start of the (Original) Sanford Zoo." Central Florida Zoo & Botanical Gardens, Central Florida Zoo, 3 Sept. 2018, https://www.centralfloridazoo.org/news/the-true-start-of-the-original-sanford-zoo/.
Image Sources
http://www.weirdus.com/states/florida/ghosts/old_firehouse/index.php

https://www.sanford365.com/historic-sanford-fire-station-turned-airbnb/

https://www.centralfloridazoo.org/news/the-true-start-of-the-original-sanford-zoo/