Grolier Poetry Book Shop
Introduction
The Grolier Poetry Book Shop was founded in 1927. Located in Cambridge, MA. and occupying a mere 404 square feet, it houses 15,000 volumes of poetry. When the store first opened, the mission of owners Gordon Cairnie and Adrian Gambet was to sell short novels in addition to books of poetry. When Louisa Solano took over the shop in 1976, more emphasis was placed on distributing poetry. Many famous poets were regular customers at Grolier when they were undergraduate students at Harvard University. Today, the shop not only displays poetry of some of these individuals, but it also hosts "reading parties" where amateur poets have the opportunity to read their work.
Images
Inside and outside of Grolier Poetry Book Shop.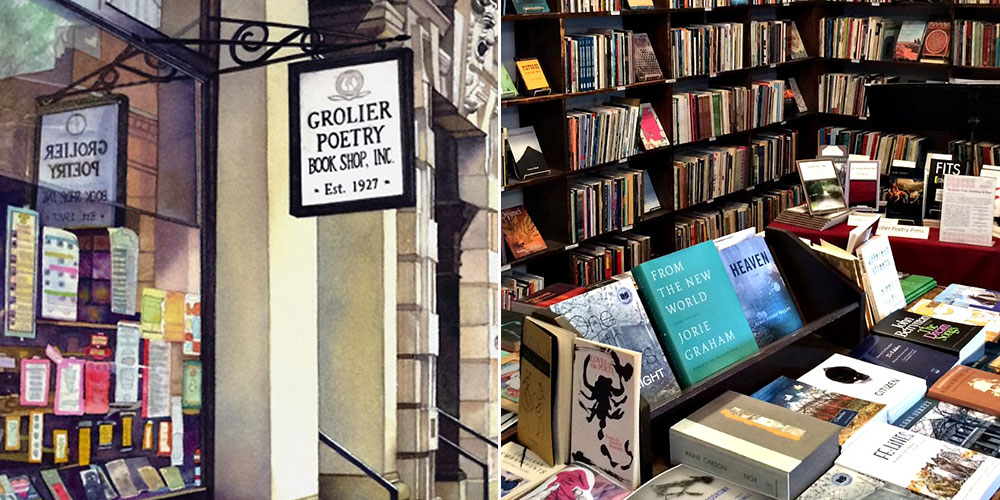 Louisa Solano who became the owner of Grolier in 1976.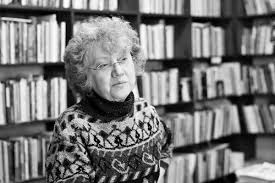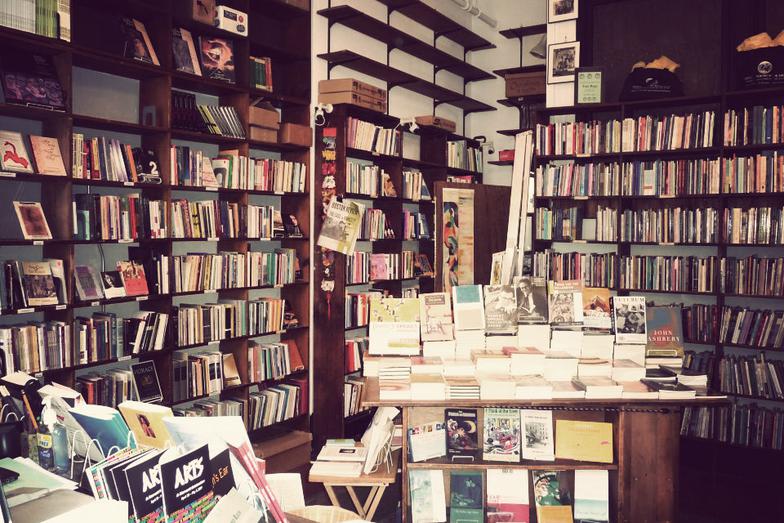 Ifeanyi Menkiti inside the shop during the time of his ownership.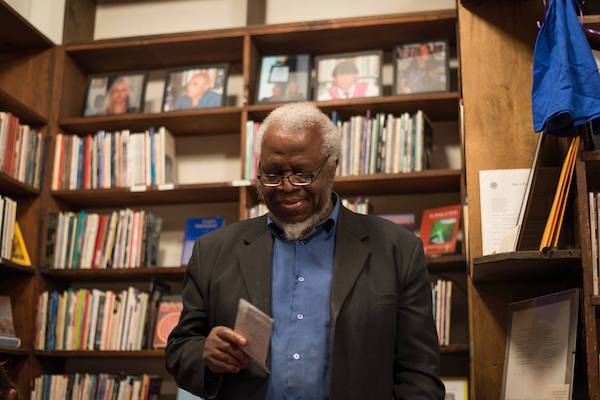 Backstory and Context
 The Grolier Poetry Book Shop was co-founded by Gordon Cairnie and Adrian Gambet in 1927. The idea to open Grolier came from Cairnie's love for books and poetry. Cairnie was born in Coaticook, Quebec, and when he grew up, he decided to pursue architecture. He enrolled in the Harvard School of Landscape Design. When Cairnie amassed a large collection of literature, he became interested in creating a space to display his personal library. The name of the shop was decided by Gambet. Grolier was the name of an exclusive book club in New York City. The shop was named after the club because Gambet believed it would appear more attractive to customers. While Cairnie dedicated his time to displaying works important to him, Gambet had other ideas. Gambet would often use the shop as a meeting spot for secret rendezvous with various women. After it was discovered that Gambet used the shop to participate in scandalous activity, the partnership with Cairnie dissolved and Cairnie became the sole owner of Grolier. Under Cairnie, Groiler became a meeting spot for local poets, some of whom attended Harvard University as undergraduates. 
Carinie helped to establish Grolier as an important site of memory. Carinie would often allow poets attending Harvard to use Grolier as a work space. Cairnie would also hold readings by local poets, which became a regular activity at Grolier. Given racial tension in the 1960s and 1970s, Cairnie suffered backlash for refusing to display the work of minority groups. While not an outwardly racist man, Cairnie preferred to display work that was created by white poets in order to avoid threats from political extremists. In addition to the backlash Cairnie received about the type of poetry he displayed, the reputation of Grolier also suffered after several instances of theft. Cainrie made little profit from Grolier, but he was able to keep the shop open due to a trust fund granted by the uncle of Carinie's wife. 
When Cairnie passed away in 1974, Louisa Solano became the next owner of the shop. Louisa Solano was a customer and employee of the shop before she gained full ownership in 1976. Despite struggling financially, Solano purchased Grolier Poetry Book Shop with a loan provided by a number of her friends. When Solano gained ownership, she made several changes to the shop. First, Solano changed Grolier Poetry Book Shop to literally an all-poetry shop. She included works of poets from varying backgrounds, including poems by minority groups that were banished under Cairnie's ownership. Solano rid Grolier of its old furniture, added more volumes of poetry, and created more routine "reading parties." 
When Solano could not support Grolier financially, the shop was purchased by Wellesley College professor Ifeanyi Menkiti. Born in Nigeria, Menkiti came to the United States and attended Harvard University for graduate school. When he purchased the shop, Menkiti employed a staff of three: Menkiti himself, Menkiti's wife Carol, and another young woman by the name of Elizabeth Doran. As a poet himself, Menkiti believed in the power of poetry to connect individuals. Menkiti's poem book, containing his most well-known poem "Before a Common Soil," is displayed in the shop:
"And I have called out to you,/Children of an undivided earth,/That you join your hands together/And be of one accord before a common soil" (9-12).
Menkiti's love for literature is evident in his poetry. One of the reasons Menkiti purchased Grolier was because he thought poetry had the power to heal and unite in a way that no other type of literature could. Menkiti passed away in 2019 at the age of 78. 
Today, Grolier Poetry Book Shop is home to Menkiti's poetry and also features the work of well-known poets, including T. S. Eliot, Robert Lowell, Allen Ginsberg and Mary Oliver. These poets were undergraduate students at Harvard University and were regular patrons at Grolier when the shop was first opened by Cairnie and Gambet. In addition to being a landmark that memorializes famous poets, Grolier is a place for writers, students, and poetry-lovers to gather under one roof to read and practice poetry. 
The Grolier Poetry Book Shop has become the premier site for displaying celebrated poetry, for reading works by poets just beginning their literary journeys, and for gathering under the common belief that poetry is universal and powerful in nature. Grolier has been the victim of theft and vandalism, but it has been maintained by those who care deeply about preserving the work of incredible poets. Menkiti passed away in 2019, but his family has remained devoted to keeping Groiler open for business. 
in an interview, Menkiti talked about his passion for Grolier and why it had always been his mission to preserve it:
"You have to have a strong sense of what this thing can do. You have to have the dedication and energy to keep it going." 
Sources
Ahn, Hayoung. 90 Years Of Grolier, The Crimson. November 9th 2017. Accessed October 29th 2019. https://www.thecrimson.com/article/2017/11/9/grolier-poetry-shop/.
Feng, Rhona. House of Poesy: At the Grolier Poetry Book Shop, The Paris Review . Accessed October 29th 2019. https://www.theparisreview.org/blog/2013/02/26/house-of-poesy/.
Menkiti, Ifeanyi . Before a Common Soil . Ilora Press, 2007.
Keihn, LeRoy H. Remembering The Grolier Poetry Book Shop before 2006, April 27th 2016. Accessed October 29th 2019. https://www.thesomervilletimes.com/archives/66989.
The Grolier Poetry Book Shop , Accessed October 29th 2019. http://www.grolierpoetrybookshop.org/About.html.
Image Sources
https://1960sdaysofrage.wordpress.com/2017/07/14/grolier-poetry-book-shop/

http://dougholder.blogspot.com/2015/08/interview-with-louisa-solano-former.html

http://www.grolierpoetrybookshop.org

https://www.publishersweekly.com/pw/by-topic/industry-news/Obituary/article/80496-ifeanyi-menkiti-grolier-poetry-book-shop-owner-dies-at-78.html

Additional Information