James H. McCoy and Floyd McCoy Historic Grave Sites
Introduction
This is the final resting place of James H. McCoy and Floyd McCoy, two brothers from the Hatfield-McCoy feud. James H. McCoy tried hard to work as the peacemaker of the family during the feud but was unsuccessful until the later part of his life. Floyd McCoy was a witness of Wall Hatfield kidnapping his brothers and was promised by Wall that if Ellison Hatfield died his brothers would follow suit. The brothers' graves are marked by a two-sided, historic marker telling of their roles in the family feud.
Images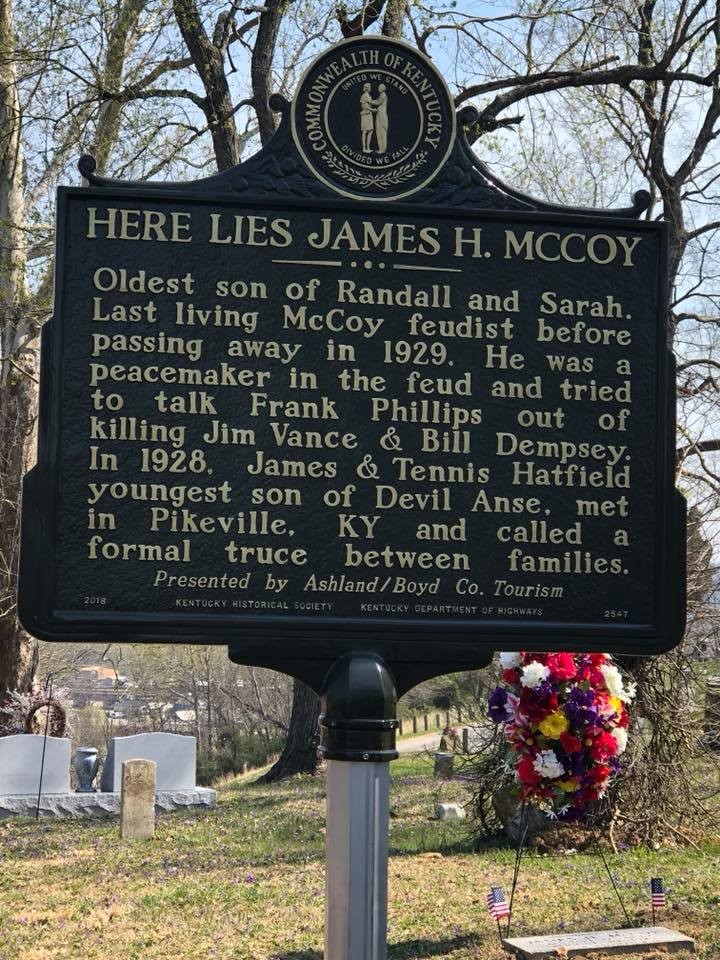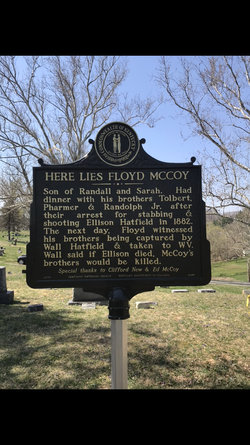 James H. McCoy grave in Catlettsburg Cemetery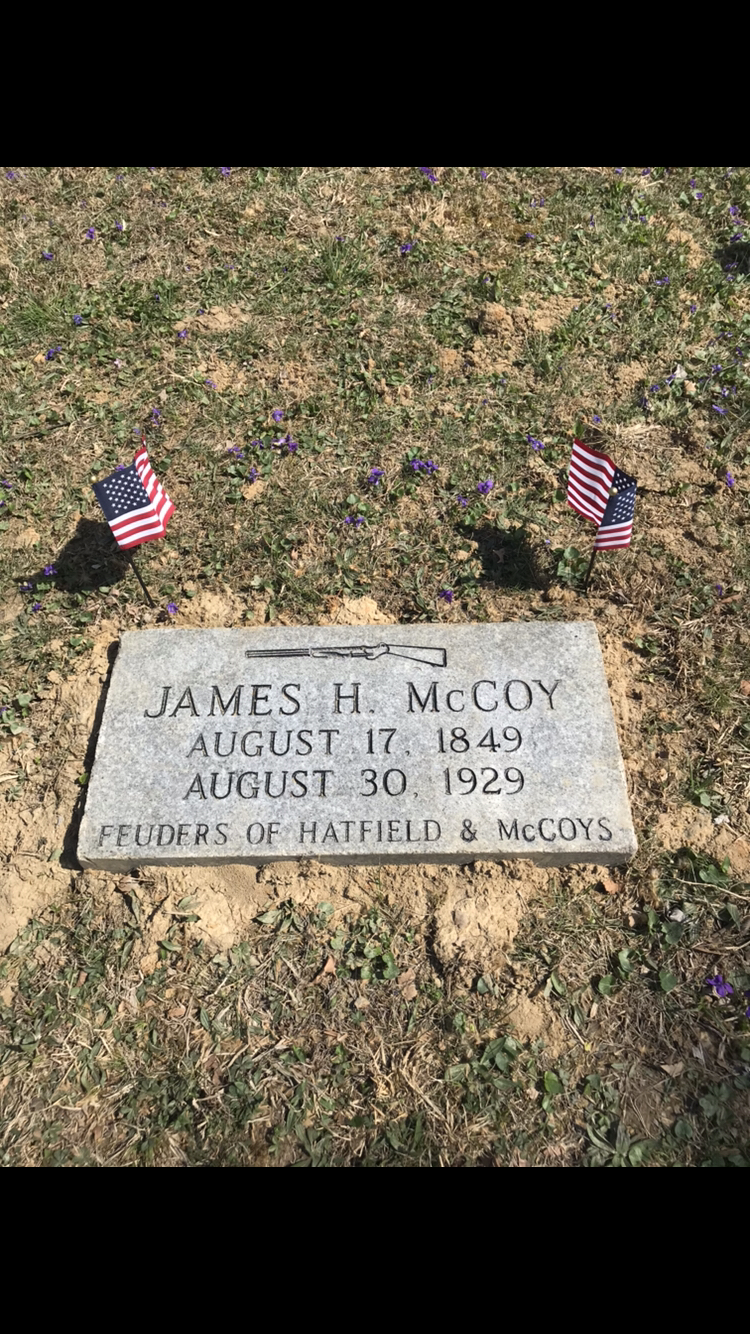 Floyd McCoy grave in Catlettsburg Cemetery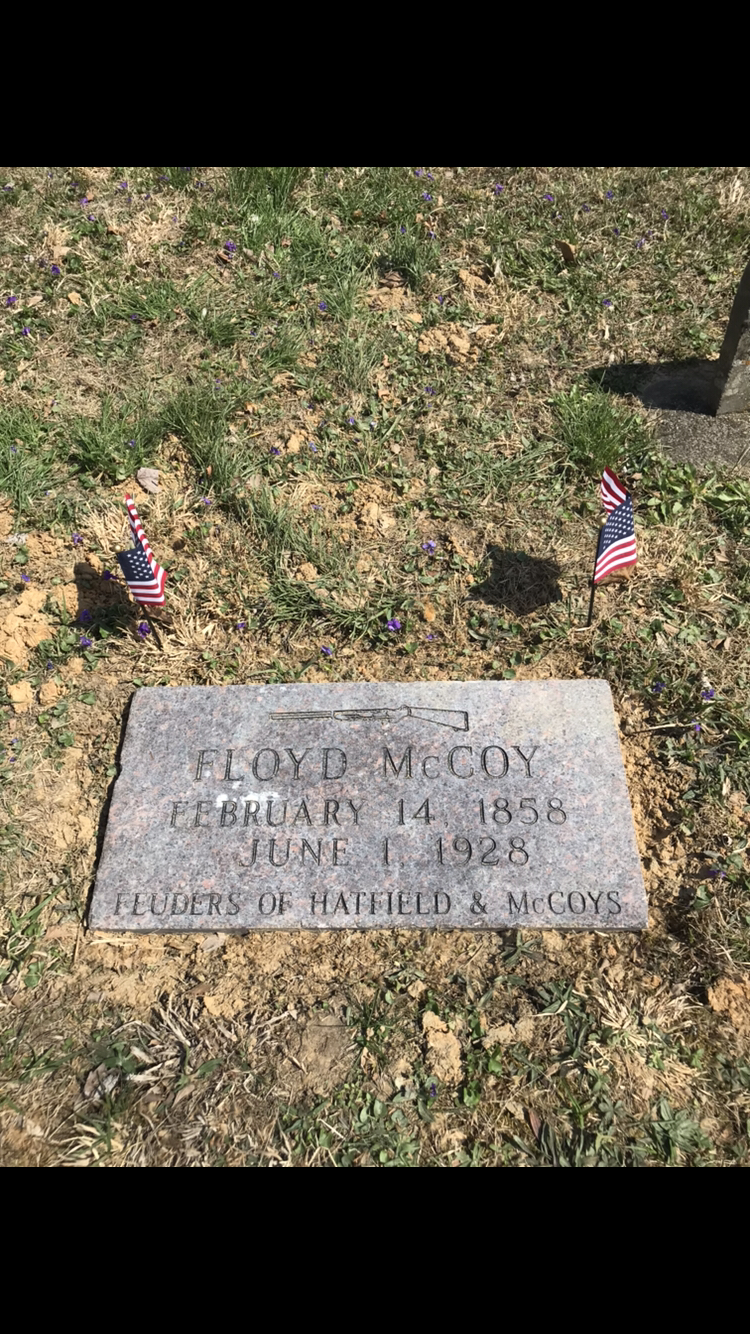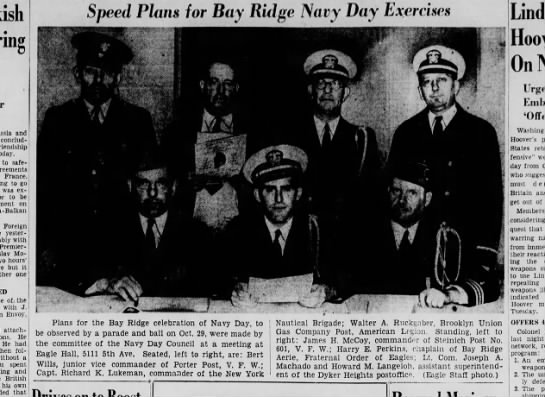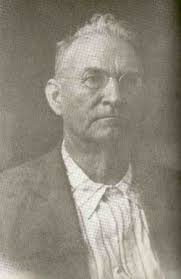 James H. "Jim" McCoy makes peace with Hatfields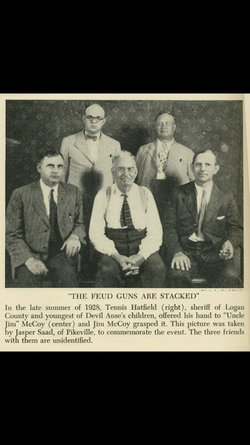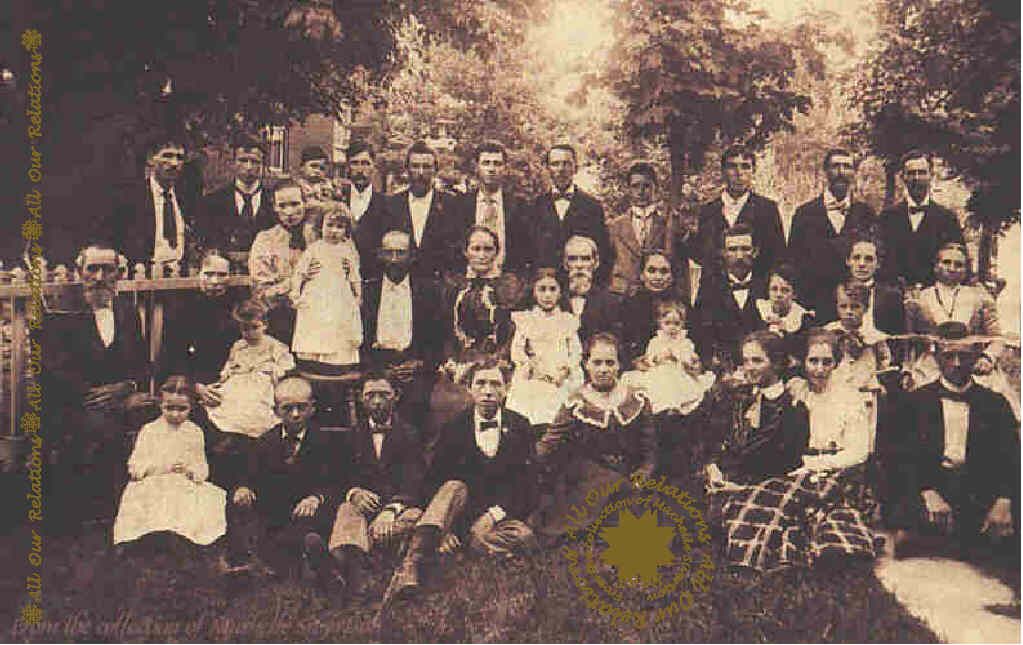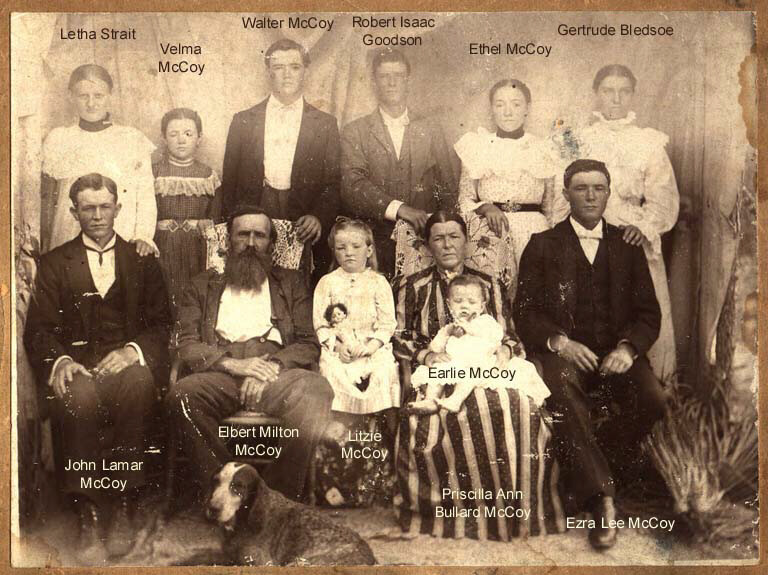 Backstory and Context
The Feud
Over a century ago, the Hatfields resided in what is now present day Mingo County, in southern West Virginia and the McCoy family lived on the Kentucky side of the Tug River, in Pike County, Kentucky. The Hatfields were headed by patriarch William Anderson Hatfield, better known as "Devil Anse," who was a fairly successful timber merchant of the time. The McCoy family was headed by Randolph "Old Ranel" McCoy, who owned a good amount of land and livestock in the 1870s. Both families lived on each side of the Tug River that separated West Virginia and Kentucky. Though the families despised one another, there was quite a lot of intermarrying and subsequent "side-changing" between the two families.
In 1870, Randolph McCoy accused Floyd Hatfield, cousin of Devil Anse, of stealing one of his hogs, a serious crime at the time. The accusations led to a trial, but with a Hatfield judge (a cousin of Devil Anse) presiding over the case. Bill Staton, a McCoy who married a Hatfield woman, testified on behalf of Floyd, who was cleared of the charges. Staton was later killed in a fight with Randolph's nephews, Sam and Paris McCoy, neither of whom were charged for the murder.
Some historians speculate that the true start of the decades-long family feud occurred months after Floyd Hatfield's trail. Many people believe the heated affair between Devil Anse's son, Johnse Hatfield, and Roseanna McCoy, Randolph's daughter, caused tension to rise and boil over between the families. Roseanna ended up pregnant by Johnse, but he refused to settle down at the time; instead, he eventually married Roseanna's cousin, Nancy McCoy, years later.
The feud became even more violent on a local election day in August of 1882. Hatfield and McCoy boys fight at the polls, leading to Ellison Hatfield being stabbed and shot in the back by a McCoy. In revenge, the Hatfields kidnaped the McCoy boys, dragging them to Hatfield territory where they tied them up and open fired on the three McCoy brothers after hearing of Ellison Hatfield's death.
Up to this point, the infamous family feud was still unknown on the national level; however, that changed when lawyer Perry Cline, husband of Martha McCoy, had the charges of murder of the McCoy brother reinstated against the Hatfields and ultimately put a bounty on their heads. At this time, media coverage of the feud began and the Hatfields were portrayed to the nation as "back-woods, violent, hillbillies." The feud came to a head on January 1st, 1888, in what would later be known as the New Year's Day Massacre. The Hatfields, led by Devil Anse attacked the McCoys on McCoy land. Randolph McCoy was able to escape; however, his wife, who was brutally beaten, and his children, who died in crossfire, were not as lucky.
The Hatfields were rounded up by bounty hunter, Frank Phillips, and went through years of court before their case eventually worked its way up to the U.S. Supreme Court. The Supreme Court decided the Hatfields could face trial the pre-meditated attack against the McCoy family. In 1889, the trial that sent eight Hatfields to prison for life began. The feud between the rival families gradually faded over time. The famous patriarchs of the families went on to live long lives, and distant relatives of the Hatfield-McCoys are still around today.
James H. "Jim" McCoy
James H. "Jim" McCoy was born on August 17th, 1849. He was noted as being one of the family members to officially call peace and an end to the generations-long feud. He was a member of the U.S. Navy and married Mallisa Jackson of Catlettsburg, and settled down in the area. James played a large role in the later years of the feud, as he was the one to meet with Devil Anse Hatfield's son, Tennis Hatfield, in Pikeville, Kentucky to officially agree to a truce between the feuding families a year before his death. During the feud, James McCoy tried his hardest to act as a peacemaker and put an end the the fighting. He tried to dissuade Frank Phillips from killing Jim Vance and Bill Dempsey; however he was unsuccessful in his persuasion and at establishing peace between the families until much later in his life. James passed away on August 30th, 1929.
Floyd McCoy
Floyd McCoy was born on February 14th, 1858 and was a younger brother to James. He was witness to Wall Hatfield kidnapping his three brothers (Tolbert, Pharmer, and Randolph McCoy Jr.) after the stabbing of Ellison Hatfield in 1882. Wall told Floyd his brother's would be killed if Ellison died. Ellison ultimately succumbed to his wounds and the McCoy brothers met their promised fate at the hands of Wall and other Hatfields. Floyd also married a woman from Catlettsburg and settled in the area. He passed away on June 1st, 1928, the same year James met with Tennis Hatfield to call an official truce between the families.
Sources
Maynard, Mark . "The feuding McCoy brothers' grave sites in Catlettsburg Cemetery get markers, historic sign." Kentucky Tribune April 18th 2018. .
. James H. "Jim" McCoy , Find a Grave. June 2nd 2012. Accessed October 4th 2019. https://www.findagrave.com/memorial/91244326/james-h_-mccoy.
Donnelly, Shirley . "Hatfield-McCoy Feud 75 Years Old Today." Beckley Post-Herald (Beckley ) August 7th 1957. , Hatfield-McCoy Feud sec.
http://www.wvculture.org/history/crime/hatfieldmccoy01.html
, A&E Networks. The Hatfield & McCoy Feud, The History Channel . Accessed October 10th 2019. https://www.history.com/shows/hatfields-and-mccoys/articles/the-hatfield-mccoy-feud.
Puit, Glenn. "Marking history: Hatfield-McCoy feud has direct ties to Catlettsburg." The Daily Independent (Ashland ) April 15th 2018. .
https://www.dailyindependent.com/news/marking-history-hatfield-mccoy-feud-has-direct-ties-to-catlettsburg/article_1b0e4ba6-3f7a-11e8-a05a-a73c4272b6f7.html.
Patrick , Andrew . Here Lies James H. McCoy / Here Lies Floyd McCoy, Explore Kentucky History . Accessed October 12th 2019. https://explorekyhistory.ky.gov/items/show/832.
Additional Information