Santa Fe Building
Introduction
Constructed in 1930, the Santa Fe Building was the tallest building in the city for forty years. An excellent example of Gothic Revival architecture, it was built by the Atchison, Topeka and Santa Fe Railway company to be its new regional headquarters. Company architect E.A. Harrison designed the building, which is fourteen stories tall. Given its association with the Atchison, Topeka and Santa Fe Railway, the building represents how important the company was to the local and regional economy. Today, the building houses county offices and commercial space on the ground floor.
Images
The Santa Fe Building was built in 1930 and was the city's tallest building for many decades.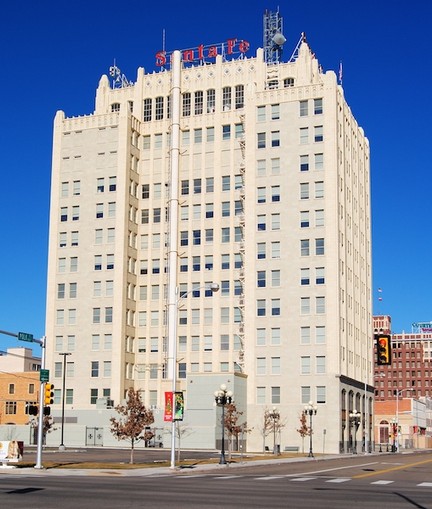 Backstory and Context
Rail service in Amarillo began in 1887, which was the same year Potter County was established. Within a couple of decades, as the city grew thanks in large part to the railroads, Amarillo became a key regional economic hub and the most important city in the Panhandle. One factor for this development was that the city was an entry point to Southwest, which was sparsely populated at the time. To encourage settlement, the company setup a department to attract settlers (through a variety of means including publishing booklets and maps) and even started agricultural education programs. To these ends, the company employed salesmen, colonization agents, and agricultural agents. The discovery of natural gas and oil in 1918 contributed to Amarillo's growth as well, as the Santa Fe railroad built short rail lines to better facilitate distribution of petroleum (and agricultural) products in the region.
These developments prompted the company to erect the Santa Fe Building. For several decades, the company was the biggest employer in the city and an active corporate citizen. The company moved out of the building in 1989 and sold it to Potter County in 1995, which uses it for county offices. The building was added to the National Register of Historic Places in 1996.
Sources
"Santa Fe Building." The Historical Marker Database. Accessed October 16, 2019. https://www.hmdb.org/marker.asp?marker=40843.
Tyson, Lueise. "Santa Fe Building." National Park Service - National Register of Historic Places Nomination Form. August 22. 1996. https://catalog.archives.gov/OpaAPI/media/40973218/content/electronic-records/rg-079/NPS_TX/96000939.pdf.
Image Sources
The Historical Marker Database

Additional Information