Jesse Stuart Memorial Bridge
Introduction
Completed in 1984, the Jesse Stuart Memorial Bridge was built bearing the name of one of the most influential authors that has ever came out Eastern Kentucky. Jesse Stuart (1906-1984) was a man of man titles, such as author, poet, educator, lecturer, world traveler, and former lieutenant. In his career, Stuart published sixty books, three-thousand poems, and four hundred seventy short stories. Stuart's writings and teachings have been read and adored by readers around the world. However, no matter where Stuart want, he always found solace in his hometown of W-Hollow, Greenup, KY.
Images
Jesse Stuart Memorial Bridge (Aerial View)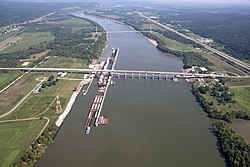 Jesse Stuart Memorial Bridge (Side Aerial View)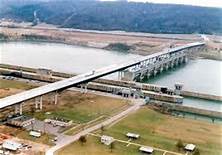 Jesse Stuart: An Extraordinary Man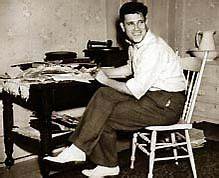 Backstory and Context
Born in W-Hollow, Greenup, Ky on August 8, 1906, Jesse Stuart was well-known for his various writings about his life growing up in Eastern Kentucky. In 1926, after graduating from high school, Stuart matriculated to Lincoln Memorial University, and after obtaining his degree, Stuart taught some English classes as well as Latin, algebra, and history, and mathematics at Greenup High School. In 1931, Stuart enrolled at Vanderbilt University for an English postgraduate program, but after only one year, he withdrew from his studies and pursued his true passion, creative writing. Later in his life, Stuart began publishing some of his works, such as Harvest of Youth (1930), Man with a Bull-Tongue (1934), and Head O' Hollow (1937). Some of Stuart's published works earned him the Guggenheim Fellowship in 1937 to travel and study in Scotland for a full academic year.
Afterwards, Stuart returned to W-Hollow and began resuming his teaching position at Greenup High School and later, he taught remedial English at Portsmouth, OH. Stuart later met his Naomi Deane Norris, a former classmate and an elementary schoolteacher. Stuart and Naomi married on October 14, 1939, and they bought and renovated one of Stuart's childhood barns as their dream, which they lived in for over forty years. Later in 1942, Naomi gave birth to the couple's only child, Jessica Jane Stuart. Similar to her father, Jessica Jane had an appetite for knowledge and was interested in language and writing. Eventually, Jessica Jane earned her B.A.s in Greek, Latin, and art history, an M.A. in classical studies and Italian literature, and Ph.D. in Italian literature all from Indiana University.
After Jessica Jane's birth, Stuart went to Huntington, WV for his physical and was sworn into the service on March 31, 1944. Stuart left for basic training at the Great Lakes Training Command near Chicago for fourteen weeks. On July 12, 1944, Stuart became a lieutenant and was placed to the Bureau of Aeronautics in Washington, D.C.in the Writers Unit. Even though Stuart's life in the service was during WWII, Stuart did not see action as he was not placed on the battlefield and returned home after the war ended on September 12, 1945. Once Stuart returned home, he continued to write and published more books, such as Tales from the Plum Grove Hills (1946), The Thread that Runs So True (1949), and The Good Spirit of Laurel Bridge (1953), and Plowshire in Heaven (1958) just to name a few. Along with his many publications, Stuart won some awards and honors, such as the lifetime appointment of Kentucky's poet laureate (1954) and a nomination for the Pulitzer Prize for Poetry (1977).
However, years of writing, teaching, and traveling around the world speaking caught up with Stuart as he suffered from multiple heart attacks and in 1982, Stuart suffered from a stroke at his home, which became difficult for him to take care of himself. In 1982, Stuart moved to the Jo-Lin Nursing Home in Ironton, OH where he died on February 17, 1984. Stuart was buried in the Plum Grove Cemetery, which is in walking distance from W-Hollow. Stuart's legacy carries on with the establishment of several monuments and markers, such as the Jesse Stuart Monument located near the Greenup Court House, the Jesse Stuart Lodge at Greenbo Lake State Park, and the Jesse Stuart State Nature Preserve. Stuart's house became a national landmark in 1982, and in 1984, the construction of the Jesse Stuart Memorial Bridge was completed, and the bridge stretches over the Ohio River and the Greenup Lock and Damn.
Sources
Gifford, James . Kazee, Erin. Jesse Stuart: An Extraordinary Life. Ashland, KY. Jesse Stuart Foundation, 2010.
Tell, Cora. Jesse Stuart Papers: 1929-1986, Marshall Libraries Special Collections .1986. Accessed October 20th 2019. https://mds.marshall.edu/cgi/viewcontent.cgi?article=1087&context=sc_finding_aids.
Additional Information