Flagler Memorial Island
Introduction
In the center of this small island in Miami's Biscayne Bay is a 110-foot obelisk that stands in honor of Henry Flagler, perhaps the most influential figure in early Miami history. Flagler was one of the founders of Standard Oil and used his wealth to purchase and develop the Florida East Coast Railway. This railroad, along with other investments made or brokered by Flagler, were so influential to Miami's early history that he is often referred to as "The Father of Miami." The monument was dedicated in 1920 and the island and the monument were both donated to the city of Miami Beach in 1939. The island and monument regularly fell into disrepair and as of 2000 the obelisk was crumbling, The City of Miami Beach recently completed a full restoration of the monument and repaired some of the damage done by vandals.For more information about the monument and efforts to restore the area, see the articles linked below.
Images
Flagler Island and Monument honor the city's leading booster, Henry Flagler
The island was perfectly round in 1922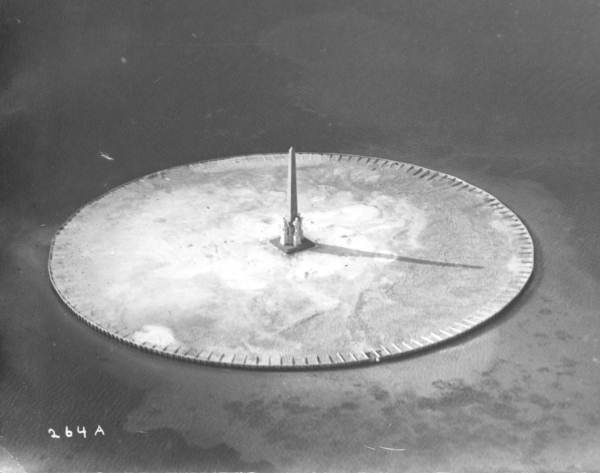 Backstory and Context
Flagler's move from the midwest to Florida came as a result of advice from his physician, but he quickly fell in love with the beauty and economic potential of the Florida coastline. Flagler built the legendary Ponce de Leon Hotel in St. Augustine which is now home to Flagler College.After seeing the potential of the southern coastline, Flagler invested heavily in railroad and real estate. His wealth and influence led to the extension of the railroad to South Florida in the 1890s. Prior to that time, the area was almost completely uninhabited. Flagler worked with engineers to build streets and utilities, as well as dredge the bay and build rail lines to each section of the city that residents wanted to name in Flagler's honor. Flagler declined the honor, favoring a Mayaimi-the name once used by Native American inhabitants of the region in the 17th century.
Additional Information