Carnegie Museum of Montgomery County
Introduction
This local history museum located in the first Carnegie Library in Indiana, which was established in 1902. The museum preserves the heritage and culture of Montgomery County and offers exhibits that trace the history of Crawfordsville, its leading residents, and the history of the county as a farming community. The main focus of the museum is the growth of the area in the 19th century, the history of Wabash College, local military history, business and industry, and biographical views of prominent citizens, but there are also some exhibits dedicated to women's history, minorities, and Native Americans. There are also exhibits dedicated to natural history and geography as well as popular culture and sports.
Images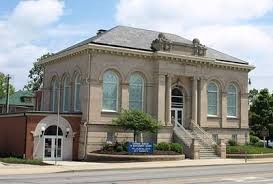 This historical marker was dedicated in 2009 and recognized the library's status as the first Carnegie library in Indiana.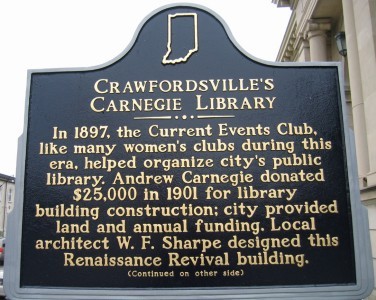 This image of the Ransdell and Rogers Barber Shop is one of many historical photographs of early Crawfordsville on display on the museum's second floor.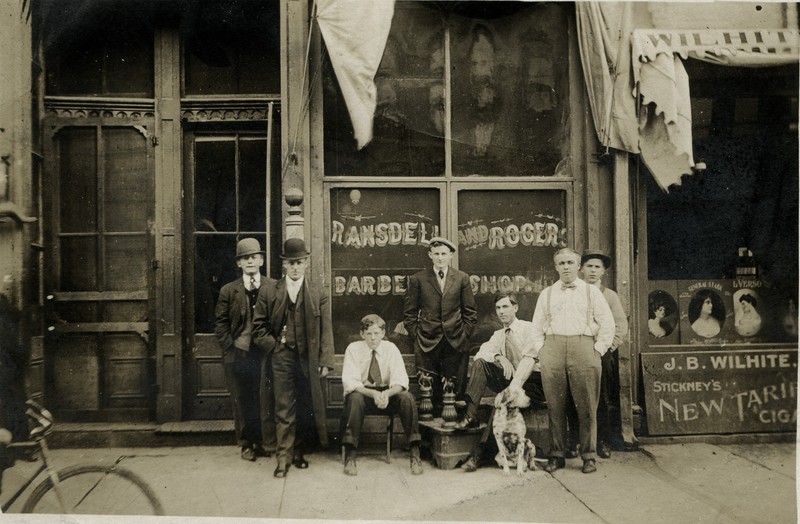 Backstory and Context
The museum's first floor begins with a gallery dedicated to famous residents such as Dick van Dyke followed by a room dedicated to natural history, geology, animals and insects, and the early history of Crawfordsville. The first floor also includes exhibits dedicated to military history, civic engagement, and local artists and authors. There is also a special gallery that traces the establishment and growth of Wabash College on the first floor.

The second floor gallery includes special rotating exhibits and a gallery dedicated to sports history and popular culture. The second floor also holds a gallery that continues the history of the early days of Crawfordsville with artifacts and photographs showing the growth of industry and local businesses, including photographs of retail establishments that have served local residents over the past century.

The establishment of the library can be traced back to several Crafordsville literary societies that operated throughout the second half of the 19th century. In 1897, local residents established the Public Library Association-an organization tasked with raising funds to build a public library building that reflected the community's growth. The movement gathered steam when the members secured a commitment from the Carnegie Foundation to offer $25,000 as a matching grant so long as the community could sustain the operation of the building and library. With many faculty and recent graduates of Wabash College leading the movement, the organization was able to reach its fundraising goal and became the first community in Indiana to build a library with the support of the Carnegie Foundation.
Sources
Carnegie Museum of Montgomery County website, http://cmmc.cdpl.lib.in.us/lh/cmmc1st.html (accessed 7/11/2016). Reference and Local History webpage, Crawfordsville District Public Library (accessed 7/11/2016).
Additional Information