Black Elk Peak
Introduction
At 7,242 feet above sea level, Black Elk Peak is the highest point in South Dakota and in the United States east of the Rocky Mountains. It is significant geographically, historically and culturally, and was the logical place to build a fire tower, called the Harney Peak Fire Tower, which was built in 1938 and still stands today. Built by a crew of the Civilian Conservation Corps (CCC), the tower is listed on the National Register of Historic Places. In addition to the tower, the site also includes a pumphouse and a dam for a water reservoir. Visitors can hike to Black Peak and the tower using a trail that starts from Custer State Park. It is possible to see four states from the summit.
Images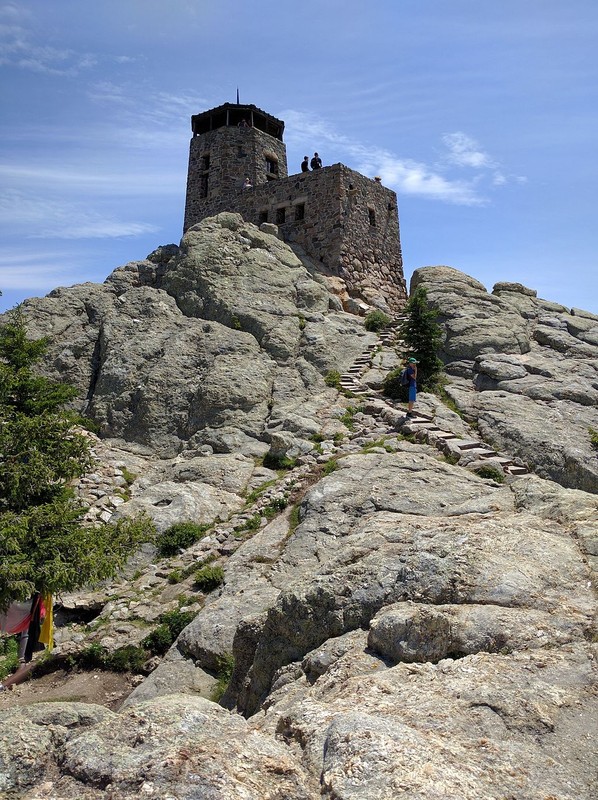 Backstory and Context
The rugged design of the tower reflects the location on which it was built. Its walls are constructed with native stone, which were laid following the contours of the granite rock, and the floors are reinforced concrete. As such, the tower is truly unique; no other fire tower resembles it. Given its remote location, it took three years for the CCC crew to build. They had to transport building materials to the summit either by hand or by mule on a three mile trail. For the person manning the tower, life was relatively comfortable considering the location as it had electricity, flush toilets, and a central heating system. The tower is named after General William S. Harney, who led a military expedition to the Black Hills in 1852. The tower was used as a lookout until 1967.
The peak was also named after Harney, but in 2016 the U.S. Board on Geographic Names changed the name to the current one in honor of visionary Lakota holy man Nicholas Black Elk (1863-1950), who saw a vision at the summit at a young age. He would become a highly respected and well-known figure as an adult. The peak, therefore, holds tremendous cultural significance to Native Americans.
Sources
"Black Elk Peak." Black Elk Peak. Accessed November 5, 2019. https://harneypeakinfo.com.
"Harney Peak Fire Tower." Black Elk Peak. Accessed November 5, 2019. https://harneypeakinfo.com/harney-peak-fire-tower.
Reetz, Terrell W. "Harney Peak Lookout Tower." National Park Service - National Register of Historic Places Nomination Form. March 10, 1983. https://npgallery.nps.gov/GetAsset/4c3bc77d-5141-4b85-a1ee-957f2c7e3937.
Image Sources
Wikimedia Commons: https://commons.wikimedia.org/wiki/Category:Harney_Peak_Lookout_Tower,_Dam,_Pumphouse_and_Stairway#/media/File:Black_Elk_Peak_hike_23.jpg

Additional Information