Bullock Hotel
Introduction
Erected in 1896, the Bullock Hotel is one of many historic buildings that line Main Street in downtown Deadwood. It is named after one of its builders and Deadwood's first sheriff and friend of President Theodore Roosevelt, Seth Bullock, who was depicted in the HBO series "Deadwood." The other builder was Bullock's Jewish business partner, Sol Star, who was also portrayed in the series. The hotel is the first and oldest hotel in the city and continues to operate today. It still retains some original interior features including the skylight and large staircase.
Images
The Bullock Hotel was built in 1896. It is the oldest hotel in Deadwood.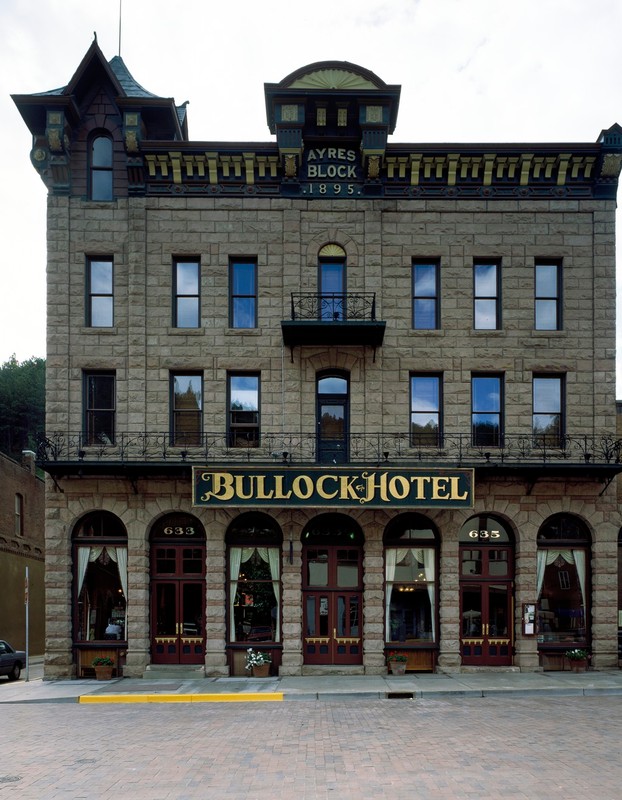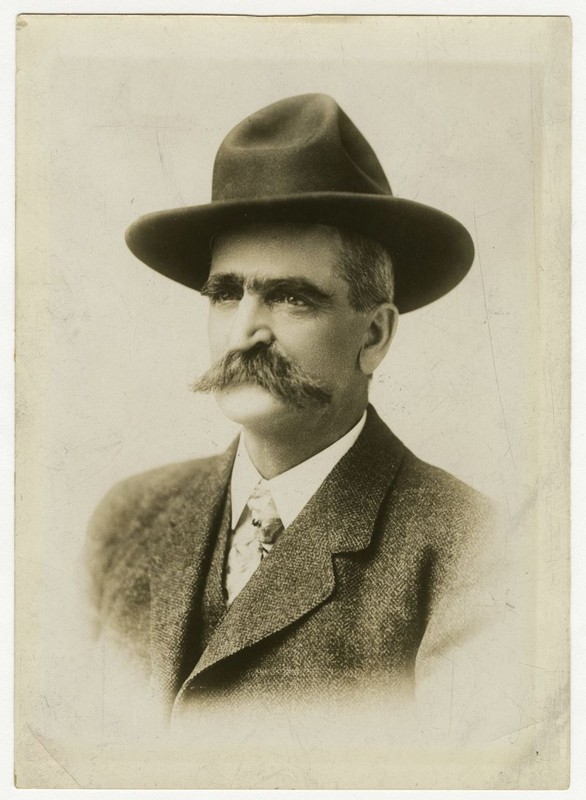 Solomon "Sol" Star (1840-1917)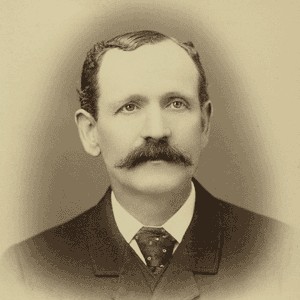 Backstory and Context
Seth Bullock was born in what is now Ontario, Canada in 1849. He and his family eventually moved to Michigan. His father, a British Army officer, was a strict disciplinarian but his mother, who was a native of Scotland, was more kindhearted. Apparently, Bullock ran away in his early teens (it is unclear why, one source said Bullock was either bored or unhappy); he returned, but then a few years later he ran away again, this time to Montana where his sister was living at the time. For the last time, he went back to Michigan and finally left his family for good in 1867 when he moved to Helena, Montana.
In Helena, Bullock met wholesale grocer James Gosling and became an auctioneer and commission merchant, selling merchandise and property on behalf of others. He eventually severed ties with Gosling and became an independent auctioneer. During these years, Bullock got involved in local issues to not only bring benefit to the community but to make a name for himself. A staunch Republican, he ran for territorial legislature in 1867 but was not nominated by party; however, he ran again in 1871 and this time was elected. He served until 1873 when he became sheriff of Lewis and Clark County. It was there Bullock earned a hard-nosed reputation as a lawman. He got into a gunfight with a man, Clem Watson, who had stolen a horse. Watson was apparently apprehended and Bullock hanged him soon after.
Solomon "Sol" Star was a Bavarian-born Jewish immigrant. who came to the United States at the age of 10. He, along with 140 other frontiersmen, came to Deadwood from Helena, Montana at the onset of the Black Hills Gold Rush. After his term as sheriff ended, Bullock formed a partnership with Star, whom he met in 1871, to open a hardware store in Deadwood in 1876. Business prospects looked promising in South Dakota as gold had recently been discovered there. Both recognized an opportunity to sell hardware to miners, who would soon flock to the state in large numbers. The day Bullock arrived, famous Western figure Wild Bill Hickok was murdered. To help restore order to the lawless town, Bullock became sheriff. While he served in this role, the hardware store thrived, becoming one of most successful in the Black Hills. In the coming years, they would invest in other business interests including a flour mill and mining. Bullock also helped found the town of Belle Fourche. He would later become a U.S. Marshal and Star Deadwood mayor. In 1884, Bullock met Roosevelt and they started a lifelong friendship.
In 1896, the hardware store in Deadwood burned down. In its place, Bullock and Star decided to build the hotel, a luxurious 63-room establishment. Bullock would later be appointed forest supervisor of the Black Hills and then U.S. Marshal for South Dakota. He died of cancer on September 23, 1919 and is buried in Mount Moriah Cemetery here in Deadwood. The building became a hardware store once again in 1976. It was renovated back into a hotel in the early 1990s.
Sources
Stanton, Ann Haber. Jewish Pioneers of the Black Hills Gold Rush. Images of America.
Jewish people helped civilize Deadwood, Rapid City Journal. February 16th, 2001. Accessed April 28th, 2023. https://rapidcityjournal.com/jewish-people-helped-civilize-deadwood/article_4eb585ae-e5a6-5882-b6a0-4662eb8f62a8.html.
Stanton, Ann Haber. When Deadwood Was Jewish, Forward. May 9th, 2015. Accessed April 28th, 2023. https://forward.com/culture/307719/when-deadwood-was-jewish/.
Griffith, Tom. "Friendship Tower ceremony will celebrate 100 years of rapport between Teddy Roosevelt and Seth Bullock." Rapid City Journal. July 3, 2019. https://rapidcityjournal.com/community/northern-hills/friendship-tower-ceremony-will-celebrate-years-of-rapport-between-teddy/article_c067d1ce-bc0e-5469-85f4-40b4bdd73db1.html.
"Jewish American Pioneers and Deadwood." The Historical Marker Database. Accessed November 7, 2019. https://www.hmdb.org/marker.asp?marker=27071.
Pechan, Bev & Groethe, Bill. Images of America: Deadwood 1876-1976. Charleston, SC: Arcadia Publishing, 2005.
Wolff, David A. Seth Bullock: Black Hills Lawman. Pierre, SD: South Dakota Historical Press, 2009.
Image Sources
Wikimedia Commons

Wikimedia Commons

Wikimedia Commons

Additional Information