Alexander F. Jankowski Community Center: Latinxs in Perth Amboy, NJ
Introduction
The Alexander F. Jankowski Community Center is located off of one of Perth Amboy's busiest streets on 1 Olive Street. This community center houses the offices for several of Perth Amboy's city government departments and it is also where many community events occur. Throughout the year, members of different ethnicities in Perth Amboy use the center to host cultural events. The City of Perth Amboy also hosts many cultural events for its residents and elderly population to celebrate diversity and residents' cultural backgrounds and traditions. Keeping cultural traditions and celebrating where residents come from and their different stories is one of the goals of the town's mayor; this goal has been embraced and carried out by her staff, which can be seen in the projects they undertake and the way they treat all visitors.
Images
Hispanic Heritage Month Celebration hosted at the Community Center; students, senior citizens, and community members were all present for the celebration.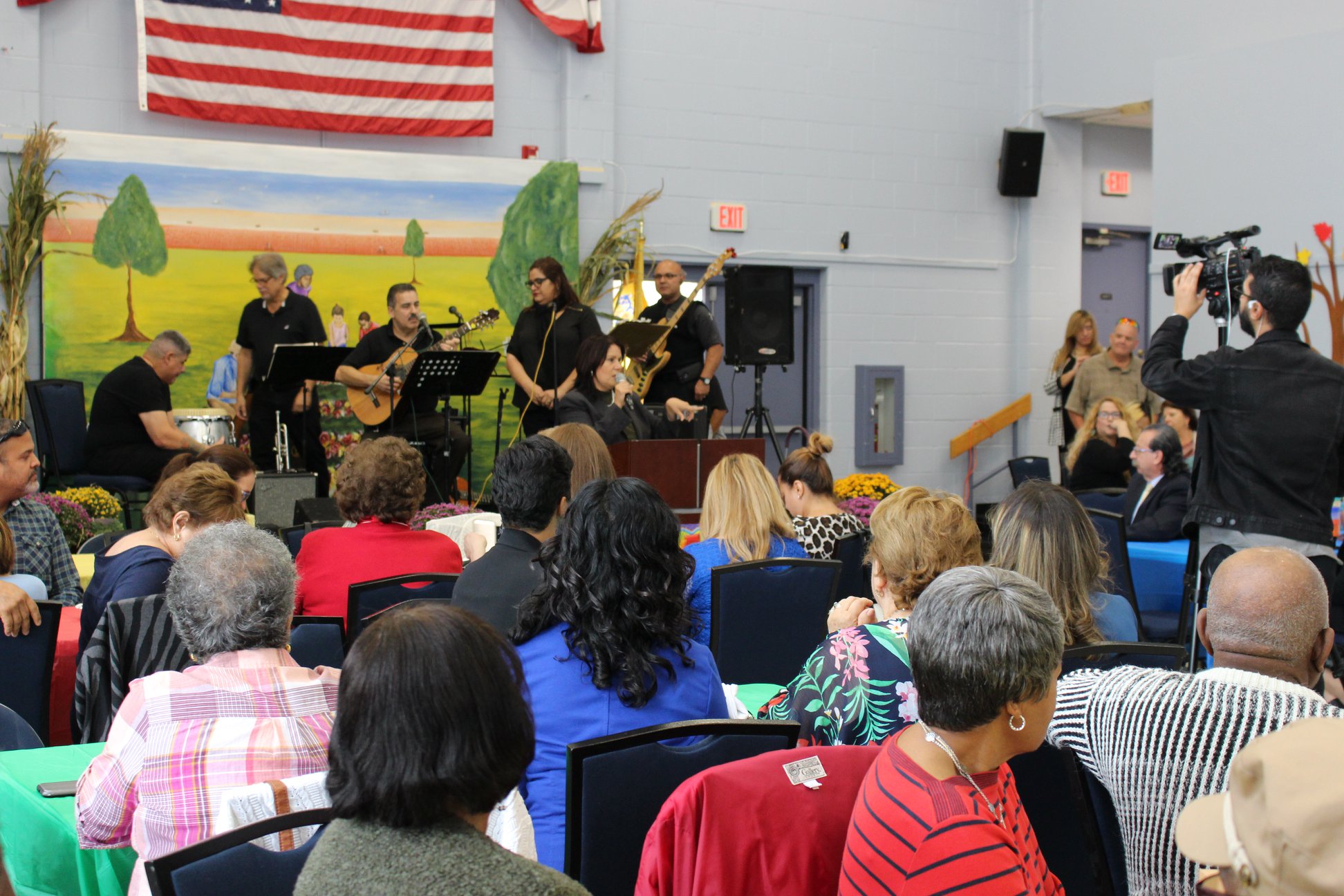 The "Growing Together" mural can be found in the main area of the Community Center.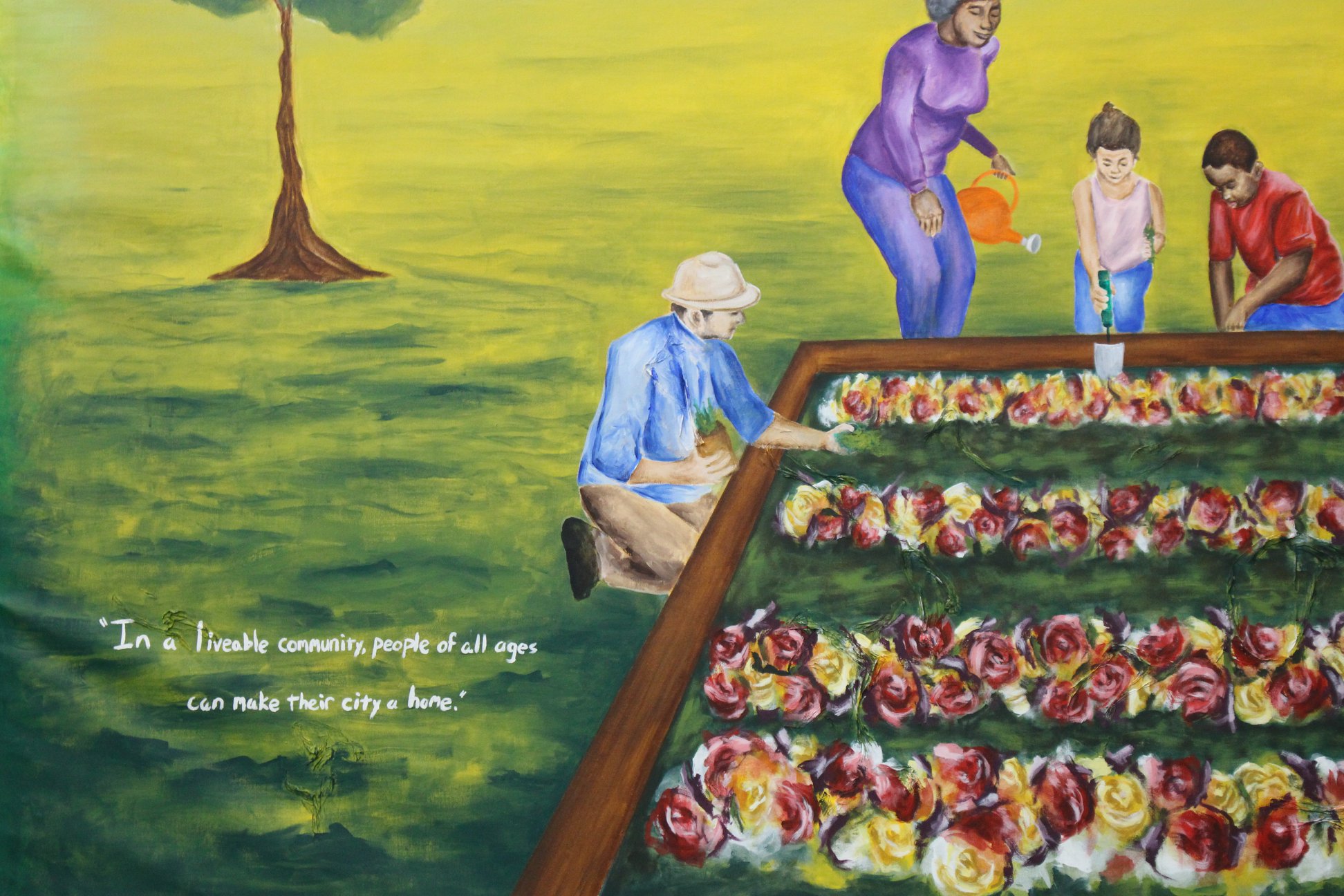 Students helping to pack goods that were donated by community members in the "United for Puerto Rico" donation drive after Hurricane Maria.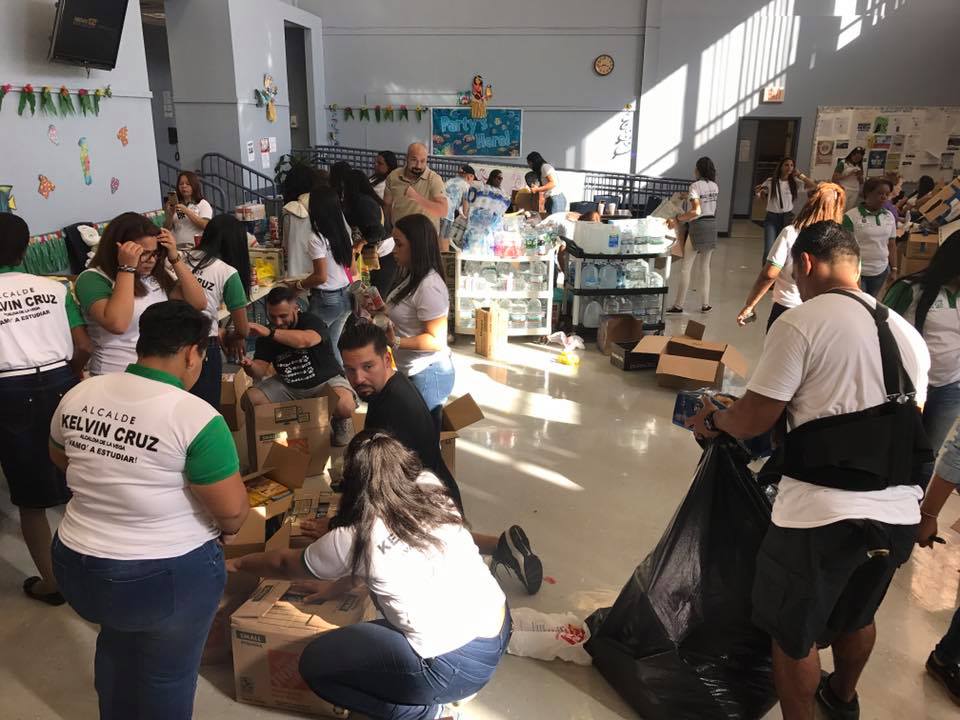 Senior citizens having a nutrition workshop as one of the many activities hosted for them.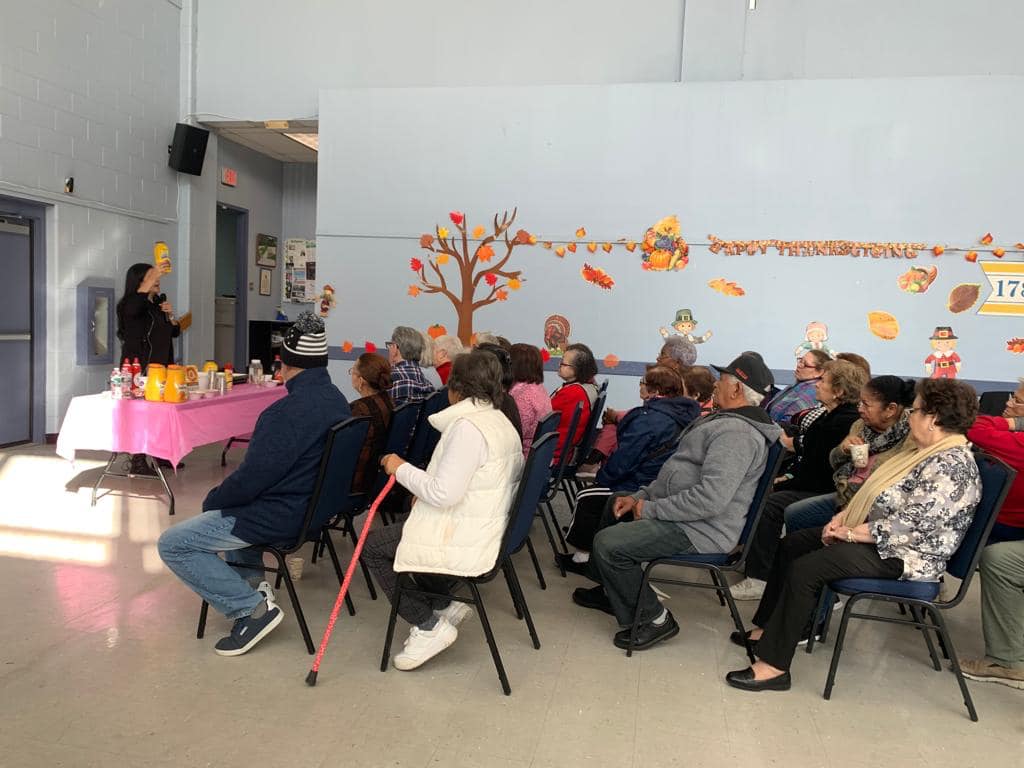 Louie Blaka, the artist, who painted the "Growing Together" mural.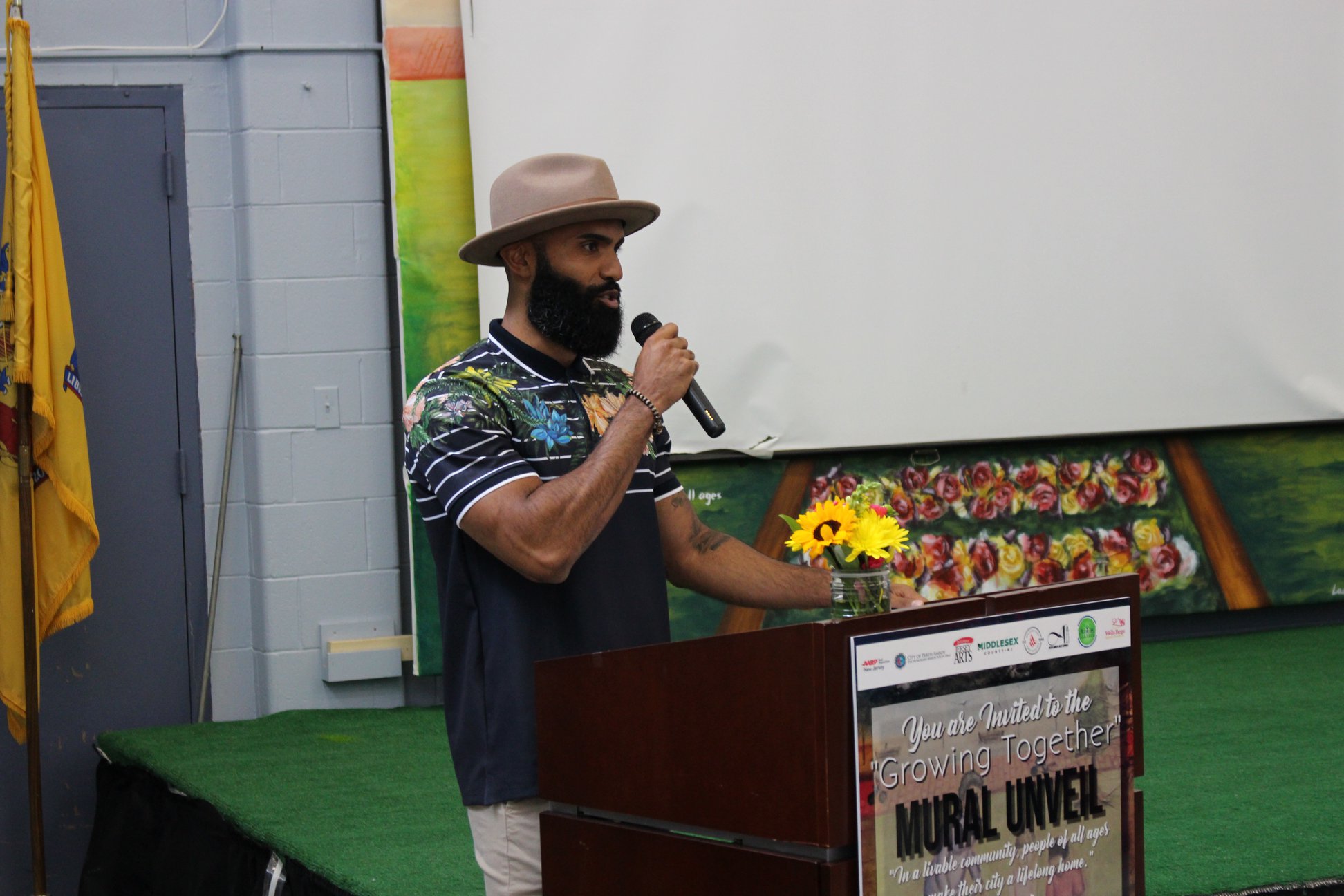 Front entrance to the Alexander F. Jankowski Community Center at 1 Olive Street.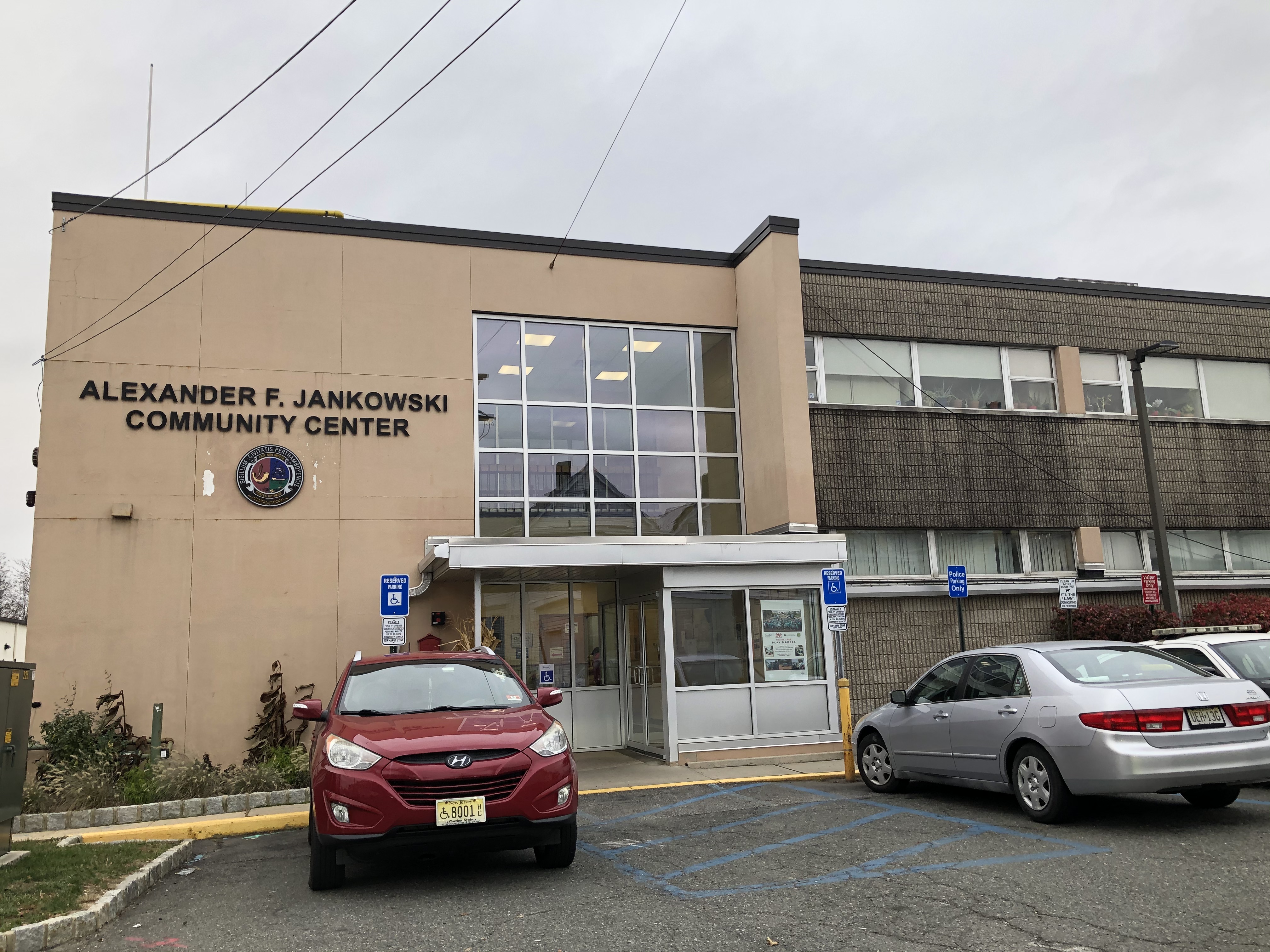 Self Defense Workshop flyer. The workshop was taught by the Perth Amboy Police Department and was open to all residents.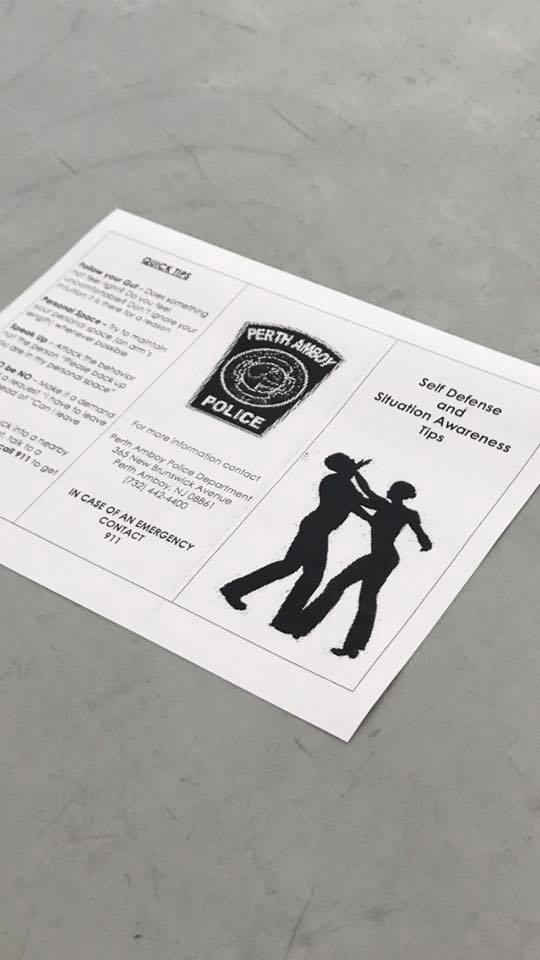 Backstory and Context
Perth Amboy has historical significance in the context of the American tradition, but as its demographics have changed, its history has begun to change as well. With the election of the New Jersey's first Latina and Perth Amboy's first female mayor, cultural celebrations and traditions have been encouraged and take place frequently throughout the year. Residents can flock to the Alexander F. Jankowski Community Center not just for municipal assistance, but also to celebrate their heritage. 
To say that Perth Amboy is a historical city is an understatement. Perth Amboy was settled by Dutch colonists during the early colonial period, eventually rising to prominence and becoming the capital of New Jersey. Even though Perth Amboy is no longer the capital, the city hosts the state's sole Liberty Bell replica and its City Hall is the oldest municipal building in continuous use in the United States. But Perth Amboy is not just known for its colonial history; it has also made headlines for its election of the first Latina mayor in 2008. Since then, Mayor Wilda Diaz was reelected both in 2012 and 2016. The mayor's election was crucial in order for the town to move past its former mayor's financial and electoral corruption. What is particularly interesting about Mayor Wilda Diaz is that she comes from a banking background and decided to run for mayor when a local Puerto Rican organization was barred from having a festival to celebrate Puerto Rican independence. This small anecdote displays how central celebrations and remembrance of one's culture are to the current administration.
Perth Amboy hosts immigrants from all parts of the world. Yet currently, the two largest immigrant groups are Puerto Ricans and Dominicans. Puerto Ricans are the second largest cultural group in Perth Amboy. At one point in time they were the largest, but were eclipsed by Dominicans in the last five to seven years. Puerto Ricans were known to have migrated from the island to the States in large quantities as early as the 1940s and 1950s, when the United States had a national labor shortage and laborers were being recruited (Jimenez-Wagenheim 2005). After the demand for labor settled down, some chose to stay and flocked to urban centers such as Camden, Perth Amboy, Paterson, Jersey City, and Newark (Jimenez-Wagenheim 2005). There was yet another migration wave that began in the 1970s and peaked in the 1980s (Acevedo 2004). U.S. Census data shows that this time, a great proportion of Puerto Rican's migration was to New Jersey (Muschkin and Myers 1985). This time, early migrants were likely to migrate as a conjugal unit if they were married (Muschkin and Myers 1985). The result of these migration waves is that Puerto Ricans are now considered the "oldest and largest Hispanic community in the state [of New Jersey]" (Jimenez-Wagenheim 2005).
Dominicans, on the other hand, have only been traveling in large-scale migration waves since the mid-1960s. Their migration during this time was primarily caused by the fall of the Trujillo regime. The economic policies employed by the succeeding Balaguer government were crippling, leaving many unemployed, hungry, and in want of a new life (Hernandez 2004). Both the migration waves of the 1970s and 1980s consisted primarily of men, yet the economic backgrounds of migrants differed. Migrants coming during the 1970s were typically unemployed, but if they did have a job, it was typically a blue-collar one (Hernandez 2004). In the 1980s, there was a greater mix of blue-collar workers and professionals. This shift in the types of migrants arriving was caused by the collapse of public services in the Dominican Republic, devaluing of the Dominican peso, and a wide loss of stable jobs (Hernandez 2004). Migrants were motivated to come to the United States for financial reasons. Even as late as 2008, Dominicans surveyed in New York City express "wanting a better life" for their families and "seeking greater economic opportunities" as the primary reasons for migration (Duany 2008).
Throughout the year, there are a number of cultural celebrations that highlight Hispanics take place at the Alexander F. Jankowski Community Center. For example, every year the city partners with a local Puerto Rican cultural organization to celebrate Three Kings Day. At this event there is music, food, and children receive a free gift. Sometimes the Community Center hosts bachata contests or karaoke contests, enabling residents to display their talents in whatever language they please to do so. Most participants sing songs in Spanish, given the concentration of Spanish-speaking residents in the city. But two more recent events highlight how the city holds onto its cultural ties and celebrates not only one specific nation or ethnicity, but rather the Hispanic community as a whole. After the aftermath of Hurricane Maria, the community center was used as a donation center where goods were gathered to send to Puerto Rico. As the donation drive went on, people of all different groups -- whites, African Americans, Mexicans, Peruvians, Dominicans, all took part in bringing in goods. The community came together to help all those affected. Even more recently, a new mural named "Growing Together" was unveiled. This mural features people of all different ages, sizes and colors working on a garden (representative of the community) altogether.
In addition to being a space where cultural traditions can be celebrated, the Alexander F. Jankowski Community Center provides residents with a slew of municipal government services. The Office on Aging, Recreation Department, and Department of Human Services can be found inside. These departments are responsible for a number of city events ranging from a fishing derby contest to taking seniors on a trip to Atlantic City. Events such as the annual Passport Fair and citizenship classes have been hosted at the actual community center. Additionally, every year the Mayor's Community Dinners are hosted. This event consists of weekly dinners prepared at the community center by different city organizations for anyone in the community who is in need. As the weather gets colder, the center can frequently be found open for the homeless; this initiative is known as "Code Blue Shelters".
In conclusion, the Alexander F. Jankowski Community Center is important to residents of Perth Amboy. Here they can find that they are part-taking in the current writing of Perth Amboy's history. Although the immigrant population is diverse, kinship, cooperation, and kindness abound between them as the different groups have, and continue to, come together. Residents can partake in cultural traditions and celebrate who they are and where they've come from, but can also use the center to access different government services and programming.
Sources
Acevedo, Gregory. 2004. "Neither here nor there: Puerto Rican Circular Migration." Journal of Immigrant & Refugee Services 2 (1-2): 69-85. doi:10.1300/J191v02n01_05.
Duany, Jorge. 2008. "Quisqueya on the Hudson: The Transnational Identity of Dominicans in Washington Heights." CUNY Academic Works.
Hernández, Ramona. 2004. "On the Age Against the Poor: Dominican Migration to the United States." Journal of Immigrant & Refugee Services 2 (1-2): 87-107. doi:10.1300/J191v02n01_06.
Jimenez-Wagenheim, Olga. 2005. "New Jersey's Puerto Ricans Corralling their History." The Hispanic Outlook in Higher Education 15 (20): 25.
Muschkin, Clara G. and George C. Myers. 1985. "Migration and Household/Family Structure: Puerto Ricans in the United States." International Migration 23 (4): 495-509. doi:10.1111/j.1468-2435.1985.tb00336.x.
Image Sources
Facebook. Mayor Wilda Diaz.

Facebook. Mayor Wilda Diaz.

Facebook. Mayor Wilda Diaz.

Facebook. Mayor Wilda Diaz.

Facebook. Mayor Wilda Diaz.

Angela Febres

Facebook. Mayor Wilda Diaz.

Additional Information