Benjamin Brown Cabin (Cuyler, NY)
Introduction
Benjamin Brown was born in East Hartford, Connecticut in 1767. He settled in Cuyler, Cortland County in 1795, when he and five other men decided to sell their farms in Connecticut and go west. He purchased a tract of land and over the years, transformed it into a productive farm. Brown was the first assessor and the second town clerk in Fabius. Brown was also a dedicated member of the baptist church. He remained in that area until his death on October 9th, 1857, at the age of ninety years old.
Images
The cemetery Benjamin Brown was buried at.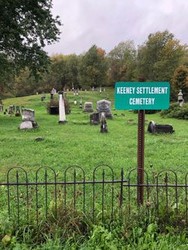 Benjamin Brown grave stone.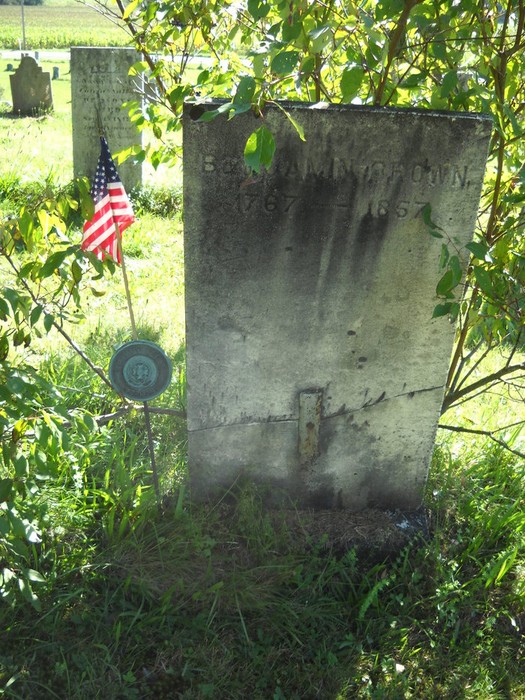 Backstory and Context
Benjamin Brown was one of the first people to permanently settle in the area of Cuyler, which at that time was part of the town of Fabius. He did not settle in this area alone. He came from Connecticut with a few other men who he had close ties with. These men, along with many other settlers of Fabius, once lived in a tiny log cabin together throughout the winter. There were no rooms in the cabin, and there were twenty-seven different settlers who slept there at once on the floor. This caused many of the settlers, including Brown, to form bonds with each other. The men that Benjamin Brown traveled and settled with were Simon Keeney Jr., Gurdeon Woodruff Sr., Samuel Fox, and Johnathan Webster. They had very close ties since Brown, Woodruff, and Fox had married sisters of Webster, and Webster's wife was a sister of Keeney. 
Brown settled near Keeney's settlement with his wife Dorinda Webster, who he married in Connecticut in 1785. She was from the same family as Governor Webster of Connecticut. They raised seven children together, most of them growing up on the cabin in Cuyler. Brown purchased uncleared government land and used it to farm. Brown was a member of the Baptist church, and for many years was deacon of that church. He also promoted the building of the Baptist church house of worship at Keeney's settlement.
When Brown arrived in the area, there was nothing but unpaved roads and trees everywhere. According to Mrs. F. P. Whitmarsh, "Early in the summer of 1795, these men with axes on their shoulders, followed the rough roads, 'state roads', if you please, as far as Manlius, from there they followed blazed trees or blazed their own to a place three miles south of Fabius." When Brown settled in Fabius, he had to cut down the land for himself. Brown cleared the land and later planted potatoes. Brown went the furthest south out of the men that he traveled with, traveling one mile further away. This was a drastic change for Benjamin and especially his wife Dorinda. They moved from Connecticut where there was a formal town and where the area was already settled, to a place in which nothing was around them. Shortly after, Brown became the first assessor of Fabius. As an assessor, he was trusted by the community to be called upon for advice. Brown also became the second town clerk. Benjamin had a productive farm, and both he and his wife, Dorinda, stayed in Fabius until their deaths.  
Sources
Benjamin Brown taken from Historical Sketch of Keeney Settlement by Mrs. F. P. Whitmarsh. Unknown date, and publisher. Found at the Cortland Historical Society.
Cutter's Central N.Y. Genealogies, p. 265. Found at the Cortland Historical Society.
Image Sources
https://www.findagrave.com/cemetery/2262860/keeney-settlement-cemetery/map

Find A Grave, database and images (https://www.findagrave.com : accessed 04 December 2019), memorial page for Benjamin Brown (1767–1857), Find A Grave Memorial no. 53212030, citing Keeney Settlement Cemetery, Fabius, Onondaga County, New York, USA ; Maintained by BArnold (contributor 46908180) .

Additional Information