East Virgil Busy Hamlet, 1800-1856
Introduction
This historical marker shows East Virgil's Hamlet was a place that had inns, stores, wagons, a Blacksmith, a tailor, and shoe shops. Unfortunately, the hamlet was swept away in the 1856 flood. The hamlet was a thriving area. Originally it was an agricultural and grazing district that turned into a profitable market of importance. It is important to note that East Virgil's Busy Hamlet was also known as Gridley Hollow.
Images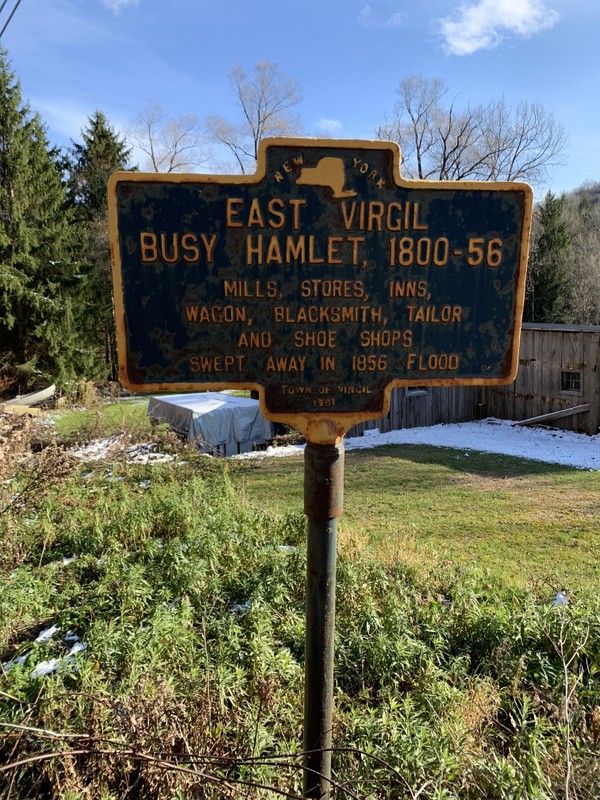 Backstory and Context
The hamlet located in East Virgil originated in 1800, and was originally an agricultural and grazing district. However, the district transformed into a market of different types of goods and became very profitable. East Virgil was originally named Gridley Hollow, named after pioneer Reuben Gridley. Some of the available goods and services were a tailor, Blacksmith, inns, wagons, shoe shops, and other various stores. Alongside the profitable businesses that came about from this marketplace, butter became an item of importance which would be produced in this hamlet. The diversion of trade to Virgil's Corner and later to other points of the railroad caused Gridley Hollow to remain a small hamlet, with the only notable businesses being the mill and a small store kept by John Lewis, the postmaster of East Virgil.
Alexander McVean was an early settler at the Hollow and was a justice of the peace for forty years. He was in connection with Isaac Benton, owner of the saw-mill before it was swept away. Benton was born in Gridley Hollow long ago, and he carried on a wagon-making and Blacksmithing business in the Hollow, employing many hands and operating large businesses. Around the year 1832, Hiram Baker built a saw-mill a mile and a half west of the Hollow, but as the forests cleared away there was less demand for such mills. Baker's mill was swept away in the flood of 1856 and was not rebuilt.
A church was built at the Hollow in 1844, by the union of the members of several denominations in that vicinity. It fell under the control of Methodists, and today it is known as Virgil United Methodist Church.
East Virgil was known as a great location to establish saw-mills, the first being built by Mr. Vandenberg in 1819. In 1856, a great flood swept away much of East Virgil, including all the saw-mills in the area. To resolve this problem, Gaius Rudd built a stone mill following the flood, with the saw-mill being abandoned until E.D. Angell bought it, who successfully operated said saw-mill.
By: Jonathan Rodriguez, James LaCarruba, & Thomas Barrett
Sources
SMITH, HENRY PERRY. HISTORY OF CORTLAND COUNTY: with Illustrations and Biographical Sketches of Some of Its Prominent ... Men and Pioneers (Classic Reprint). FORGOTTEN Books, 2016.
Additional Information