John Saegmuller House
Introduction
The John Saegmuller House is notable as an example of Prairie-style architecture and has survived since its circa 1925 construction with little modification to the exterior and interior. Still in use as a private residence, the surrounding property has been subdivided and filled with modern houses. The house faces east, towards Little Falls Court, and features a stuccoed exterior with a central gable porch, half-timbering and other wooden details, and a two-story sunroom to the rear of the main block. Mr. Saegmuller was an optical engineer and a member of a locally prominent family. He was born at the family's summer home, the nearby Saegmuller Mansion, in 1875. The home was placed on the Virginia Landmarks and National Registers in 2003.
Images
Front (east) elevation of the John Saegmuller House, August 31, 2012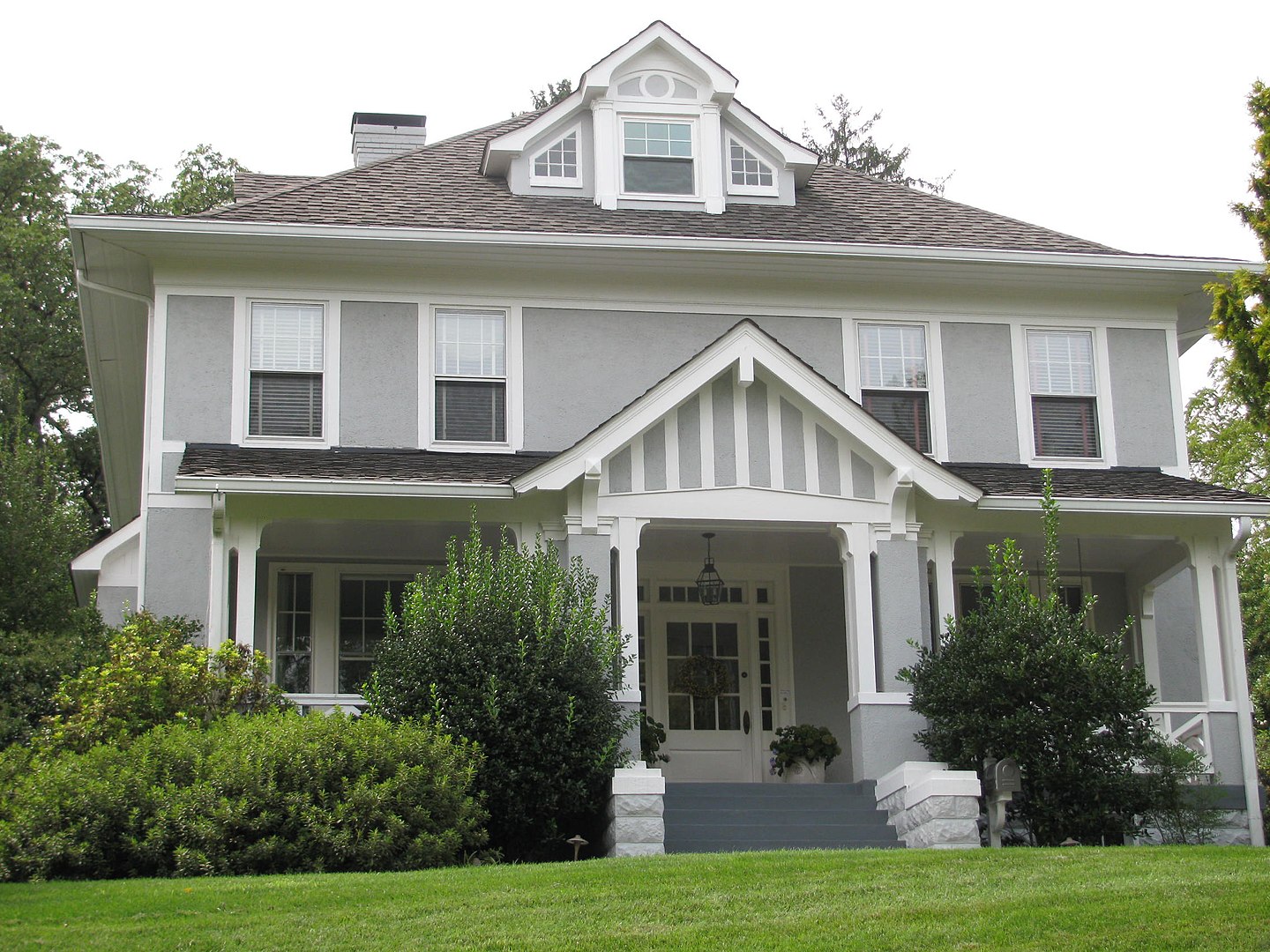 Backstory and Context
John Leonard Saegmuller was the eldest son of George N. Saegmuller; George N. owned the nearby Saegmuller Mansion that he constructed near the turn of the 20th century. John L. built this home for himself on part of his father's 240-acre farm, Reserve Hill, around 1925. John L. was born at Reserve Hill in 1875. The John Saegmuller house is notable as one of the only extant examples of the Prairie style of domestic architecture in Arlington County and is in an excellent state of interior and exterior preservation.
Set on a concrete block foundation, the 2-1/2 story John Saegmuller house is wood frame construction covered in stucco, with a pyramidal roof pierced by dormer windows. The front facade faces east with the original front porch having large piers and columns under a central gable roof. Attached to the rear of the main block of the house is a two-story sunroom. Wood decoration on the exterior consists of half-timbering, a belt course, and trim. The interior retains a central-hall plan with preserved wood flooring, plasterwork, built-in cabinetry, pocket doors, decorative wood molding, and wood staircase. A servant's stairwell leads from the kitchen down to a full finished basement or up to servant's quarters. The second story contains five bedrooms and three full bathrooms. The attic space above the house's main block is a finished recreation room and above the sunroof is storage space. A shed-roof garage that stood on the lot in 1985 is no longer extant. Little else has changed except for the addition of central air conditioning and gas heating,
The house is set back from Little Falls Road on a lot reduced now to only one-third acre. The land immediately surrounding the house was subdivided in 2000 and developed with modern housing as Falls Court; two infill houses are placed between Little Falls Road and the John Saegmuller house. The house was listed on the Virginia Landmarks Register and National Register of Historic Places in 2003. While the house has been called one of the most stylized early-20th century dwellings in Arlington, it is said to demonstrate the practical simplicity of rural architecture.
Like his father, John L. worked as an optical engineer, designing scientific instruments in his father's company, Fauth & Company. The firm merged with Bausch & Lomb in 1905; John L. managed the Washington branch of the firm from 1917 to 1926. When John L. married in 1905, he was a resdent of Rochester, New York, where Bausch & Lomb is headquartered. He and his brothers Frederick B. and George M. managed the family's successful dairy farm on Reserve Hill. Upon his father's death in 1934, Frederick B. inherited 27 acres of the farm, since his two brothers already had houses on the farm. In 1943, John L. sold the 2.3-acre lot including the John Saegmuller house to Edith A. Dunning. The house continues to be privately owned.
John L. died in 1961 at age 86 and was survived by his widow, Virginia, and children, George N. and Louisa. At the time of his death, his permanent residence was at 3021 N. Edison Street in Arlington.
Sources
Liccese-Torres, Cynthia A. NRHP Nomination form for John Saegmuller House, 5101 Little Falls Rd., Arlington, VA. Washington, DC. National Park Service, 2002.
" Saegmuller - Fitzhugh." The Times-Dispatch (Richmond) June 14th 1905. , 6-6.
Vincent, Kevin. John Saegmuller House, Historical Marker Database. June 16th 2016. Accessed November 14th 2019. https://www.hmdb.org/Marker.asp?Marker=57639.
Image Sources
By Slowking4 - Own work, CC BY-SA 3.0, https://commons.wikimedia.org/w/index.php?curid=21007464F

Additional Information