The 1910 Fires
Introduction
Ravenous forest fires occurred in Montana in the summer of 1910. Over, 1,700 fires burned approximately 3,000,000 acres of land. Extreme weather conditions, exacerbated by poor infrastructure and insufficient funding, greatly heightened the destructive force of the fires. This Clio entry is pinned to the Miller Creek Guard Cabin exhibit at the Historical Museum at Fort Missoula, which details the 1910 fires.
Images
A 1912 map showing the lack of access to forests surrounding Missoula.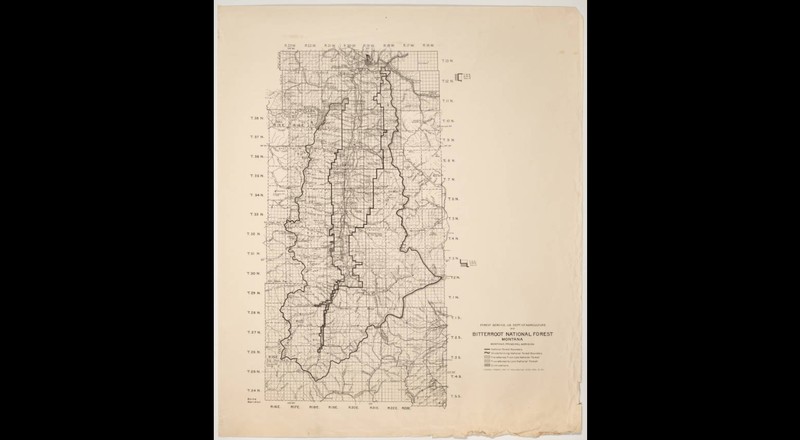 An image of a treeless and barren valley and tunnel and train tracks impacted by the 1910 fires.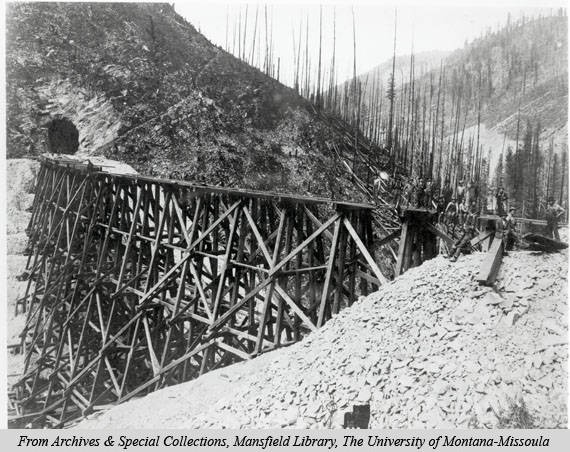 Map of the Bitterroot National Forest in 1912.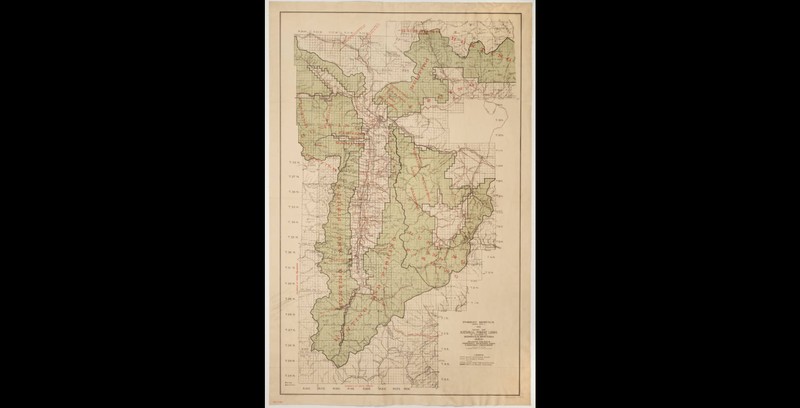 Destruction caused in De Borgia, Montana, by the "blow up," a combination of wind and fire.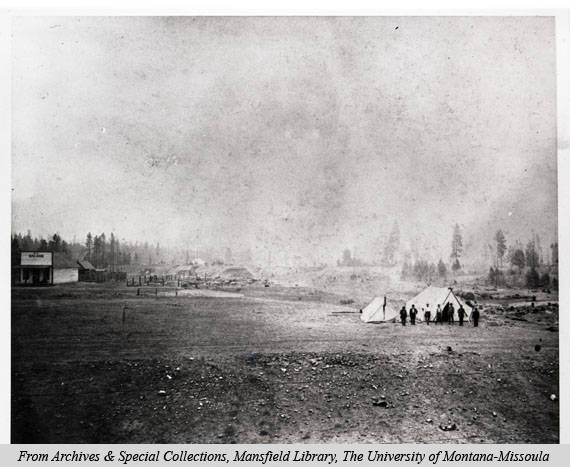 Backstory and Context
The 1910 fires ravaged millions of acres across three states. Many encounters with the fires produced amazing stories. Elers Koch, the Forest Supervisor for the Lolo National forest at the time, was a seasoned forester and firefighter. He stated that fighting fires was the closest thing to war [Koch p.94]. For example, during the Hemlock Creek fire in the summer of 1910, Koch and his men were surrounded by burning trees 160 feet tall and 4 feet in diameter. When they fell, they crashed with the force of a cannon ball. One tumbled downhill across the men's fire line, into unburned forest. Koch ordered his men to tie rope around it and drag it back up the hill. However, more trees came down. Consequently, the crew had to retreat to safety [Koch p. 98]. Luckily, they all lived.
Henry Berringer detailed another fierce fire win the Clearwater forest on August 4, 1910. It started after winds created a firestorm, and, Berringer recalls, "it had gained the velocity and force of a hurricane" [Berringer Papers, Box 1, Folder 1]. The wind turned the area into a dense cloud of smoke, ash, and dust. The culmination of these factors led to the visibility being only a couple feet in front of the men Facing these odds, Berringer determined that they should put all their power into saving lives and supplies. Ultimately, they too retreated.
Joe Halm, like the others, eventually became surrounded by fire. Acting quickly, he ordered his men to grab a blanket and lie in a small nearby stream. Here, they wet the blankets and covered their bodies, waiting out the fire. All the men survived. ["Death of a Forest"]
However, other encounters blinded and hospitalized many men. A total of 85 lives were lost. Approximately 3,000,000 acres burned; the smoke reached all the way to the east coast. Lush green forests were turned into Blackened and deserted waste lands. Cougars, deer, and elk wandered aimlessly. Fish were boiled alive in streams surrounded by fire. [Bramwell, "When the Mountains Roared"]
As Henry F. Diaz and Thomas W. Swetnam explain in "The Wildfires of 1910," weather was the defining factor that allowed for the fires to be so ravenous. The Northern Rockies were exceptionally dry and hot that year; March 1910 held the record high temperature for that month until 2012. Also, humidity was 20% lower than average, winds were anomalously high, and there were lower levels of moisture in fallen pine needles. Complicating these factors, the U.S. Forest Service, only 5 years old at the time, was poorly funded and understaffed. A final difficulty was the lack of access to fires, some 60 miles from the nearest roads. Berringer reported that he and his crews cut a total of 32 miles of trails [Berringer Papers, Box 1, Folder 1].
The odds were stacked against the forests and firefighters of 1910. The consequences of this tragic event did not go unnoticed. Congress eventually doubled the Forest Service's budget and policies were created that would last decades after the fires.
Sources
1. Bramwell, Lincoln. "When the Mountains Roared: The 1910 Northern Rockies Fires." Montana: The Magazine of Western History 60, no. 3 (2010): 54-96. http://www.jstor.org.weblib.lib.umt.edu:8080/stable/27922528.
2."Death of a Forest". Montana : The Magazine of Western History, (1960) v.10, 52-57.
3..Diaz, Henry F., and Thomas W. Swetnam. "The Wildfires of 1910." Bulletin of the American Meteorological Society 94, no. 9 (September 2013): 1361–70. doi:10.1175/BAMS-D-12-00150.1.
4.H. P. Berringer to Henry J. Claffey, November 8, 1910, Box 1, Folder 1, Folder 1/1, Henry P. Berringer Papers, Archives and Special Collections, Mansfield Library, The University of Montana-Missoula
5. "Forestry Lessons Taught by the Great Fires," The Daily Missoulian, November 20, 1910, pg. 5, Chronicling America, https://chroniclingamerica.loc.gov/lccn/sn83025316/1910-11-20/ed-1/seq-15/
6..Koch, Elers. Forty Years a Forester. 1900. Print. Archives and Special Collections, Mansfield Library, The University of Montana-Missoula
7.Pyne, Stephen. 2001. "Year of the Fires." American Forests 107 (3): 27. http://search.ebscohost.com.weblib.lib.umt.edu:8080/login.aspx?direct=true&db=a9h&AN=5142151&site=ehost-live.
 8."The 1910 Fires." Forest History Society. https://foresthistory.org/research-explore/us-forest-service-history/policy-and-law/fire-u-s-forest-service/famous-fires/the-1910-fires/.
9."The Big Burn." Archives & Special Collections, Maureen and Mike Mansfield Library, University of Montana-Missoula Accessed October 11, 2019. http://exhibits.lib.umt.edu/omeka/exhibits/show/talesofthe1910fire/the-big-burn.
10. "The Big Burn." PBS. Public Broadcasting Service, January 22, 2019. https://www.pbs.org/wgbh/americanexperience/films/burn/#cast_and_crew.
Image Sources
"Map of national forest lands in vicinity of Missoula, Montana showing roads, trails, fishing, hunting, and camping grounds.," 1912, Mapping Montana and the West, Montana Memory Project, https://mtmemory.org/digital/collection/p15018coll5/id/870/rec/12

Photo #74. 0073, "Rebuilding bridge #7, tunnel #26 after 1910 fire," Archives and Special Collections, Mansfield Library, University of Montana, Missoula, Montana. Archival Photographs from the University of Montana, Montana Memory Project, https://mtmemory.org/digital/collection/p16013coll27/id/2371/rec/12

"Bitterroot National Forest, Montana.," 1912, Mapping Montana and the West, Montana Memory Project, https://mtmemory.org/digital/collection/p15018coll5/id/869/rec/30

Photo #70.0230, "De Borgia, Montana after the great fire of 1910," 1910, Archives and Special Collections, Mansfield Library, University of Montana, Missoula, Montana. Archival Photographs from the University of Montana, Montana Memory Project, https://mtmemory.org/digital/collection/p16013coll27/id/2370/rec/11\

Additional Information