Gee Hill
Introduction
Gee Hill (also known as lot No. 21) was the site where early settler John Gee came and built his home. John Gee served in the American Revolution, participating in the Siege of Yorktown directly. After the war was over, John Gee drew lot No. 21 as a reward/pension for his service, and he came with 2 other men in the year 1795 on foot from Chenango Point. They carried as many provisions as three men on foot could, and built a house using only an axe. The men built the house without a board, nails, or glass panes. Gee moved his family from Wyoming, Pennsylvania to Gee Hill, Virgil, NY, arriving in June of 1796. Gee's family consisted of his father, his step-mother, his step-brother, his wife and their three children. The family of 8 lived in the house Gee and the other men built, roughly measuring 16ft x 12ft.
Images
Gee Hill Historical Marker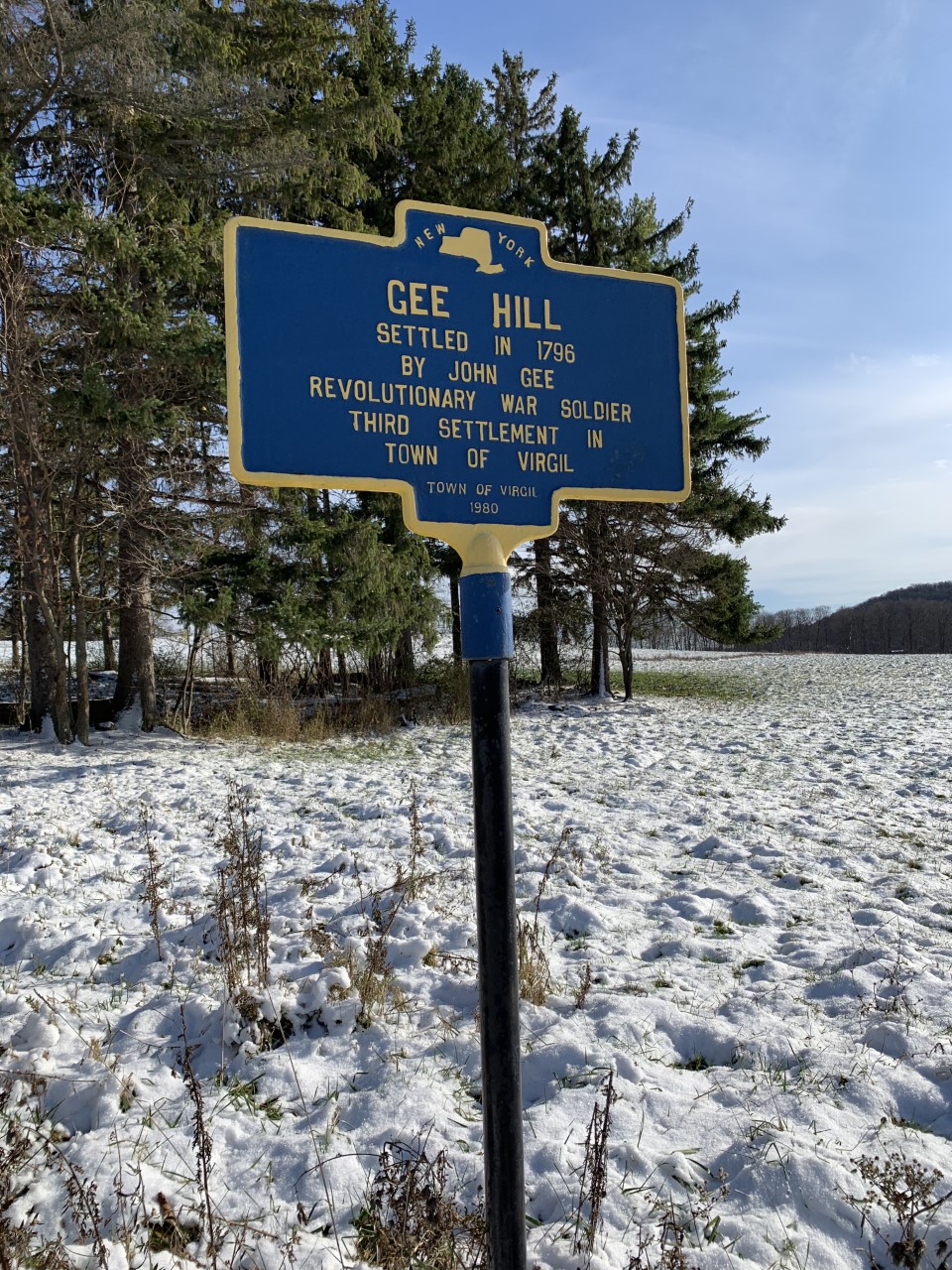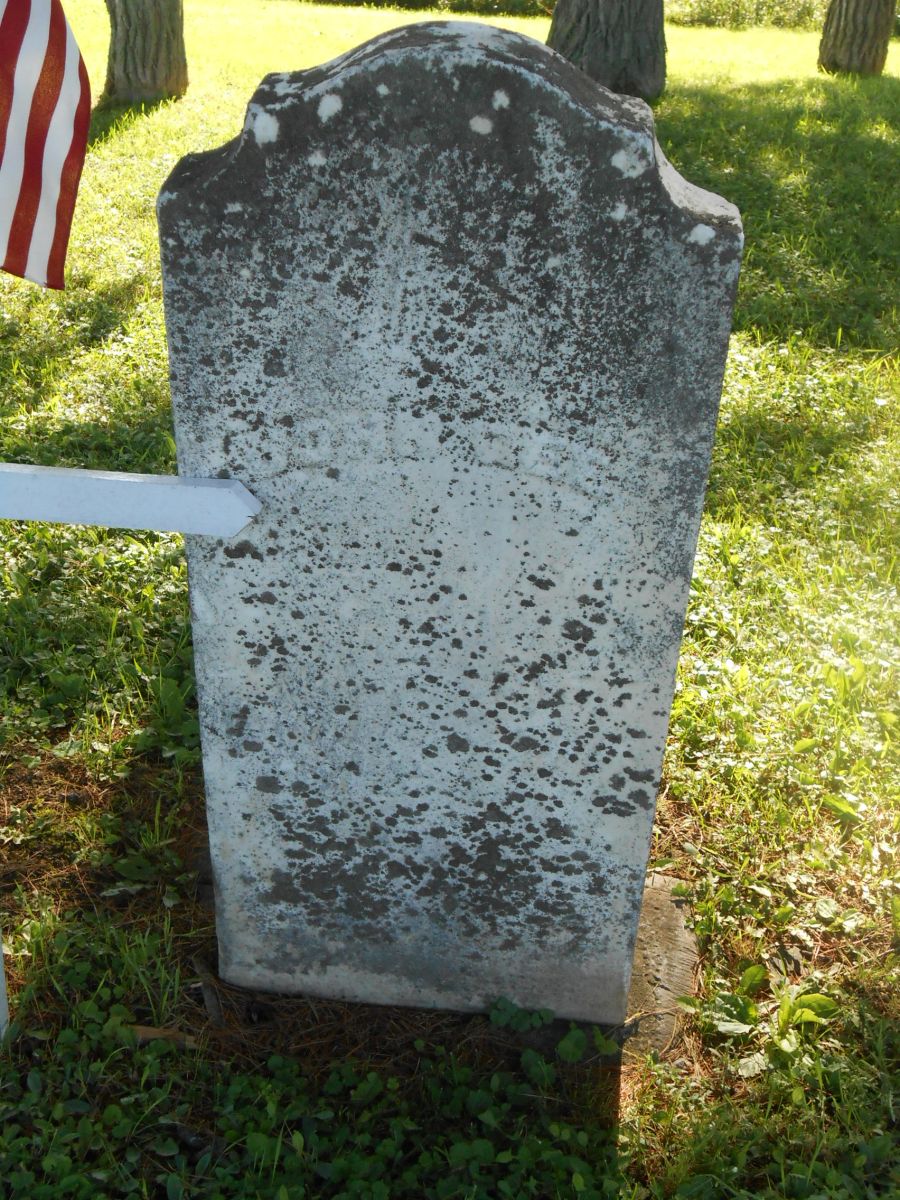 Backstory and Context
John Gee was born on January 13th, 1763 in Peekskill, Westchester County, NY. Gee was a soldier in the American Revolution, enlisting at age 15 in the year 1779 at Ft. Montgomery in Orange County, NY. Gee was a combatant at the Battle of Newtown near Elmira, NY, and Gee was present for General Cornwallis' surrender in the Siege of Yorktown, Virginia. After being discharged in 1783, John Gee married Mary Hutchings in 1785. They lived in Wyoming, Pennsylvania with one son and two daughters.
In New York, nearly 2 million acres of land was set aside to compensate New York's soldiers for their efforts in the Revolutionary War, known as the "Military Tract." Gee was awarded lot No. 21 in Virgil, bounded on the west by Dryden and on the south by Virgil Creek. John made the trip from Chenango Point, near Binghamton, to his new lot, using marked trees as directional guides with two other men. John and the two men arrived on the lot with little provisions, and began to cut down trees and build a small home with just an axe. The men finished, and John moved in his father, Derozel Gee, a soldier in the French and Indian War, his stepmom, his wife Mary and their 3 children (one son, two daughters), and Mary's brother Samuel Hutchings. The Gee's "neighbors" were Joseph Chaplin, who lived "at the river, about twelve miles by the road", Ebenezer Brown, husband of Joseph Chaplin's cousin, who lived twelve miles west, and John M. Frank, "four miles without road."
John had given his step-brother Samuel Hutchings 100 acres upon their arrival in Virgil, and 25 acres were later used to pay off a personal debt. From John Gee's pension records in 1820, we can see that he owned: one cow, 2 yearlings, 2 calves, 6 sheep, 4 hogs, one plow, a chain, an axe, one old hoe, 1 old scythe, 3 pitchforks, 1 old table, 6 old chairs, and et cetera. Five children still lived at the home, and John declared that he had been unable to do any farm work of consequence for the past decade due to a weakness of the back. Futhermore, his 50 year-old wife Mary was "of weak constitution."
In 1842, after 46 years of living in the town of Virgil, NY, Mary and John left to go live with one of their grandchildren in North Barton, Tioga County, NY. Mary died in 1849, and 8 years later, John Gee passed away on April 4th, 1857 at the age of 94 years old. Today, John and Mary are laid to rest next to each other in the North Barton Cemetery. In all, fifteen children were born to John Gee and Mary Hutchings, and all but 2 survived past childhood.
By: Jonathan Rodriguez, James LaCarruba, & Thomas Barrett
Sources
"History of Cortland County, with Illustrations and Biographical Sketches of Some of Its Prominent Men and Pioneers: Smith H.P. (Henry Perry), 1839-1925, Ed : Free Download, Borrow, and Streaming." Internet Archive. Syracuse, N.Y., D. Mason & co., January 1, 1885. https://archive.org/details/historyofcortlan00smit/page/n8.
Mayo, Robert, and Ferdinand Moulton. Army and Navy Pension Laws, and Bounty Land Laws of the United States: Including Sundry Resolutions of Congress, from 1776 to 1852: Executed at the Department of the Interior: with an Appendix, Containing the Opinions of Attorneys General of the United States, with the Decisions, Rules, and Regulations, Adopted by Different Secretaries, Relative to the Execution of Those Laws. Washington: Printed by J.T. Towers, 1852.
Find A Grave, database and images (https://www.findagrave.com : accessed 14 November 2019), memorial page for John Gee (13 Jan 1763–4 Apr 1857), Find A Grave Memorial no. 133818043, citing North Barton Cemetery, Barton, Tioga County, New York, USA ; Maintained by Paul R (contributor 47317162) .
Special thanks to Paul R. of Broome, NY for help with research. Contact info: pdrxxx0@gmail.com
Additional Information