Chatham Vigilance Committee and the Demarest Rescue
Introduction
The Chatham Vigilance Committee is an organization founded in the 1850's to fight against slave owners during the fugitive slave act. This committee organized attacks to protect and free slaves from being returned/sold back into slavery. The Chatham Vigilance Committee was located in Chatham, Ontario. Prominent during the years of 1850-1865 but was a growing institution from the the war of 1812 as the growing population of refugee slaves seeking asylum from Slavery. Chatham became a mecca for the slave African American population reaching over 25,000 people by the years from 1850-1865. Amongst other vigilant actions the main highlight was the rescue of Sylvanus Demarest.
Images
Poster during the start of the Fugitive Slave Act. Almost a pre-emptive warning with various sides talking on how to allow these slaves to move to Canada to be free.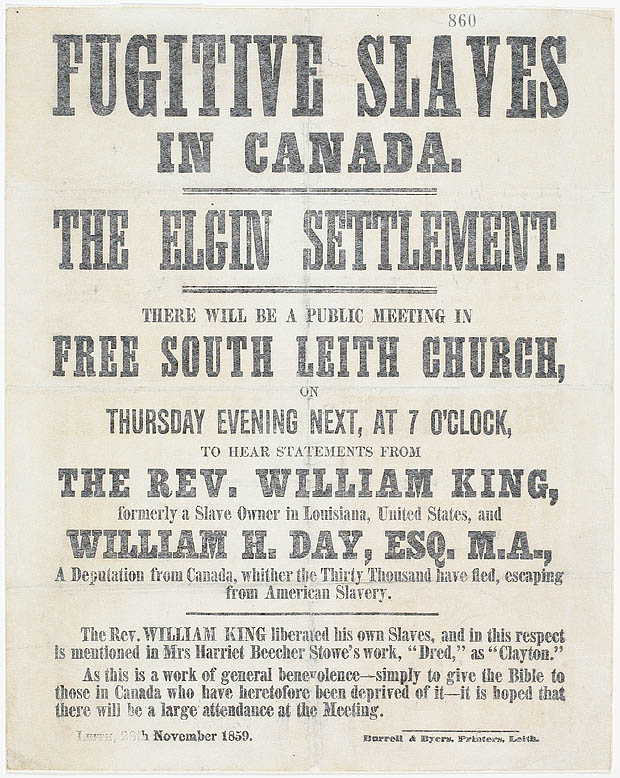 Backstory and Context
In 1850 the United States of America enacted a law which enabled slave owners to keep/find/detain/sell slaves again. This started a man hunt from under the mason-dixie line where many freed slaves sought refuge in the northern states and Canada. The underground railroad became a passageway escape where led them often to other vigilant committees like Philadelphia, Ohio (Oberlin), and to Canada west (which know as Chatham). From the help of many abolitionists like Mary Ann Shadd Cary, William Howard Day, Isaac Shadd, Thomas Cary, Osborne Anderson, and Martin Delany; who also were on the Chatham Vigilance Committee.
The beginning of migration of African American slaves into Canada was a drastic change. First in Canada, there was turmoil against people of colour in Upper and Lower Canada. Canada (under British rule) enacted laws which gave these refugees the rights to be free. The rebellion of 1837 really united the peoples of upper and lower Canada to the African Americans slaves. William Lyon Mackenzie started a provisional government in Upper Canada which many thought as an act of treason. Many feared, especially freed Slaves in Canada, that if taken over that Upper Canada would turn into like America. Many African-Americans joined the fight against this calling themselves, The Black Militia. This created a unity amongst men of colour creating voluntary forces of over 9000. Securing this community and respect amongst Europeans and fellow upper Canada citizens.
One of the biggest impact son the Chatham community was the British Celebrating a day called Emancipation day which was enacted in 1833. It set a tone inside Chatham where these freed people can celebrate their freedom. Amongst celebrations and all Chatham became a terminal and especially in the years from 1841-1865 brought in more and more African American slaves by the thousands. Also this sense of community formed where many of the individuals in the community created this thing called "True Bands". Where they would all look after each other and work together to improve welfare, schools, church. This essentially amongst all helped the forgery of the Chatham vigilance committee as this allowed growth and prosperity with freed African American slaves.
The rescue of Sylvanus Demarest is one of the biggest highlights of the Chatham vigilance committee. Amongst this rescue the Chatham Vigilance Committee rescued various people in the same way. the Chatham Vigilance Committee showed up to these rescues in hundreds were they show up with weapons and torches and would terrorize the white male taking these young African Americans back into slavery. In September of 1858, hundreds of black and white abolitionists heard the news of a young Sy,vanus Demarest being captured and on a train back into the America. Once the train arrived in Chatham the committee was waiting for its arrival and boarded the train and freed Sylvanus Demarest. A few individuals were arrested under this accord by the railroad officials like Isaac Shadd, 2 whites, and 5 blacks. W.R. Merwin who captured Demarest never owned him and intended to selling him. Sylvanus was reunited with his mother in Chatham.
Sources
"About the Project." Reframing Resistance 1858 ICal, www.huronresearch.ca/abolition1858/.
Farrell, John Kevin Anthony. The History of the Negro Community in Chatham, Ontario, 1787--1865. Theses, 1910-210 // Theses, 1910-2010, 1955.
Henry, Natasha L. "Fugitive Slave Act of 1850." The Canadian Encyclopedia, 10 Feb. 2015, www.thecanadianencyclopedia.ca/en/article/fugitive-slave-act-of-1850.
Hoak, Lisa, et al. "'I Shall Have Your Sympathy, If Your Judgment Refuses Me Your Support': Lucy Stanton Day, the American Missionary Association, and the Politics of Respectability." Oberlin College Archives - History 213: First Wave Feminisms, Spring 2013, Oberlin College Library, www2.oberlin.edu/archive/teaching/projects/hist213/stanton/intro.html.
Leonard, Elijah. "The Honorable Elijah Leonard : a Memoir : Leonard, Elijah, 1814-1891 : Free Download, Borrow, and Streaming." Internet Archive, London, Ont. : Advertiser Printing Co., 1 Jan. 1894, archive.org/details/honorableelijahl00leon/page/48.
Lynn, Jaime. "BLACK HISTORY MONTH: CHATHAM-KENT BLACK MECCA MUSEUM (CKBMM)." MUSINGS, 8 Feb. 2014, musingsmmst.blogspot.com/2014/02/black-history-month-chatham-kent-black.html.
"Oberlin Connections: Lucy Stanton Day." Lucy Stanton Day, www.huronantislaveryhistory.ca/lucy-stanton-day.html.
Reid Maroney, Nina. "Finding 'Phantoms of the Past'." The Chatham Voice, 29 May 2019, chathamvoice.com/2019/05/29/finding-phantoms-of-the-past/.
Rhodes, Jane. Mary Ann Shadd Cary: the Black Press and Protest in the Nineteenth Century. Indiana University Press, 1999.
"William Howard Day." Reframing Resistance 1858 ICal, www.huronresearch.ca/abolition1858/research-in- oberlin/william-howard-day/.
Image Sources
Henry, Natasha L. "Fugitive Slave Act of 1850." The Canadian Encyclopedia, 10 Feb. 2015, www.thecanadianencyclopedia.ca/en/article/fugitive-slave-act-of-1850.