South Bend Central High School
Introduction
South Bend High School was home to one of the best basketball coaches of all time, John Wooden. John coached at South Bend from 1934-1945 and helped lead them to be recognized as one of the top high schools in the state. South Bend was John's first place of coaching and he proved to do very well. After coaching there and getting his name around, John was able to move up and become head coach at Indiana State University.
Images
South Bend Central High School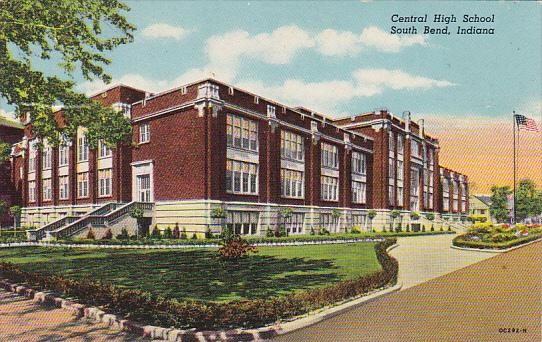 John Wooden with his team after winning a huge game in 1941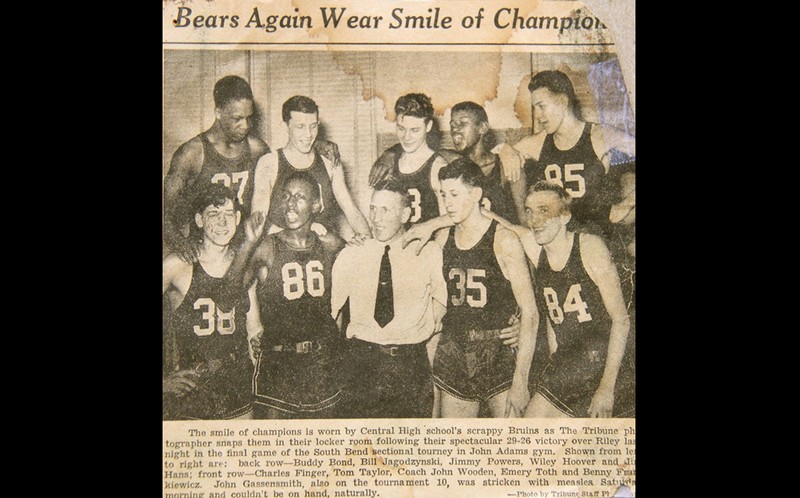 Coach John Wooden with players Parson Howell and Wayne Thompson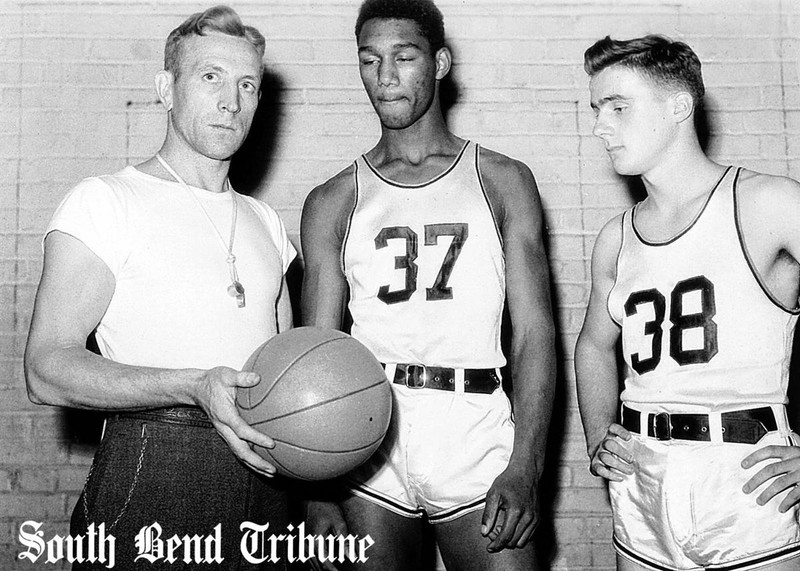 Backstory and Context
John Wooden coached at South Bend Central High School for 11 years. This was his first coaching job that he had since he graduated from Purdue. Although he had the talent to make it to the pros, he decided it was best for himself to begin teaching English and to become a coach. He already proved he was good enough as a player but wanted to carry over what he knew to help others.
During his 11 years of coaching at South Bend, he coached his team to a 218-42 overall record. South Bend would be recognized as one of the top high schools in the state behind John's coaching. Multiple championships and division titles were won during his time there. South Bend had not seen that type of coaching in a long time so they knew just how important John was to the school.
To this day, the school still keeps its memory of John with them. The gymnasium they use for basketball is in name of John. HIs signature is on the court and his name is around the gym as well. A plaque honors his name and the years he coached there to remember John and what he did for the program.
Sources
Goshen News. Legendary Wooden's Indiana roots run deep, February 23rd 2014. Accessed November 25th 2019. https://www.goshennews.com/sports/local_sports/legendary-wooden-s-indiana-roots-run-deep/article_2ee199e9-eb24-5f48-8cc1-7101ceec7218.html..
John Wooden, April 27th 2018. Accessed November 27th 2019. https://www.achievement.org/achiever/john-wooden/.
John Wooden, November 13th 2019. Accessed November 28th 2019. https://en.wikipedia.org/wiki/John_Wooden.
Image Sources
https://www.hippostcard.com/listing/indiana-south-bend-central-high-school-curteich/284891

http://www.coachwooden.com/scrapbook

https://www.southbendtribune.com/multimedia/photos/throwback-thursday-three-cheers-for-south-bend-central-high-school/collection_c0c8d766-4eb1-11e6-b0db-f35f16940717.html#12

Additional Information