Thompson Family Cemetery
Introduction
This half-acre cemetery in Fairfax only holds two headstones that bear a total of four names, although it is believed that there are many other unmarked graves in the area from between the 1880s and 1918. Now located on a small rise in elevation next to an urban shopping center, the burial ground was once the final resting place for members of the Thompson and Tobin families, including Confederate soldier Armistead Thompson. Efforts by developers to exhume the graves have been unsuccessful due to the opposition of Thompson descendants. This cemetery is different from the Thompson Family Graveyard in nearby Sully, Virginia.
Images
"Armistead Thompson 1838- 1864" by FCCPA-VA on Flickr. Reproduced under Fair Use.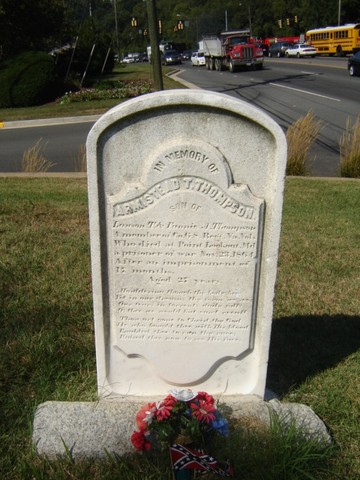 Backstory and Context
Confederate soldier and schoolteacher Armistead Thompson (1837-1864) died of typhoid in Point Lookout, Maryland in 1864 as a prisoner of war after an imprisonment of 17 months. He was the son of Lawson Turrier Thompson and Fannie A. Thompson. He was wounded and twice captured during the war, the second time at the Battle of Gettysburg. The headstone lists his regiment as Co. C, 5th Regiment Virginia Volunteers, but it was the Co. G of the 8th Regiment that came from Fairfax. Originally he was interred at Point Lookout, but in the 1880s his father reinterred him in Fairfax. Upon Lawson's death in 1886, he willed to his heirs this land for use as a cemetery.
The other stone in the cemetery lists members of the Tobin family: John Compton Tobin (no dates given), Laura Virginia [Thompson] Tobin (1845-1915), and Amanda Abigail Tobin (1876-1904). Laura may have been Armistead's sister. Records of burials indicate that many other members of the family are buried here, but the stones have disappeared. The last recorded burial at this cemetery was in 1918.
The rural area developed into a busy urban center, with the widening of the Lee Highway in the 1920s and 1930s and the construction of the Pan Am Shopping Center next to the cemetery in the 1970s. The developers wanted to exhume the bodies buried here and reinter them at another site, but the Thompson descendants fought the Virginia Department of Transportation and real estate developers to keep the cemetery intact.
Sources
Agule, Rich. Thompson Family Cemeter, Interment.net. May 24th 2001. Accessed December 3rd 2019. http://www.interment.net/data/us/va/fairfax/thompson.htm.
Cliff. Pvt Armistead T Thompson, Find a Grave. Accessed December 3rd 2019. https://www.findagrave.com/memorial/15108420/armistead-t-thompson.
Fairfax County Virginia. Thompson Family Cemetery, Fairfax Library Cemetery Survey. Accessed December 3rd 2019. https://www.fairfaxcounty.gov/library_cemeteries/Cemetery.aspx?number=FX014.
Thompson Family Cemetery, Fairfax County Cemetery Preservation Association, Inc. October 2nd 2010. Accessed December 3rd 2019. https://www.honorfairfaxcemeteries.org/thompson-family-cemetery/.
Image Sources
https://www.flickr.com/photos/fccpa-va/5003561419/in/album-72157624862851829/

Additional Information