Emmanuel Episcopal Church
Introduction
Designed by architect John G. Becker and built in 1929, the Emmanuel Episcopal Church is home to congregation founded in 1884. The church is an excellent example of Gothic architecture and was built using stone taken from the 1885 courthouse which was demolished in 1927. It features gothic arches, a tower, a rose window with stained glass above the main entrance, and lancet windows that also have stained glass. Modern buildings are located adjacent to the church, which was added to the National Register of Historic Places in 1988.
Images
Emmanuel Episcopal Church was built in 1929 and is home to a congregation established in 1884.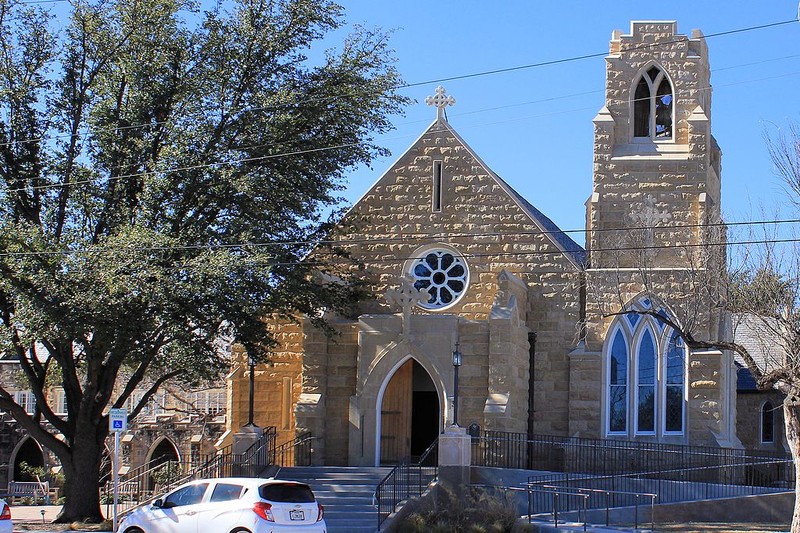 Backstory and Context
The congregation's roots originate in the 1870s. The first Episcopal services were held at the historic Fort Concho in 1871 by Rev. Norman Badger, who was sent to the fort to be its chaplain. Eventually a building was constructed to be a chapel and school; it was placed under the jurisdiction of the Missionary District of Western Texas. The leader of the district, which was based in San Antonio, Bishop Robert W.B. Elliot raised funds on a trip in the early 1880s to the east coast to build the congregation's first church, a wood-frame structure that was completed in 1888. In 1909, it was moved to the property where the current church now stands and a rectory was also built.
A few years later in 1913, the church was placed under the jurisdiction of the newly created Missionary District of North Texas, which was based in Amarillo. Later, as stated above, the congregation built the current church in 1929 using stones from the demolished 1885 courthouse. In the 1940s, the church became and remains a part of the Northwest District of Texas. In the late 1950s, the congregation built an education wing and added other buildings in the coming years including the Parish Hall in 1976.
Sources
"A Brief History of Emmanuel Parish." Emmanuel Episcopal Church. Accessed December 4, 2019. https://emmanuel-sa.org/I'm%20New/4history.html.
"Emmanuel Episcopal Church." National Parks Service - National Register of Historic Places Nomination Form. November 25, 1988. https://catalog.archives.gov/OpaAPI/media/40970171/content/electronic-records/rg-079/NPS_TX/88002590.pdf. 
Image Sources
Larry D. Moore, via Wikimedia Commons: https://catalog.archives.gov/OpaAPI/media/40970171/content/electronic-records/rg-079/NPS_TX/88002590.pdf

Additional Information