Victoria Woodhull Birthplace Marker
Introduction
This historical marker standing outside the Homer Public Library in Homer, Ohio commemorates the birth of Victoria Woodhull, the first female presidential candidate in the United States. Woodhull defied the social norms and gendered expectations of her era both in her personal relationships and her professional activities, and remained a notorious public figure for the majority of her life. She was an influential member of multiple nineteenth-century social movements, including the movement for women's suffrage, the spiritualist movement, and the "free love" movement. With a controversial newspaper that she published with her younger sister and business partner Tennessee Claflin, Woodhull also influenced the formation of the 1873 "Comstock Law". Her eventful life would take her out of Homer onto Wall Street, into the halls of Congress, across the United States, and eventually to the United Kingdom. The marker was sponsored by Scott and Michele Claflin, the Licking County Historical Society, and the Ohio Historical Society.
Images
Photograph of Marker by William Fischer, Jr.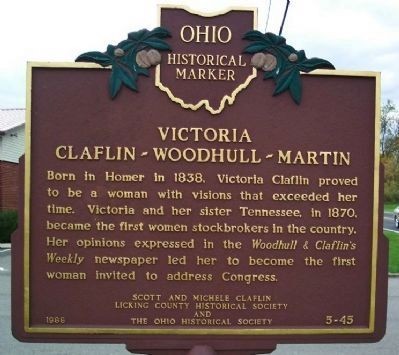 Victoria Woodhull - Public Domain Image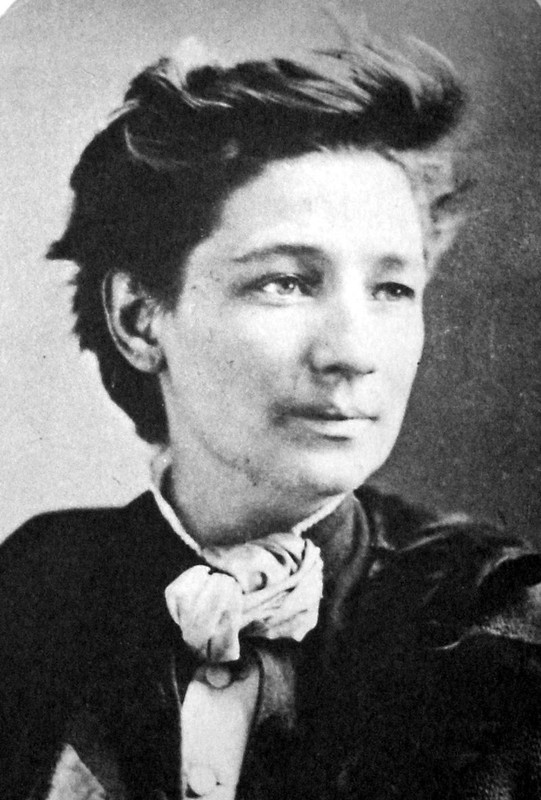 Tennessee Claflin - Public Domain Image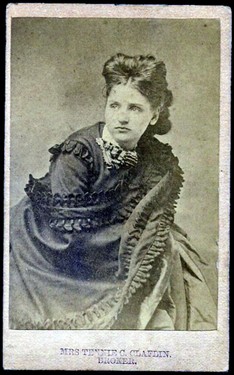 Political Cartoon of Victoria Woodhull by Thomas Nast - Public Domain Image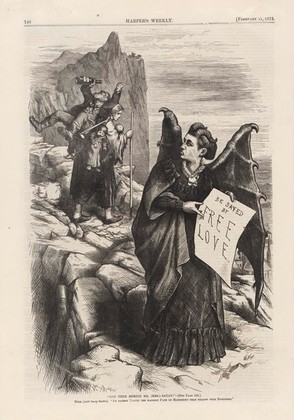 Backstory and Context
Victoria Woodhull (née Claflin) was born in Homer, Ohio in 1838. Members of the Claflin family earned money as mediums, healers, and sellers of homemade medicines. Victoria Claflin and her younger sister Tennessee Claflin spent their youth travelling together, offering the same medicinal and psychic services to communities outside of Homer. As adults, the sisters relocated to New York City, where they opened a Wall Street brokerage firm in 1870 with financial backing from Cornelius Vanderbilt. Stockbrokers held an unsavory reputation in the eyes of the American public at that time, and the establishment of a female-led brokerage firm led to the publication of salacious stories about the Claflin sisters in tabloids. Journalists also covered Victoria Claflin's personal life, including her first marriage to Canning Woodhull, their divorce, and her subsequent remarriage to Colonel James Blood. (Victoria Woodhull would retain her first husband's surname for most of her life). Respected newspapers often peppered factual reports with disparaging moral judgements of Woodhull and Claflin.
   This negative media coverage did not prevent Woodhull and Claflin from engaging in political activism alongside their business activities, joining the movement for women's suffrage and the spiritualist movement. Woodhull quickly became a prominent member of both movements: in 1870, she became the first woman to testify before the United State Congress with a speech in favor of women's suffrage, and in 1871, Woodhull was elected president of the American Association of Spiritualists. At the time, Woodhull was also campaigning for the presidency of the United States, as the first female presidential candidate in United States history. She was eventually nominated by the Equal Rights Party, whose platform of social reform intersected with Woodhull's values. The campaign was not victorious (perhaps unsurprisingly, since American women were not yet able to vote), but served to further raise Woodhull's notoriety in the public sphere. Her actions were dissected by social conservatives, suffragettes, and economic reformers alike.
  Such outside commentary did not stand alone, but contrasted with Woodhull's promotion of her own ideas in popular lectures and writings. Her most consistent output was disseminated through Woodhull and Claflin's Weekly, a newspaper that she and Claflin began publishing in New York in 1870. In the Weekly, Woodhull advocated for "free love" and a redefinition of marriage. Woodhull and Claflin wanted women's extramarital sexual relationships to be regarded with the same leniency that they believed characterized societal attitudes towards promiscuous men; this aim was encapsulated in Woodhull's phrase "a single sexual standard for all". Such ideas were considered radical even in progressive circles, and multiple women in the suffrage movement disavowed Woodhull because of this. On the economic front, Woodhull and Claflin were advocates of socialism, and published the writings of Karl Marx.
Woodhull and Claflin's Weekly made its biggest splash in November 1872, when Woodhull penned an accusation of hypocrisy against the popular Congregationalist pastor Henry Ward Beecher. Woodhull alleged that he had committed adultery with Elizabeth Tilton, a married parishioner, despite teaching traditional sexual morality as a pastor. The issue of the Weekly containing the accusation quickly sold out, and news of the scandal and the women who had aired it spread. Anthony Comstock, a prominent "anti-vice" activist, reacted to the news by procuring a warrant for Woodhull and Claflin's arrest at the hands of U.S. Marshals. Woodhull and Claflin were acquitted within a month, when the judge ruled that the federal statute against mailing obscene literature—upon which Comstock based his case against the sisters—did not prohibit the circulation of obscene material in newspapers.
   The arrest and trial burdened the sisters with significant legal costs which eventually contributed to their closing of the brokerage firm. The failed prosecution held consequences not only for Woodhull and Claflin, however, but for countless American citizens in the years to come. In order to close the legal loophole that had permitted Woodhull and Claflin's acquittal, Comstock went before the United States Congress to promote a postal bill which would expand the original restriction of obscene materials. The bill successfully passed in 1873 and became known as the Comstock Law. The law
"Would police sexuality and govern traffic in sexual literature for nearly a century afterward … [and] marked the beginning of federal vice regulation and state-sponsored censorship."4
Comstock went on to work for the U.S. Postal Service as an enforcer of the law, enthusiastically quashing any publications that may have attempted to follow in the Weekly's footsteps, as well as any other materials that fell under the broad umbrella of "obscenity" due to their treatment of sexual topics.
Following the scandal, Woodhull and Claflin traveled the United States promoting a series of lectures wherein Woodhull continued to advocate sexual equality. These lectures reached large audiences from coast to coast, and in 1877, Woodhull and Claflin moved to England to further spread Woodhull's lectures. There, Woodhull remarried again, to English banker John Biddulph Martin. She also expanded her ideological commitments, taking up the cause of eugenics, though she was less influential as a proponent of eugenics than she had been as an advocate of sexual freedom. Woodhull would remain in England until her death in 1927.
Sources
1. Frisken, Amanda. "Review: Selected Writings of Victoria Woodhull: Suffrage, Free Love, and Eugenics". Legacy, vol. 28, no. 1152 - 154. Published January 1st 2011.
2. Frisken, Amanda. "Sex in Politics: Victoria Woodhull as an American Public Woman, 1870-1876". Journal of Women's History, vol. 12, no. 189 - 245. Published January 3rd 2000.
3. Frisken, Amanda. "Woodhull, Victoria", Oxford Reference.com. January 1st 2008. Accessed December 6th 2019. https://www-oxfordreference-com.ezproxy.library.wisc.edu/view/10.1093/acref/9780195148909.001.0001/acref-9780195148909-e-1160.
4. McGarry, Molly. "Spectral Sexualities: Nineteenth-Century Spiritualism, Moral Panics, and the Making of U.S. Obscenity Law". Journal of Women's History, vol. 12, no. 28 - 29. Published January 6th 2000.
5. Weingarten, Karen. "The Inadvertent Alliance of Anthony Comstock and Margaret Sanger: Abortion, Freedom, and Class in Modern America". Feminist Formations, vol. 22, no. 242 - 59. Published January 6th 2010.
6. "Victoria Claflin-Woodhull-Martin - First Woman Candidate for President of the United States", Remarkable Ohio. Accessed December 18th 2019. https://remarkableohio.org/index.php?/category/870.
7. Fischer, Jr., William. "Victoria Claflin-Woodhull-Martin - First Woman Candidate for President of the United States", The Historical Marker Database. December 2nd 2019. Accessed December 18th 2019. https://www.hmdb.org/m.asp?m=12713.
Image Sources
Photograph by William Fischer, taken October 17, 2008. Posted on the Historical Marker Database, which owns the rights to the picture and allows for non-commercial use without written permission (and with citation). Historical Marker Database - https://www.hmdb.org/m.asp?m=12713

Wikimedia Commons - https://commons.wikimedia.org/wiki/File:Victoria_Woodhull.jpg

Wikimedia Commons - https://commons.wikimedia.org/wiki/File:Tennessee_Celeste_Claflin_by_Geo_Stinson_%26_Co.png

Wikimedia Commons - https://commons.wikimedia.org/wiki/File:Victoria_Claflin_Woodhull.tif

Additional Information