Horseshoe Creek Pony Express Station
Introduction
With the west growing in population, and the threat of Civil War cutting off southern mail services to the west, a growing need for a more central route for mail delivery to California was born. The US government and other investors grew worried that southern routes would be cut off. The Pony Express, started by Russell, Majors & Waddell freighting firm was the answer the government needed. The Pony Express was a horseback letter delivery service that crossed the continent for 1900 miles, delivering letters in 10 days for $5 a letter. Ahead of its time and obsolete within two years, the Pony Express was a flurry of American business bravery and American spirit. The Horseshoe Creek Pony Express Station has a history before the Pony Express as a station used by the Brigham Young Express Company before being burned down in 1857.
Images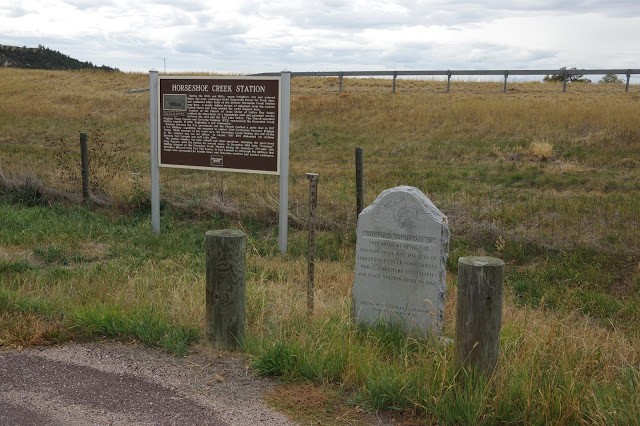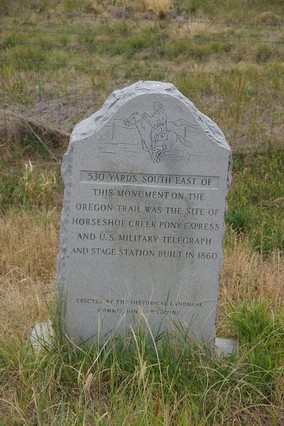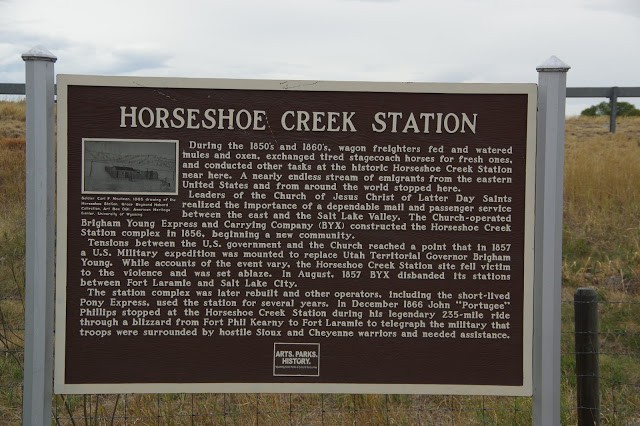 Backstory and Context
The Pony Express started by Russell, Majors & Waddell was originally called Central Overland California & Pike's Peak Express Company. Its purpose was to deliver letters from St. Joseph, Missouri all the way to Sacramento, California and anywhere in between during the 1900 mile journey. The Pony Express began in 1860 and had a short lifespan until October 1861. Just eighteen months it survived because by fall of 1861, a telegraph line had been built across the nation to connect the west to the interior. This made the Pony Express obsolete and its high running costs and high prices led it to become a financial failure for Russell, Majors & Waddell.
There were 176 stations built along the route, most already existed due to being used by Russell, Majors & Waddell in their stagecoach delivery service. There were two different types of stations in use on the route. The home station was where riders would sleep and rest between their 75-mile average rides, and relay stations were where the riders would switch out their exhausted horse for a new, well-rested one. Once they hit their mile limit, they passed the mochila, a large square of leather that sat on the saddle and contained the letters, to the other rider and would rest until they could ride back to their original station. The route was divided into five different divisions, each with their own division heads and other staff.
Russell, Majors & Waddell hoped to obtain a government grants to help pay for the Pony Express, but due to the quickly expanding telegraph line, the Pony Express was quickly made obsolete. In addition to this, the high $5 per letter cost of the Pony Express limited their potential consumer market to large companies that required up to date information from the East. Even still, the Pony Express was ahead of its time, and completed rides of almost 2000 miles in only ten days.
In current day, the Pony Express Trail is one of nineteen recognized historic trails in the US. The National Park Service and a private National Pony Express Association work together to care for and promote the Trail. The National Pony Express Association holds annual Re-Rides every June where participants can ride 2-3 miles on a horse, carrying a mochila with them. In the mid-west, the Pony Express is a large part of the culture and is well loved.
The Horseshoe Creek Station is located just south of current day Glendo, Wyoming. Located fifteen miles from the previous Cottonwood Station and 10 miles from the next station, Elk Horn Station, Horseshoe Creek was a home station and the last of the stations in division two of the Pony Express route. At Horseshoe Creek station lived the division superintendent, Joseph A. Slade. Joseph Slade killed Jules Beni, a bitter enemy of his, and cut off his ears. He used these ears as a way to impose his will on others in the area showing he isn't afraid to use force. He was later hanged in Montana. Horseshoe creek also served as a stagecoach station, and as mentioned earlier, has served as a station for the Brigham Young Express until it was destroyed in 1857. The Pony Express station was later destroyed in an attack by Native Americans in 1868.
Sources
Pony Express Trail Official Map and Guide, National Park Service. February 1st 2013. Accessed December 6th 2019. https://www.nps.gov/poex/planyourvisit/upload/National-Park-Service-Large-Print-Text-of-Pony-Express-Brochure-508.pdf.
Godfrey, Anthony. Pony Express Historic Resource Study, National Park Service. August 1st 1994. Accessed December 6th 2019. https://www.nps.gov/parkhistory/online_books/poex/hrs/hrst.htm.
Swackhamer, Barry. January 9th 2016. Accessed December 6th 2019. https://www.hmdb.org/m.asp?m=92130&Result=1.
Interview with Pat Hearty on December 5th, 2019
Image Sources
https://warmonument.blogspot.com/2015/10/horseshoe-creek-station-wyoming.html

https://warmonument.blogspot.com/2015/10/horseshoe-creek-station-wyoming.html

https://warmonument.blogspot.com/2015/10/horseshoe-creek-station-wyoming.html