Lac Courte Oreilles Ojibwa Community College
Introduction
Founded in 1982, Lac Courte Oreilles Ojibwa Community College (LCOOCC) serves the community of the Wisconsin Bands of the Lake Superior Ojibwe. It was one of many tribal colleges and universities to be chartered following the creation of Navajo Community College in 1968 and the passage of the Tribally Controlled Community College Assistance Act in 1978. While initial classes were taught in the local high school in the evenings, the college has since built and expanded its campus to several buildings, and the college operates outreach and distance learning programs at four other Wisconsin Ojibwe reservations. LCOOCC has put several programs into place to better serve adult and nontraditional students and to address systemic inequities. The college has strong programs in education and nursing and has developed relationships with the University of Wisconsin system. Over its nearly 40 year history, the college has been well-integrated into the fabric of the Ojibwe community, promoting the language, culture, and history of the Ojibwe and providing opportunities for educational advancement.
Images
The flag of the Lac Courte Oreilles Band of the Lake Superior Ojibwe.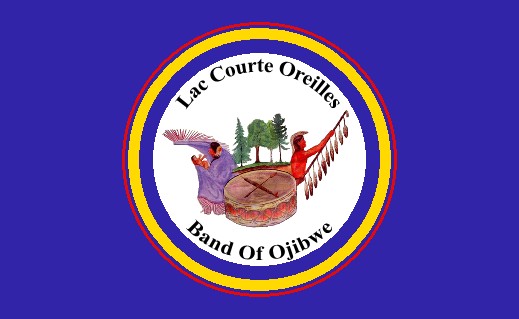 Backstory and Context
The Anishinabe in the Great Lakes region signed three major treaties with the United States government in the mid-1800s. With the Treaty of 1837 and the 1842 Treaty of La Pointe, the Great Lakes Ojibwe ceded extensive tracts of land in what is now Michigan, Wisconsin, and Minnesota, while maintaining their rights to hunt, fish, and gather on this relinquished land. In 1850, US President Zachary Taylor ordered the removal of the Ojibwe to Minnesota, which precipitated the Sandy Lake Tragedy, where hundreds of Ojibwas died of starvation or exposure on the journey to Sandy Lake, Minnesota. In response, in 1852, a ninety-two-year-old Chief Buffalo (Kechewaishke) traveled to Washington, D.C. to persuade Taylor's successor, President Millard Fillmore to rescind the 1850 removal order. This persuasive effort was successful and two years later, the 1854 Treaty of La Pointe was signed, which created four of the six Ojibwe reservations in northern Wisconsin. The four reservations are Lac Courte Oreilles near Hayward, WI; Bad River near Ashland, WI; Red Cliff near Bayfield, WI; and Lac du Flambeau near Minocqua, WI. In 1934, two more Ojibwe reservations were established, Sokaogon (Mole Lake) near Crandon, WI, and St. Croix near Webster, WI.
The Lac Courte Oreilles (LCO) Reservation lies in the northwest region of Wisconsin, approximately 50 miles south of Lake Superior, and south and west of the Chequamegon National Forest. The land is heavily forested and contains several lakes, although the forests of both the Lac Courte Oreilles Reservation and Chequamegon National Forest are recovering from clear cutting by lumber companies in the early 20th century. A federally recognized tribe, the Lac Courte Oreilles band's elected government consists of a chairman and tribal council chosen from enrolled tribal members.
The Native American self-determination movement was inextricably tied into American Indian education and rebellion against mandatory English boarding schools. In the 1960s, Allan Yazzie advocated for the founding of a Navajo school built on tribal land and operated by the tribe. What came to be known as the Rough Rock Demonstration School was a success and led to the creation of Navajo Community College (now Diné College) in 1968. At issue from the very beginning was obtaining the funding to sustain the college. After substantial lobbying from the school, the Navajo Community College Assistance Act was enacted in 1971. This was followed by the Tribally Controlled Community College Assistance Act of 1978, which is still the primary source of funding for tribal colleges and universities (TCUs) today. This 1978 law allowed for the proliferation of tribal colleges and universities to the level we see today, with 37 TCUs stretching from Michigan to Alaska. These colleges were an exercise in sovereignty, forming to better meet the needs of the Indian students and communities they serve than the predominantly white higher education institutions were.
In 1982, Lac Courte Oreilles Ojibwa Community College (LCOOCC) was founded as part of this movement, to provide higher educational opportunities for members of the Wisconsin Bands of the Lake Superior Ojibwe. Initially, there were 4 employees and about 40 students, and classes were offered in the evening at the tribal high school. Until 1985, classes were held in several buildings on the LCO reservation, "including the bingo hall, tribal office, elderly center and the high school".1 In that year, the College permanently moved to an old print shop within a sizeable pole building. This pole building was remodeled and new buildings were added to what became the LCO College campus.
In the early years of the college, a "variety of math and science courses, from General Biology to Business Math" were offered.1 In the 1980s, an introduction to computers course was even offered once a week using borrowed computers from various tribal offices that were picked up for the night class and returned the next morning. A 1989 federal grant through the Minority Science Improvement Program (MSIP) enabled the LCOOCC to "upgrade its science and computer programs, faculty, and facilities."1 In 1990, two new full-time faculty were hired, one in biology and one in computer science and mathematics, both with master's degrees in their fields. A new building was also built in 1990 to house the computer and science programs. It included a state-of-the-art science laboratory including benchtops, a safety shower, microscopes, balances and other equipment. With increased funding and resources, new courses were able to be offered, including computer programming, business graphics, general chemistry, general biology, and anatomy and physiology. These new course offerings led to the development of a collaborative four-year degree nursing program in cooperation with the University of Wisconsin, Eau Claire, and a four-year Natural Resources program with the University of Wisconsin, Stevens Point. The rapid growth of LCOOCC's science and technological programs was aimed at training future Native American scientists, engineers, computer programmers, and health professionals.
The LCOOCC Library and Migizi Cultural Center serve as important gathering places and educational and archival resources on campus. In 2006, tribal vice chairman Rusty Barber found several 8-millimeter films and many reel-to-reel audio tapes of Ojibwe songs, dances, and religious ceremonies recorded by Tony Wise in the 1950s and 1960s. One film from 1962 is titled "Canoe Voyage, Out of the Interior Back to LaPoint," while another film from the 1960s shows Ojibwe and Ho-Chunk dancers in full regalia at the Historyland dance arena near Haywayd, WI.2 These and the other films and tapes made up an "Audio Visual Production Project" to preserve and archive the materials.2 With resources from the federal Institute of Museum & Library Services and training from the Wisconsin Work Based Learning Intern Program, LCOOCC Library Director Caryl Pfaff was able to lead students in digitizing and editing the materials. Today, the library resources include access to the library catalog and periodical/research databases, as well as to genealogical tools and native resources, such as the Ojibwe People's Dictionary and the Tribal College journal.
With its close ties to the local community, LCOOCC has historically offered much in the way of programs and support to its students, both Indian and non-Indian. One example is the Men's Talking Circle at the college. Student Services Director Paul Grahovac formed the group to help male students on campus address the problems and challenges that could negatively affect their attendance or retention. In 2008, around the time the program was started, 31% of degree-seeking students at tribal colleges and universities nationally were American Indian males, while 53% of students were American Indian females. The Men's Talking Circle is modeled on a traditional Native talking circle and allows for an informal setting to discuss academic concerns, personal issues, financial aid, and career and life planning. Another program is the Oshki Bimaadiziiwin (New Day) educational outreach program started in 2011, which aims to provide educational opportunities to those incarcerated in Sawyer, Ashland, Vilas, Washburn, and Bayfield Counties, and the Lac Courte Oreilles Halfway House. Adopting a restorative justice approach, the program seeks to move beyond punitive criminal justice approaches and provide an academic community for incarcerated people to become a part of. With new knowledge and skills, and a structured community, the program hopes to help ease the transition to reintegrating into society.
Today, Lac Courte Oreilles Ojibwa Community College (LCOOCC) serves not only the Lac Courte Oreilles reservation, but also the Bad River, Red Cliff, St. Croix, and Lac du Flambeau Ojibwe reservation communities, with outreach sites in Odanah, Bayfield, Hertel, and Lac du Flambeau, respectively. The populations of these reservations as of the 2010 census for both reservation and off-reservation trust land were: Lac Courte Oreilles 2,803, Bad River 1,479, Red Cliff 1,123, St. Croix 768, and Lac du Flambeau 3,442. The total fall enrollment from 2000-2015 at LCOOCC ranged from 303 to 505 students, with the fall 2015 being 371 students total, of which 80% of students were American Indian/Alaska Native. In fall 2018, 231 students were enrolled. Of those enrolled, 79% were female and 21% were male, 55% were part-time students vs. 45% full-time students, and 31% were 24 or under vs. 69% over age 24. Through its distance learning and outreach services, and its library, workshop, and professional development resources, the college is well-integrated into community life and makes the community stronger. While the school has faced its share of challenges in its 37-year history, it has been resilient and resourceful in providing education and resources to the Lake Superior Ojibwa community.
Sources
Anderson, Debra. Building a College That Builds Science: New Programs at Lac Courte Oreilles Ojibwa Community College Stress Science and Technology.Tribal College: Journal of American Indian Higher Education, vol. 3, no. 3, 22-23. Published Winter 1992. Education Resources Information Center.
Nayquonabe, Thelma. Voyage out of the Interior: Amateur Historian's Films from '60s Stir Imagination at LCO. Tribal College: Journal of American Indian Higher Education, vol. 19, no. 2, 20-24. Published Winter 2007. Education Resources Information Center.
Loew, Patty and Thannum, James. After the Storm: Ojibwe Treaty Rights Twenty-Five Years after the "Voigt" Decision. American Indian Quarterly, vol. 35, no. 2, 161-191. Published Spring 2011. America: History and Life.
Loew, Patty. Hidden Transcripts in the Chippewa Treaty Rights Struggle: A Twice Told Story Race, Resistance, and the Politics of Power. American Indian Quarterly, vol. 21, no. 4, 713-728. Published Fall 1997. America: History and Life.
Shreve, Bradley. Takin' It to the Hill: A Conversation with Jim Shanley. Tribal College: Journal of American Indian Higher Education, vol. 28, no. 2. Published Winter 2016. Education Resources Information Center.
Murray, Shannon. Wisconsin' Tribal Colleges Overcome Challenges to Enrich Their Communities. Tribal College: Journal of American Indian Higher Education, vol. 17, no. 3, 28-32. Published Spring 2006. Education Resources Information Center.
Pember, Mary Annette. Circle of Strength: Tribal Colleges Aim to Recruit and Retain Native Male Students. Tribal College: Journal of American Indian Higher Education, vol. 22, no. 4. Published Summer 2011. Education Resources Information Center.
Hemming, Patricia and Shields, Patrick. Oshki Bimaadiziiwin: Restoring Balance through Education. Tribal College: Journal of American Indian Higher Education, vol. 27, no. 1. Published August 2015. Education Resources Information Center.
National Center for Education Statistics. Digest of Education Statistics, 2016. Published February 2018. Statistical Insight. Record Number 2018 ASI 4824-2.
Bureau of Census. Census 2010 Population Total for Legislative Redistricting (PL 94-171): Wisconsin. Published 2011. Statistical Insight. Record Number 2011 ASI 2326-30.50.
National Center for Education Statistics. Lac Courte Oreilles Ojibwa Community College, College Navigator. 2019. Accessed December 6th 2019. https://nces.ed.gov/collegenavigator/?q=lac+courte+oreilles&s=all&id=260372.
Image Sources
https://commons.wikimedia.org/wiki/File:Flag_of_the_Lac_Courte_Oreilles_Band_of_Lake_Superior_Chippewa_Indians.PNG. Attribution: Xasartha [CC BY-SA 3.0 (https://creativecommons.org/licenses/by-sa/3.0)]

Additional Information