Rogers House
Introduction
Located just a block east of Broadway on 18th Street, the Rogers House sits near the heart of Little Rock's Quapaw Quarter. The Quapaw Quarter is a section of Little Rock which comprises its oldest and most historic business and residential neighborhoods. The name Quapaw comes from a corruption or mispronunciation of a word for a Native American Tribe which originally inhabited the area where the city of Little Rock is now situated. This name was informally applied to the land west of the original city of Little Rock in the nineteenth century. Then, in 1961 the name of Quapaw Quarter was more formally assigned. Now, it is a well-loved and treasured historic district featuring constructions of the Victorian, Queen Anne, Colonial Revival, Georgian Revival, Italianate, and Craftsman Styles.
Images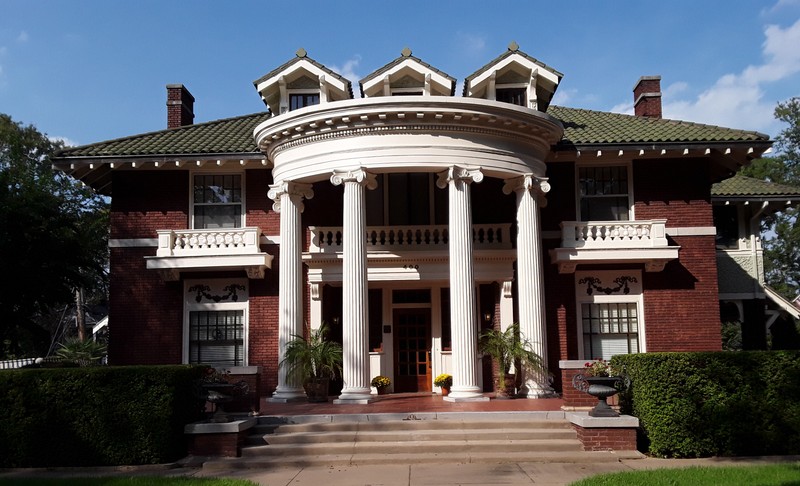 Backstory and Context
The Rogers House was built in 1914 in a combination of Craftsman, Foursquare, and Colonial Revival Styles. The Craftsman and Foursquare Styles are twentieth-century reactions to the complexity and embellishment of the eighteenth-century Victorian and Queen Anne Styles. The more historic Colonial Revival Style is embodied in American homes built from 1880 to 1950 and which reflect a renewed interest in the earliest North American houses built by English and Dutch settlers. The Rogers House demonstrates the Craftsman Style in details such as the tile roof, exposed rafter ends, and decorative braces under the eaves of the gabled dormers. At the same time, it features elements of Colonial Revival Style, such as the classical portico and balustrades beneath the second-story windows.
Sources
https://encyclopediaofarkansas.net/entries/quapaw-550/
http://www.quapawtribe.com/401/Tribal-Name
http://www.historicarkansas.org/exhibits/we-walk-in-two-worlds
https://www.littlerock.gov/!userfiles/editor/docs/planning/hdc/QQA%20tour%202014.pdf
https://thecraftsmanblog.com/american-foursquare-style/
https://thecraftsmanblog.com/american-craftsman-style/
http://www.askthearchitect.org/architectural-styles/colonial-revival-architecture