Villa Marre
Introduction
Located at the corner of 14th and Scott Streets, the Villa Marre is situated in the heart of Little Rock's Quapaw Quarter. The Quapaw Quarter is a section of Little Rock which comprises its oldest and most historic business and residential neighborhoods. The name Quapaw comes from a corruption or mispronunciation of a word for a Native American Tribe which originally inhabited the area where the city of Little Rock is now situated. This name was informally applied to the land west of the original city of Little Rock in the nineteenth century. Then, in 1961 the name of Quapaw Quarter was more formally assigned. Now, it is a well-loved and treasured historic district featuring constructions of the Victorian, Queen Anne, Colonial Revival, Georgian Revival, Italianate, and Craftsman Styles.
Images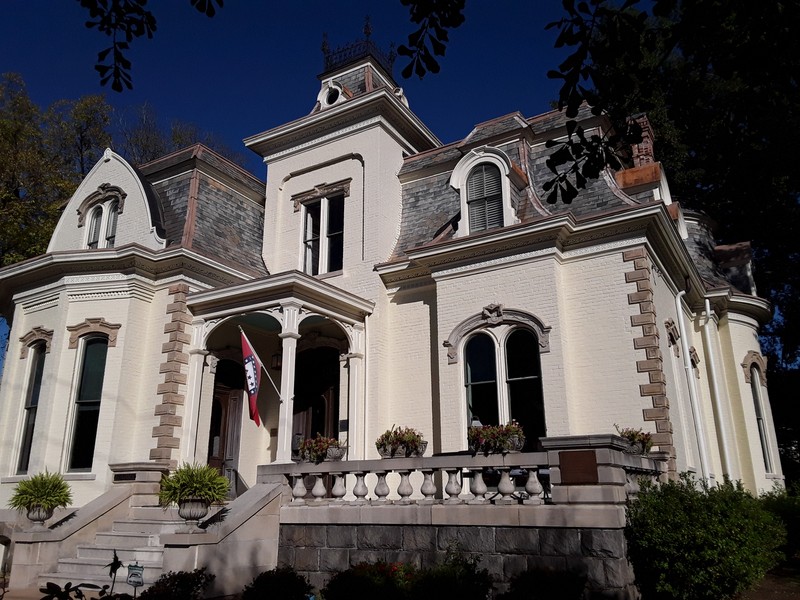 Backstory and Context
The Villa Marre was built by Italian immigrant Angelo Marre, a wealthy saloon owner and importer of liquor, in the Italianate style in 1881. A century and a quarter later, the exterior became internationally famous when it was used by television screen writers Harry and Linda Bloodworth Thomason as the front façade for the sit-com, Designing Women. Still admired today by tourists and enthusiasts of heritage, the Villa Marre is a tribute to classic European styling, redone in the American south.
Throughout, the house shows the influence of the Italianate Style. According to Washington, D.C. architect Bruce Wentworth, "The Italianate style began in England as a reaction to the rigid formalism that had come to dominate nineteenth century architecture. The Italianate style derived from Italy's rambling farmhouses, usually built of masonry with their characteristic square towers and informal detailing. By the 1830s, Italianate had spread to the United States, where architects began to transform the style into something truly American with only hints of its Italian origin. Thus, working in the Italianate style, architects had a higher degree of artistic freedom than they had in earlier, more rigid architectural styles."
Visibly an example, the Villa Marre features Italian styling, especially with the long rectangular window frames and the squared tower centered on the front façade. Another Italianate feature appears in the Villa Marre's concrete stones or quoins placed in an alternating or stacked position, which exemplify both Italianate and Second Empire architectural styles. In Little Rock's Quapaw Quarter, Italianate Style is relatively well-represented, though Second Empire is not, making the Villa Marre a one-of-a-kind eclectic and historic gem in Little Rock. Inside, the Villa Marre boasts a sweeping walnut staircase, frescoes and murals, and ornate woodwork. Over the years, the Villa Marre has endured much change as neighborhood decline and urban renewal threatened its classic beauty. After passing through many hands of ownership, it is now once again owned privately. The Villa Marre has been listed on the National Register of Historic Places since 1970.
Sources
https://encyclopediaofarkansas.net/entries/quapaw-550/
http://www.quapawtribe.com/401/Tribal-Name
http://www.historicarkansas.org/exhibits/we-walk-in-two-worlds
https://encyclopediaofarkansas.net/?s=villa+marre&post_type=eoa-entry&entry_category=&time_period=&entry_type=&race_ethnicity=&gender=&media_type=
http://www.askthearchitect.org/architectural
http://www.askthearchitect.org/architectural-styles/italianate-architecture
https://www.littlerock.gov/!userfiles/editor/docs/planning/hdc/QQA%20tour%202014.pdf