Gillim House
Introduction
This stately home site on Frederica street and is one of the most impressive examples of Victorian architecture in the city of Owensboro. It was most recently used as the Campbell Club which was a private dining club. It is currently vacant. It was added to the National Register of Historic Places in 1986.
Images
Campbell Club March 17, 1962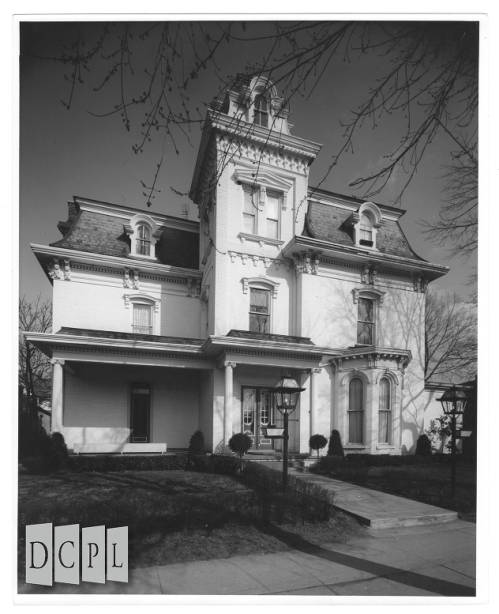 Backstory and Context
In the late 19th century, Frederica Street was one of the leading residential areas in town. It was once lined with majestic homes from 4th street to Griffith Avenue. Most of the original late Victorian structures have been replaced with commercial buildings.This is the only one remaining north of 9th street and one of four left north of Parrish Avenue. The house is an outstanding example of Second Empire architecture and one of the most important late Victorian structures in Owensboro. The home was built in 1880 by John S. Woolfolk, incorporator of the Peoples' Wharf-Boat and Transfer Company and sold a few years later to C.D. Jackson, one of the wealthiest men in Owensboro. Jackson was a distant relative of President Andrew Jackson and owned considerable land throughout the county. After he died his heirs sold it to a wealthy distiller who kept it only a few years before selling it to attorney J. D. Powers. Powers was an officer of the Peoples' Wharf-Boat and a state legislator. Dr. W. F. Gillim owned it for 31 years and the house is commonly remembered as the Gillim House. It became a boarding house for the upper class in the early 30's. In 1959 it was converted to a private dining club by Marshall Burlew, which saved it from being razed and replaced with a commercial building. It was most recently a private dining club that went by the name "Campbell Club." It was named for the creator's grandmother, Mary Campbell. It has six dining rooms that seat up to 100 people. The house is referred to by locals as haunted.
Sources
National Register of Historic Places, Gillim House, Owensboro, Daviess County, Kentucky, National Register # 86000664
Image Sources
Daviess County Public Library

Additional Information