Mount Hope Cemetery
Introduction
The Mount Hope Cemetery is an historic cemetery located between Boston's Mattapan and Roslindale neighborhoods. Consecrated in 1852 and acquired by the city five years later, it was the first Boston cemetery to adopt the "rural" or "garden" cemetery style, which employed features of nineteenth-century of English landscape design to create open public spaces that preserved natural features of the landscape. The cemetery has deep ties to the Boston Chinese-American community and also serves as a commemorative cemetery for veterans.
Images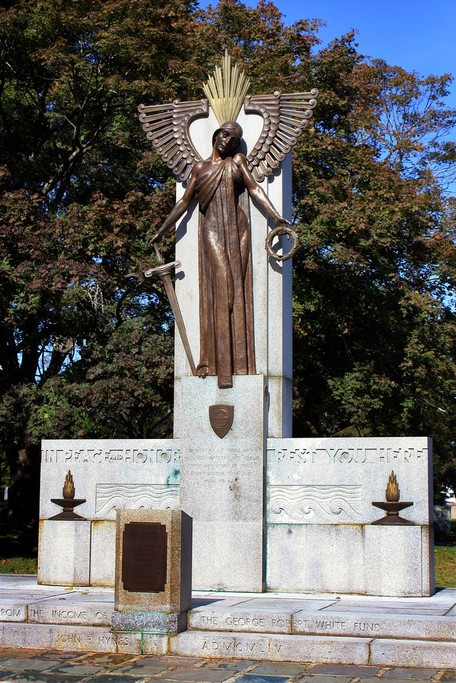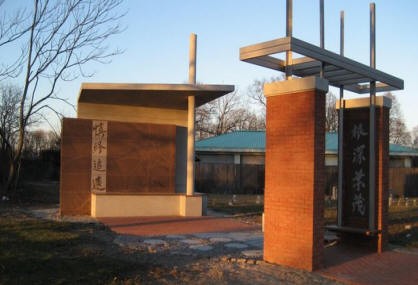 Backstory and Context
Little is known about Mount Hope Cemetery prior to its consecration in 1852. It was a privately owned cemetery, and little memory is left of its use as one. After its consecration, it lay unused for the five years prior its purchase by the City of Boston. Once acquired it became the largest cemetery in the city. The cemetery was adorned with flora and, since it was purchased prior to the foundation of the Boston parks system, it represented an unprecedented commitment to the creation of open spaces for public recreation. Despite the benefits of its size and capabilities for leisure activities, it did not flourish due to competition from other sights as well as its inaccessibility. Despite these setbacks, it continued to grow, eventually reaching its current size of 125 acres. It became the home for memorials commemorating the military, the police force, and various fraternal groups such as the Elks and Odd Fellows.
Established in 1868, the Elks are a fraternal welfare group focused on spreading and practicing the four cardinal Christian values of charity, justice, fidelity, and brotherly love. Like the Odd Fellows, they operate in and through lodges throughout the United States and provide scholarships for students as well as supporting anti-drug campaigns, community funding, and veteran services. The Odd Fellows are a fraternal group with a focus on community and philanthropy. Both groups are both commemorated at Mt. Hope cemetery because of their continued aid in the communities in and around Boston.
The most significant heritage attached to Mount Hope Cemetery is that of the Massachusetts Chinese-American community. Since 1930 well over 1,500 Chinese-Americans have been laid to rest at Mount Hope Cemetery. This group includes the earliest immigrants from China to Boston. Due to the deep respect for elders found in traditional Chinese culture, a proper burial ground has been and continues to be very important for the community. It is traditional in Chinese culture to visit the graves of one's family elders on a regular basis throughout the year, especially during certain events such as the Ching Ming Festival. During times such as these it is tradition to not only sweep and clean the graves of the elders but to burn incense as well as make offerings with currency or food. Though such rituals are practiced regularly, many of the graves at Mount Hope Cemetery spent years in a state of abject disfunction and near-ruin. This was largely the consequence of the harsh Massachusetts winters, but as with many other cemeteries, Mount Hope has also been subject to vandalism. While this has been the worst for the three oldest plots of graves, traditional altars have also eroded or been broken. In response members of the Boston Chinese-American community began an initiative to repair and properly commemorate the plethora of grave sites. Established in 1998, the Chinese Historical Society of New England has facilitated the repair and continued maintenance of the Mount Hope Cemetery site. They received a $120,000 grant from the City of Boston's Edward Ingersoll Browne Fund to establish a memorial to the Chinese-Americans resting in the cemetery. Construction of the memorial was begun in 2006 and completed a year later. The memorial provides a place for the Chinese-American community of Massachusetts to gather and commemorate their heritage. Its carries an inscription that reads, "Remembering those who came before you. Long rivers flow from distant origins. Abundant leaves flourish from deep roots." In keeping with this inscription, the foundation has also been involved in efforts to restore to the original design of the cemetery by planting and maintaining flora. These efforts preserve the cemetery as a site suitable for public use, as well as honoring those resting there.
Mount Hope Cemetery has not only functioned as a gathering grounds for Chinese immigrants and their descendants but also as a storage site for records. There are over 37 cubic feet of records from the period of 1876-1952. They record not only burial plots but also such details as deeds and lot care. Caring for burial sites is a crucial part not only of Chinese heritage but of maintaining any cemetery. In fact, due to the continued presence of vandals at nearly any and every memorial site as well as cemetery, maintaining memory sites is crucial to their effectiveness. Mount Hope Cemetery was vandalized many times throughout its existence, but the most recent public incident of such was in March 2019 when a vandal used Nazi imagery and defacing several monuments before being apprehended by the police.
Sources
Chinese Historical Society of New England . Mount Hope Cemetery, Chinese Historical Society of New England. Accessed December 13th 2019. https://www.chsne.org/archives/mount-hope-cemetery/.
City of Boston Archives and Records Management Division. Guide of the Mt. Hope Cemetery records, Accessed December 13, 2019. https://www.cityofboston.gov/images_documents/Guide%20to%20the%20Mt.%20Hope%20Cemetery%20records_tcm3-33013.pdf.
Mount Hope Cemetery, July 13, 2016. Accessed December 13th 2019. https://www.boston.gov/cemeteries/mount-hope-cemetery.
Creamer, Lisa. Police Search for Vandals who Targeted Police, War Memorials in Boston's Mount Hope Cemetery, WBUR News. March 19th 2019. Accessed December 13th 2019. https://www.wbur.org/news/2019/03/19/boston-mount-hope-cemetery-vandalism.
Benevolent and Protective Order of Elks. Our Mission, Elks. Accessed December 13th 2019.
Image Sources
https://www.flickr.com/photos/dana_smith/4003474408

https://www.chsne.org/archives/mount-hope-cemetery/