Temple Freda
Introduction
One of the oldest religious buildings in Bryan, Temple Freda is a historic Jewish synagogue erected in 1912. It is also significant in that it is the only Jewish temple in the country named after a woman, Ethel Freda, who was the wife of the congregation's president (she passed away before the temple was completed). The one-story building was designed in the Classical Revival style and has been an important landmark since its construction. The building features a portico with Corinthian columns, stained glass windows, and a simple interior floor plan. It was added to the National Register of Historic Places in 1983 and, as of 2019, is currently in the process of restored.
Images
Built in 1912, Temple Freda is the only synagogue in the country named after a woman.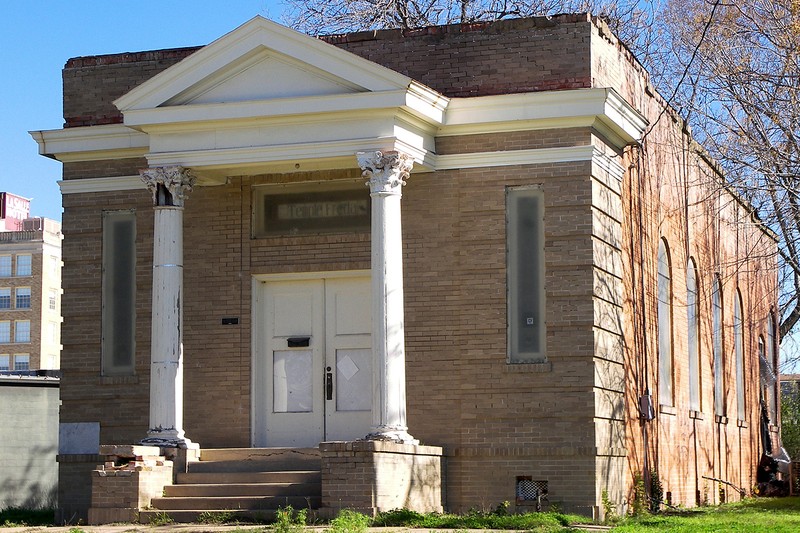 Backstory and Context
A small group of Jewish immigrants—mainly from Poland, Russia, England, and Prussia—arrived in the Bryan area in the mid-1860s. They officially established a Jewish congregation in 1890 and worshipped in the homes of members before the temple was built. The property on which the building stands was donated by a woman named J.W. English on the condition that it only be used for religious purposes. Donations to build the temple came not only from the Jewish community but from other Bryan residents as well. This collective effort was represented when community members of all faiths attended the temple's dedication ceremony. As mentioned above, the temple was named after the president's wife; not only was this unusual, naming a temple after a person was rare as well.
After Texas A&M established a Hillel (a nationwide Jewish college campus organization) in 1958, the Jewish community started to use Temple Freda less and less. Then in 1968, Congregation Beth Shalom was established. Over the years, Temple Freda was used by other local faith communities but it eventually fell into disrepair. It was renovated in the 1980s and is undergoing restoration work now.
Sources
"A Very Brief History of Congregation Beth Shalom." Congregation Beth Shalom. Accessed December 16, 2019. https://cbsbcs.org/about-us/our-history.
Temple Freda [Bryan, TX] collection, 1912-2006, MS 811, Woodson Research Center, Fondren Library, Rice University. Accessed December 16, 2019. https://legacy.lib.utexas.edu/taro/ricewrc/01091/01091-P.html
Treybig, Amber. "Restoration efforts underway at Temple Freda in Downtown Bryan." KBTX-TV. April 3, 2018. https://www.kbtx.com/content/news/Historic-temple-in-Downtown-Bryan-under-construction-478692923.html.
Woodcock, David G. & Parks, Deborah. "Temple Freda." National Park Service - National Register of Historic Places Nomination Form. September 22, 1983. https://catalog.archives.gov/OpaAPI/media/40971373/content/electronic-records/rg-079/NPS_TX/83003128.pdf.
Image Sources
Larry D. Moore, via Wikimedia Commons

Additional Information