Times Square Church
Introduction
In the midst of the massive screens and LED displays of Times Square, there is an unexpected find-- a church within the former Mark Hellinger Theatre. The interdenominational Times Square Church was founded in 1987 by Pastor David Wilkerson as a response to the state of Times Square in the 1980s. The church began with a focus on helping area residents when Times Square was synonymous with vice and petty crime and continues to focus on offering both material and spiritual aid to the most vulnerable. The church is also famous for its lively gospel choir, which is popular with visitors to the city.
Images
Facade of the Times Square Church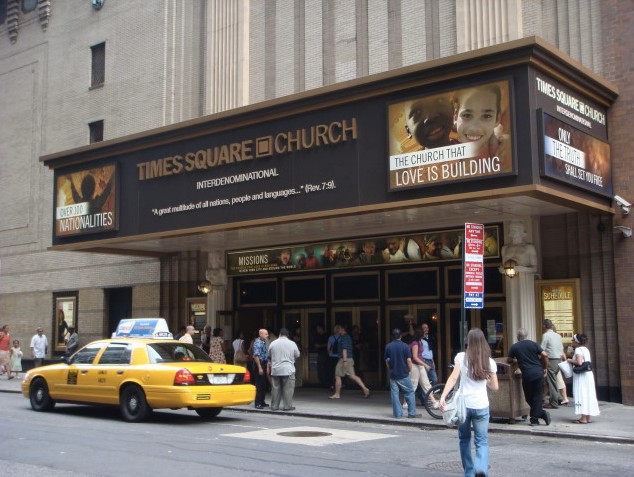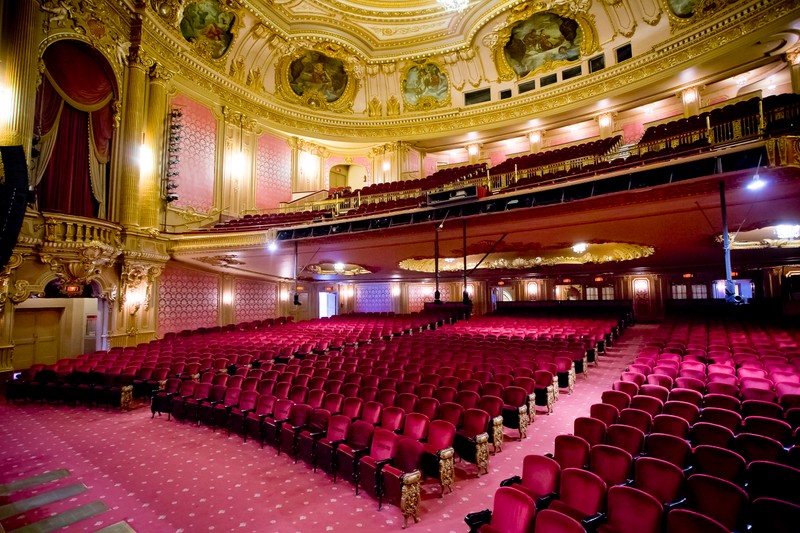 Backstory and Context
David Wilkerson, a young pastor, arrived in New York City in the 1950s, many decades before Times Square would be regarded as a family-friendly tourist destination. At the time, it was known as a den of vice with hustlers, prostitutes, and businesses such as adult theaters and peep shows. Wilkerson often ministered among the people he encountered in Times Square. He also ministered to gang members and teen addicts in Brooklyn.
In 1987, at the height of the crack cocaine and AIDS epidemics, Wilkerson saw an opportunity to start a church that would be open to anyone and located in one of the city's most challenging neighborhoods. Wilkerson founded the Times Square Church in 1987 and was originally located within Town Hall. Wilkerson's congregation outgrew that space and then leased the former Mark Hellinger Theatre. The church purchased the building for $17 million in 1991.
Wilkerson had his doubters; people questioned who would want to attend church services in one of the city's most crime-infested neighborhoods. But the church flourished immediately, drawing in many sex workers and addicts who occupied Times Square but hoped for a better life. The church meetings regularly included a mix of people who worked in Times Square including area office workers, local families, and tourists.
The church, which is interdenominational, is based in the charismatic tradition, meaning its members believe in healing and prophecies. Wilkerson would regularly summon to the altar anyone who struggled with addiction, depression, or suicidal impulses, for prayers of healing. Services at the church usually lasted two and a half hours, with much of the service devoted to singing and music performed by a jazz and gospel choir which has become famous in its own right.
Wilkerson died in an automobile accident in 2011, but the church he founded continues to grow. Today, the Times Square Church has five pastors, including senior pastor Carter Conlon,who joined the church's ministry at the request of Wilkerson. The church remains committed to serving society's most vulnerable and sponsors a number of missions throughout the world.
Sources
History of the Times Square Church , The Times Square Church. Invalid date. Accessed December 21st 2019. https://tsc.nyc/history/.
A Times Square Church Gathers Rave Reviews , New York Times . November 6th 1988. Accessed December 21st 2019. https://www.nytimes.com/1988/11/06/nyregion/a-times-square-church-gathers-rave-reviews.html?searchResultPosition=2.
Fox, Margalit. Rev. David Wilkerson Dies in Crash; Started Times Square Church, New York Times . April 28th 2011. Accessed December 21st 2019. https://www.nytimes.com/2011/04/29/nyregion/rev-david-wilkerson-79-evangelist-dies-in-crash.html?searchResultPosition=3.
Additional Information